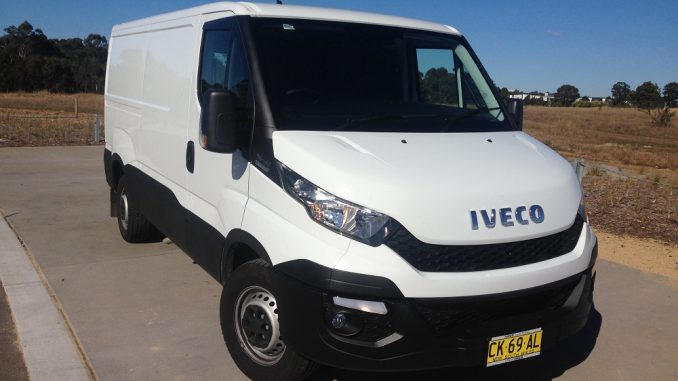 Once you get your head around the three versions of Iveco's 35 S Daily van, the three engine options, two transmissions, vehicle lengths, heights and payloads you should be at home with quantum physics.
Last week I drove a $58,000, 9.0 cubic metre, H1 (height 1) low roof 35 S with eight speed auto transmission powered by the 93kW/320Nm, 2.3 litre turbo-diesel.
Then I jumped into a $62,000, Daily 35 SL, 12 cubic metre, H2 model with a 3.0 litre four-cylinder VGT turbo-diesel rated at 125kW/430Nm, again, with an eight speed ZF auto.
The L shares the same 3520mm wheelbase but has more rear overhang giving a longer load space.
They were like chalk and cheese with the weight of approval coming down heavily in favour of the larger van for not much more money.
Why? Because it drives heaps better offering considerably more grunt, more response through a wider engine speed range, smoother and quieter running especially from the auto 'box', better ride quality and not much of a fuel consumption penalty despite being a bigger, heavier van.
The 9.0 cubic metre Iveco Daily is a handy device with load space for three pallets (as seen below).
This grows to four pallets in the L model with a stand-up, 1.9-metre high roof as a bonus. But it has a slightly lower payload at 1565kg versus 1630kg in the smaller van. Hardly worth worrying about.
All three models will tow up to 3.2 tonnes.
The Iveco Daily van differs from other offerings in the segment due to its more robust, heavy duty, ladder chassis and truck underpinnings. It's rear wheel drive too making hill starts fully loaded more predictable.
Rear wheel drive also takes one dynamic function away from the front which, in front wheel drive vans, must contend with steering,  suspension, braking and drive….. too much to expect really.
Iveco gave the Daily 35 S a car like drive feel that extends to how it steers and brakes as well as creature comforts in the cabin.
Reversing cameras are standard across the range which also gains full `Iveconnect' connectivity and sat-nav all accessible through the one centrally mounted screen.
The reverse camera takes way too long to load and then start working when you start up.
You will sit for up to 20 seconds to get a view behind by which time you have already done the reversing.
Bloody annoying alright.
Both vehicles driven had sprung driver's seats contributing to a high level of long distance comfort.
But the bigger van's cargo barrier forces the three seats into an upright position with no rake adjustment to speak of. Still, it's better than getting whacked in the back of the head.
The 35 S is a tall van with a big step up into the cabin aided by side steps and grab handles. Once you're in the seat it's happy days.
Critical measurements are handy with the 9 offering 3130mm load space length, 1740mm load space width and 1545mm roof height.
The L has a 3540mm load space length, 1740mm width and 1900mm roof height.
All Daily vans score 270 degree opening rear barn doors and left side sliders for loading.
All have a steel floor and side panels but the vans driven had been fitted with chipboard floors and ply side covers – should be mandatory in all vans.
The 100 litre tank gives a potential range, at 10.0-litres/100km, up around the 8-900km mark driven carefully.
All 35 S models can be driven on a car licence.
In saying that, novices would be well advised to go easy in the bigger vehicles until they get accustomed to the size and feel.
Parking can be an issue especially in the bigger variants but the tight turning circle is welcome.
I don't understand why most passenger vehicles don't turn as sharply as these big vans…
Standard kit includes cruise control, climate control, heated exterior mirrors, power windows, four air bags, generous storage compartments, Eco drive mode and other goodies.
I loaded both vans with furniture for house moving and it made little difference to how either went in terms of engine performance and ride.  You just chuck everything in and away you go.
Iveco Daily 35 S – a good thing.
NUTS and BOLTS – 2017 Iveco Daily 35 S van
Engines: 2.3 litre turbo-diesel producing 93kW/320Nm, 3.0 litre turbo-diesel producing 125Kw/420Nm or 150kW/470Nm
Transmissions: Eight-speed auto or six-speed manual
Safety: Not tested
Warranty: 3yrs/200,000km or optional extended warranties up to 5yrs/300,000km
Origin: Italy
Price: from $58,000