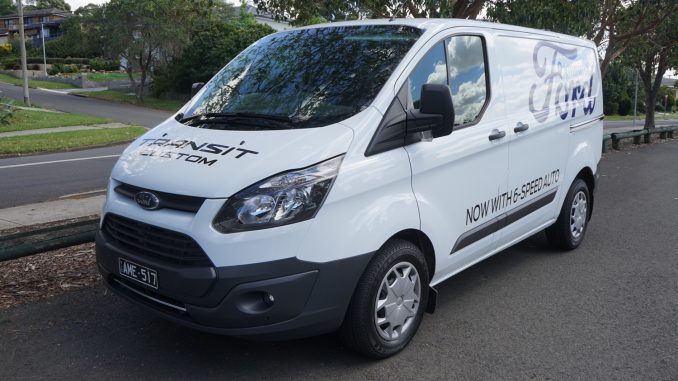 Earlier this year Ford added a six-speed automatic transmission option to the Ford Transit range providing more convenience for drivers and businesses.
Priced from $42,440, the new auto Transit, a first for the model, comes in two wheelbases; 2900mm and 3400mm. The manual is still available from $39,690.
The turning circle is listed at 10.9m and 12.2m for the longer wheelbase.
This gearbox is linked the 2.0 litre turbo diesel engine and despite an output on paper of only 96kW/385Nm, pushes out a lively performance with an empty load.
The Transit Custom has no problems going up hills, with great pick-up and decent fuel economy of 9.3L/100km.
It drives surprisingly well for something this size, is easy and simple to steer and of course isn't as cumbersome as a ute.
Once again, this was all without a load in the back.
Contrary to the ride, the cabin feels much like a small truck; 3 seats with a very wide dashboard and everything nicely spaced out.
Sitting in the driver's seat really feels like a cockpit with dash mounted gear shifter, comprehensive driver information display, and manual A/C controls located off-centre meaning the driver will have to reach.
Just outside is are the huge mirrors with wide angle mirror for blind spots, which aren't obscured by the window panel to allow for full visibility.
There is abundant storage; a cup holder within easy reach on either side of the dash, a large angled bottle holder under that, another bottle holder and map pocket in the doors, a storage bin above the instrument panel with 12V and USB inputs, a coin holder on the left of the wheel, and a pocket on the ceiling.
Only the glovebox is what I'd consider small.
Being a Ford though, controls for the infotainment system are complicated with more buttons than necessary and even a dialling pad.
The colour display screen provides all the required audio information but is very small for the rear view camera and it's not like there was a shortage of space on the dash.
I could drive all day in this van.
The simple fabric seats are soft and comfortable with under leg support for the driver's seat with a rotating adjustment.
A fold down armrest with ratchet system provides more respite and the driver's seat moves independently of the other two.
The middle passenger seat has a drop down tray table with cup holders and an elastic strap for all those documents.
There are other great included features like auto start/stop, parking sensors, rear wipers, speed limiter/cruise control, and heated seats which were a little hard to notice with the button hidden on the seats themselves.
But off course the back is the business end of a van and the Custom has four doors for easy access – two sliding and two rear twin-hinged swing doors with 180° opening.
The inside is separated from the cabin by a large plastic panel with mesh and small window.
Heavy duty yellow handles aid with getting in or out and there are eight anchor points and of course allowance for shelving.
Up top are integrated roof racks.
The Ford Transit Custom Auto is a welcome variant that doesn't disappoint and is priced from $42,440.
NUTS and BOLTS – 2017 Ford Transit Custom
Engine: 2.0L turbo diesel producing 96kW/385Nm
Transmission: Six-speed automatic
Warranty: 3 Years/100,000km
Safety: Five Stars
Origin: Turkey
Price: from $42,440