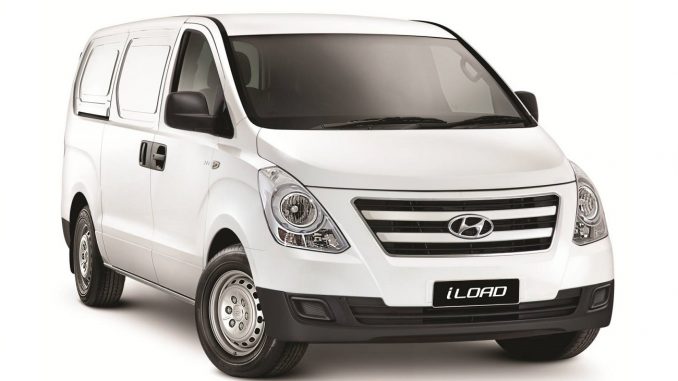 Hyundai's iLoad van has been with us for a long time and is now in its second generation.
It has been super popular and is considered to be 'good property' by those who know.
No doubt another generation won't be far off but in the meantime, it pays to stay abreast of what's the go in van-land if you're an owner, operator or both.
There are plenty of choices from all points of the compass with recent introductions from China making an impact.
Exterior
Nothing much to report here apart from a mild tweak back in 2015 that touched up the frontal look and changed the colour of some body hardware and possibly the wheels.
The Hyundai iLoad remains easy on the eye with a utilitarian and business-like look featuring a happy face and practical straight sides and back. No jarring notes at all.
Interior
Inside got more of a revamp with generation two particularly the infotainment system with a seven inch screen but the wheel remains tilt adjust only.
Three woven cloth covered seats are provided with the middle unit folding to a centre armrest when needed. Adequate storage compartments dot the cabin including cup/bottle holders and document bins.
A cargo barrier is optional. Ten load hooks are provided in the two pallet, vinyl floored load area which is accessible through two side sliders and a choice of liftback or optional barn doors at the rear.
The load space itself is some 2375mm long and 1620mm wide.
Total available area inside the load space is 4426 litres.
Features
Because Hyundai iLoad is a commercial vehicle it needs to be practical above all else and it is not equipped nor expected to be equipped to passenger car standard.
However there's plenty of kit to keep the driver comfy, connected and entertained during possible hours behind the wheel.
The Bluetooth hooks up readily and audio quality is pretty good. The standard aircon' will cool the entire cabin and load space in a minute or two.
Keyless entry is handy while additional airbags from the revamp make iLoad safer.
Cruise control is handy for operators who go on the freeway and to optimise fuel consumption.
A trip computer provides half a dozen info' read-outs to keep the driver in touch. But the best feature to come from Gen II is a reversing camera that makes operating iLoad safer and easier.Ten load hooks are provided in the back.
Drive and Engine
Something to keep in mind here and that's the engine difference between the six speed manual iLoad and the 5-speed auto version.
The former uses a wastegate turbo diesel 2.5-litre four cylinder engine to drive the rear wheels while the latter uses a more powerful version of the same engine with a variable geometry turbocharger and it's a substantial difference, 100kW/343Nm versus 125kW/441Nm in the auto.
But you'll pay more at the bowser with the manual good for 7.6 litres/100km and the auto 8.8.
We drove the auto and it's the one you'd want to own – goes better, slick shifting transmission, car like feel.
Both have diesel particulate filters that need to light off regularly…. something else to keep in mind.
With drive going to the rear wheels, the engine is, as expected mounted fore/aft in the semi-bonneted engine bay.
Suspension is by MacPherson strut at the front and leaf springs on a rigid axle at the rear – perfect set-up for a working van
It has four wheel disc brakes too and a payload of 1098kg (auto), a bit more in the manual. The GVM (Gross Vehicle Mass is 3160kg on vehicle weights of 2047kg for the manual and 2062kg for the auto .
Coming as something of a surprise is the manual's 2.0 tonne towing capacity while the auto is 1.5 tonnes despite having more power and torque.
Gross Combined Mass (GCM = loaded and towing something) are 5160kg and 4660kg respectively.
We actually hooked up a 2100kg rig to the auto and it pulled it without any problems at all.
Safety
No advanced driver assist features but an array of equipment to get a four star ANCAP crash rating. Stability control, four airbags, reverse camera, traction control, safety cell body, ABS.
Good Bits
Looks good
Reputation for reliability
Two pallet load
Tows like a beauty
Easy to load
Great engine performance in diesel auto
Not bad on fuel
Full size spare
Rear wheel drive
Drives like a car
Not So Good Bits
Only a four star ANCAP rating
Tilt only steering wheel adjust
Cargo barrier optional
Stream only sat-nav
Gets pricey when you go for the auto – adds $3000
Summary
We like the iLoad a lot and we put it to work more than once. No wonder they're popular. No goofy styling gaffs and diesel only engine range is the way to go, rear wheel drive, the engine the right way around under the bonnet, passes EU5 emissions regulations, worth good money on the rebound. Happy days.
Facts and Figures: 2018 Hyundai iLoad
Engine: 2.5-litre turbo diesel four cylinder
Transmission: 5-speed auto
Safety: 4-star ANCAP
Origin: Korea
Warranty: 5 year/unlimited km
Price: from $41,790