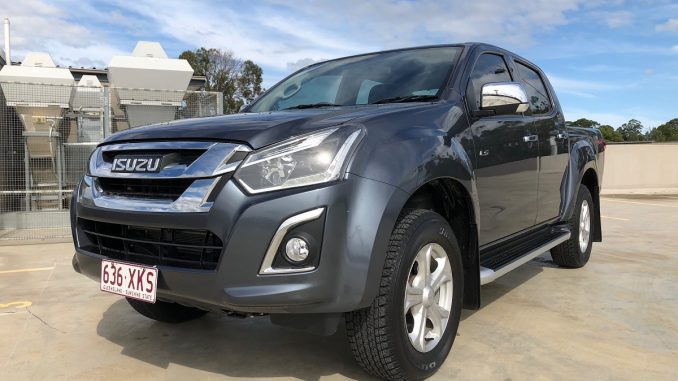 The Isuzu Ute story is one of hard work and complete commitment to a vision, it really is a great Australian success story.
And it's this vehicle, the D-MAX ute, that has forged the way and become an extremely popular offering among Aussies over the past decade.
It's likely to not ever be the best-selling ute in Australia, it isn't the flashiest or the most refined, but it has an extraordinarily large following.
The Isuzu D-MAX has a certain charm about it…I think because it never pretends to be anything it isn't.
Exterior
Dual-cab utes have become fashion accessories and while the Isuzu D-MAX shape is anything but revolutionary it still cuts a nice enough figure.
The 2017 update brought some styling tweaks and fresh alloy wheel designs…overall though I don't think anyone would say "No" to a D-MAX based on the vehicles looks.
Interior
As compared to a lot of the competition who are increasingly making their utes more SUV-like on the inside, Isuzu is still sticking with the rough and rugged feel on the inside.
That means it isn't the most comfortable truck in the segment.
Comfort is brought down by hard armrests and a hard(ish) steering wheel – Isuzu could soften it all up but that would be getting away from what this vehicle is all about.
Around the rest of the Isuzu D-MAX cabin you would say that things are fairly basic and functional, there's decent storage in the centre console, the gauges are clear to read and the heater/air-con controls are basic too.
Features
The Isuzu D-MAX comes with the standard bits and pieces you might expect in 2018…air-conditioning, Bluetooth, sat-nav, cruise control.
Don't go looking for things like Apple CarPlay/Android Auto, or Digital Radio though.
Drive and Engine
Power comes exclusively from one of the best engines in the truck/ute space – Isuzu's 4JJ1-TC unit.
Also found in some Isuzu light-duty trucks, in this application the engine brings 130kW and 430Nm and can be mated to either a six-speed manual or six-speed auto transmission.
My test vehicle was equipped with the auto transmission and generally speaking it works well with the engine, just at times though it seems to hunt around for the correct ratio.
Again, it isn't the most advanced transmission but you'd probably back it to still be going long after the more advanced and slicker boxes had called it a day.
Fuel economy from the D-MAX is likely to be around 8.7L/100km around town.
Safety
There's a full five-star ANCAP safety rating right across the 2018 Isuzu D-MAX range.
Good Bits
No Fuss Vehicle
Good visibility from driver's seat
Willing engine
Five-star safety
Great pricing
Generous warranty
Fuel economy
Off-road ability
3,500kg towing capacity
Not So Good Bits
Driving dynamics behind some competitors
Dated infotainment system
Lack of Apple CarPlay/Android Auto
No Digital Radio
Hard/not overly comfortable cabin
Auto transmission response
Summary
Having an Isuzu D-MAX ute in your driveway tells the world that you're a no-fuss kind of guy or girl who cares more about getting the job done than making a fashion statement.
It doesn't really excel in anyway, conversely, there's nothing about the D-MAX that really turns you off either.
I would be more likely to recommend the Isuzu D-MAX for adventurous types and tradies than Aussie families, fortunately for them there is the more comfortable and accommodating MU-X SUV.
Facts and Figures: 2018 Isuzu D-MAX
Engine: 3.0 litre turbo-diesel producing 130kW/430Nm
Transmission: Six-speed manual or six-speed auto
Safety: Five stars
Warranty: 5yrs/130,000km
Origin: Thailand
Price: from $28,500