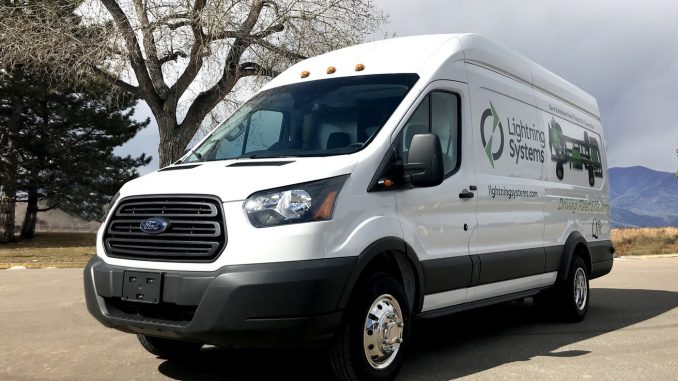 Delivery vans are an ideal platform for electrification and that's why a new electric version of the Ford Transit is about to hit the U.S. market.
The van is being marketed by a group called Lightning Systems and is called the 'LightningElectric', the electric powertrain can be installed and serviced by specialised Ford dealers.
Related: First customer deliveries for Volkswagen e-Crafter
The zero-emissions van will soon be able to be optioned with a hydrogen fuel cell range extender that uses hydrogen stored onboard in high-tech carbon fibre-wrapped pressure vessels.
Developed by Lightning Systems in partnership with Ford and their eQVM (Qualified Vehicle Modifier) program, the van features a liquid-cooled Lithium-Ion battery that can be fast-charged in thirty-minutes on DC fast charging, and in six hours with Level 2 charging.
Depending on battery option and drive cycle, LightningElectric has a payload capacity of up to 4,000 pounds (1.8 tonnes) and an electric-drive range of 200 miles (320km).
"We're excited to deliver the LightningElectric zero-emissions Ford Transit this month as promised." said Tim Reeser, chief executive officer for Lightning Systems.
"Our road testing validated an industry-leading EV efficiency, and it is smooth, quiet, and fast,"
"I'm especially thrilled to announce the upcoming zero-emissions hydrogen fuel cell range extender for the Ford Transit.
"It is a natural step for Lightning with our extensive experience with sensor-equipped high-pressure composite vessels that we pioneered with our hydraulic hybrid offering."
Check out more details on Lightning Systems…
Related: Workhorse N-Gen Electric Van unveiled
No word yet on the Ford Transit EV being available in Australia, we will keep you updated though as any further info comes to hand.