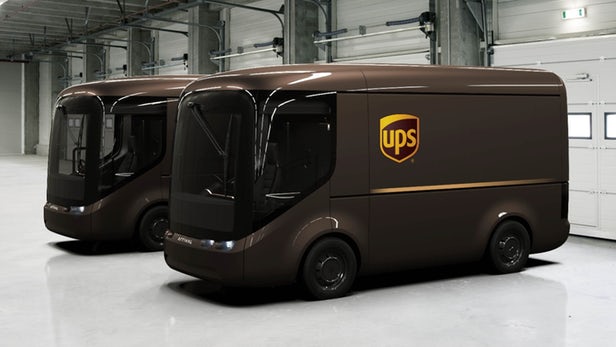 The future of delivery vans looks almost certain to be electric with parcel delivery giants UPS a big fan of making the switch.
UPS has big goals to slash its carbon emissions in coming years and a big part of achieving that is in the use of electrically driven delivery vans.
Related: Ford expands electric Transit van trial
On the heavy vehicles front the business has committed to one of the largest orders seen so far for the Tesla Electric Truck.
UPS is also working with Daimler Trucks on the expanded use of more environmentally friendly natural gas-powered trucks in the UPS fleet.
Now, in the UK and France, UPS has just announced it will soon be deploying 35 fully electric delivery vans.
As seen above, the vans will be produced in collaboration with UK-based technology firm Arrival.
Set to boast an electric drive range of more than 240 kilometres, the vans will also be equipped with advanced driver assistance systems and UPS say this will improve safety and reduce driver fatigue.
"This initiative will help UPS attain its global carbon reduction goals for the company's facilities and fleets," – Peter Harris, director for sustainability at UPS Europe.
"We will continue working with our partners, communities and customers to spark innovation, thus leading the industry toward a more sustainable future."
Related: New-gen Great Wall Motors Ute set for 2020 arrival
Stay  up to date with the latest Light Commercial Vehicle News at uteandvanguide.com.au.