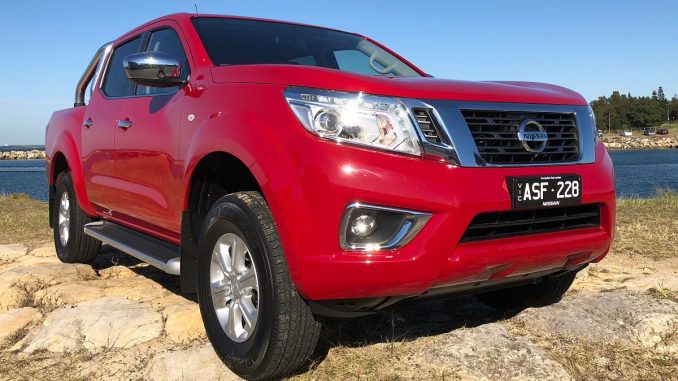 The Nissan Navara, now with a rejigged rear suspension tune, is a must-drive vehicle if a dual-cab pick-up is on your shopping list.
It's up there with the best when it comes to on-road manners, comfort and ease of use, while reasonable pricing and a maximum five-star ANCAP safety rating are the icing on the cake.
The only area where the Nissan offering comes up a bit short is outright power and torque.
Exterior
The 2018 Nissan Navara didn't get any styling tweaks in the recent upgrade, and this current shape has been around for a few year now.
But it most likely didn't need to be tweaked.
In fact, it's probably one of the most handsome dual-cab utes on the market, it's not the most masculine, but it has some nice shapes and those rear window kinks that set it out from the pack.
While the small sliding/electric rear window is a conversation starter…I'm not sure how really usable this is, no doubt though that some people like it.
Interior
Is this an SUV or a dual-cab ute? Nissan provides the Navara with a really people-friendly interior with a nice look, comfy seats, nice feel throughout and good fit and finish.
The gauges are large and easy to read on the go, the colour driver info screen is also a nice addition.
There's long and thin door pockets, but the centre console bin and glove box are disappointingly small.
While you could certainly say that the infotainment system isn't cutting edge in looks or functionality.
It works well enough, and you do get sat-nav, but it's behind some of the systems found in rivals, add into this that there's no digital radio, no Apple CarPlay and no Android Auto.
Watch out for the chunky A-pillars too, they tend to block forward 3/4 visibility, while I found the large horn pad on the steering wheel a bit too sensitive and this led me to some inadvertent horn beeps.
A point off too for a lack of steering wheel reach adjustment (tilt-only).
The Nissan Navara cab is well insulated and this brings up the refined feel even further.
Legroom is good up front, while the rear space is generous enough for adults to sit in reasonable comfort, the rear seat is comfortable enough too.
One good feature that rear occupants get are large grab handles on the B-pillars, one of these would be a handy addition to the A-pillar for driver use (as the front seat passenger gets).
Features
The ST-grade of the Nissan Navara sits one peg down from the top-spec model.
Standard gear found in the Navara ST includes:
Reverse camera
Cruise control
Sat-nav
LED Headlights
Heated mirrors
Height adjustable seat
Side steps
Leather-look steering wheel, gear shift, parking brake
Drive and Engine
Lower-spec versions of the Navara are powered by a version of the 2.3 litre turbo-diesel engine with a single turbocharger and a 120kW/403Nm output.
The Navara ST though gets a twin-turbo set-up and a 140kW/450Nm output.
While transmission choice is six-speed manual or seven-speed auto, my test vehicle was fitted with the self-shifting gearbox.
The engine/transmission delivers smooth power and adequate acceleration.
The Nissan ute's outputs compare well with models like the Toyota HiLux (130kW/450Nm) and Isuzu D-Max (130kW/430Nm).
But it's behind models like the Mazda BT-50/Ford Ranger (147kW/470Nm) and Volkswagen Amarok V6 (200kW/550Nm).
One good option that Nissan gives Navara buyers is an optional/cheaper 4×2 version of the ST that would suit buyers not interested in getting seriously off-road.
Safety
As mentioned, all model grades of the 2018 Nissan Navara range get a maximum five-star safety rating.
At this stage though driver assist features like Autonomous Emergency Braking aren't available on the Nissan ute.
Good Bits
Refined driving dynamics
Comfy/refined interior
Reasonable pricing
Availability of cheaper 4×2 variants
Not So Good Bits
Small cabin storage areas
No reach adjust on steering wheel
Lack of Apple CarPlay/Android Auto/digital radio
Summary
The Nissan Navara has a point of difference to every other ute available in Australia (other than the Mercedes-Benz X-Class) with a coil rear spring suspension set-up.
Previously a weak point, the recent upgrade brought the Navara's load carrying capacity up to the leaf spring fitted rivals.
For passenger comfort though the coil springs are a big step ahead of the more traditional set-up and that's what makes the Navara the most SUV-like dual-cab available.
It could use a little more grunt, true, but overall the Navara is a very good package.
Facts and Figures: 2018 Nissan Navara ST
Engine: 2.3 litre twin turbo-diesel four-cylinder 140kW/450Nm
Transmission: Six-speed manual or seven-speed auto
Safety: Five stars
Origin: Thailand
Warranty: 3 yrs/100,000km
Price: From $40,190 to $54,490