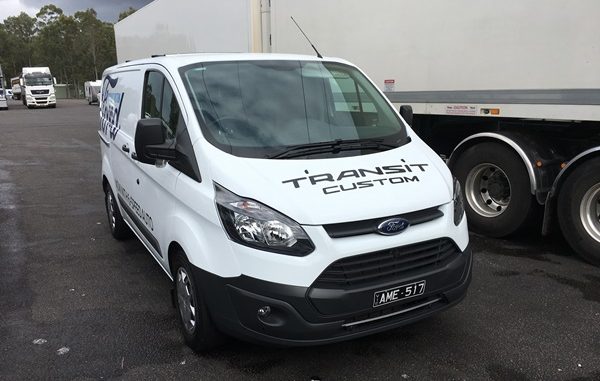 For as long as I can remember it seems that the Ford Transit Van has been around.
It has come in many variations and I have a friend that had a Transit to transport her family tribe around.
So when the opportunity came up to test the new Custom Transit to move some gear from a storage bay I jumped at the chance.
Ford updated the Transit in early 2017 with the addition of a 6 speed automatic transmission, an all-new generation 2.0L EcoBlue engine, over 100 colours to choose from and upgraded technology.

Ford Transit Custom External
The Ford Transit Custom actually looks pretty good for a van. It has a slim line front nose and grill sweeping back with a sloping windscreen. It is more Family van than delivery van design. From the side it manages to have an upswept look while keeping a straight roofline.
It definitely looks better than the Toyota Hiace we had the following week.

Ford Transit Custom Interior
Jump inside and the news is still good. The driver's seat is relatively comfortable. And even though I am 190cm tall I could just manage to get enough leg room. It was a little tight but manageable. It definitely is better for those 185cm or shorter.
The step up is appropriately placed and allows easy entry and exit. This is a big plus amongst these style of vans.
There is plenty of visibility front and out the sides. Through the rear the large windows are good with no load on board, but the reversing camera provides excellent coverage when reversing.
The steering wheel is comfortable and frames the dual dial dash with twin segments between. One good thing is that the stalks are higher than the steering wheel spokes and easily visible.
There is adequate room for three people in the cabin.
Ford Transit Custom – Features
The arrival of the 2017 Custom comes with new tech options. In addition to the City Nav Pack, all Transit Custom vans benefit from:
A larger reversing camera display that's now located on the audio system screen rather than in the rear-view mirror.
Standard Multi-Function Display screen size has been upgraded to a 4.0-inch TFT (Thin-Film Transistor) colour screen.
Options include Dual Side Load doors, which mean the Transit Custom's cargo is always kerbside accessible no matter which way it's loaded, while an optional Rear Liftgate Door offers flexibility of full access to the load area for those who need it.
Ford Transit Custom – Engine and Drivetrain
The Van now comes with the all-new 2.0L turbo Euro6 EcoBlue engine and a 6 speed automatic transmission. The engine produces 96kW/385Nm. The key here is that the torque comes in at around a relatively low 1500 rpm and makes driving easy either with a load or not.

Like a lot of vans, the transmission lever in on the lower dash and that makes for more room and easier gear shifts.
Fuel economy was around 8.0L/100K on the freeway and about 10L/100K around town.

Ford Transit Custom – What is it like to drive?
Well around town the Transit is easier to drive than you might expect. It doesn't have the same cab forward feel as say a Hiace, which makes it more car like to drive. The engine, transmission combination works well together. It has food visibility and easy to park etc.
If I was doing daily deliveries. I would be happy with the Transit.
We loaded it up with some gear from storage, a tonne of pavers for one load and on another a pile of recycled doors, windows and floorboards. The low roof height makes for a bent back if you're inside loading things.
Even though there was a full load, the Transit easily coped with it. On the freeway it simply cruised at the speed limit and was stable. It wasn't until I drove another van the following week, that I realised just how stable it was.

The new vehicles are fitted as standard with a new wind stabilisation technology that helps drivers stay in lane when their van is hit by a sudden crosswind or the turbulence created by a large truck.
It is designed to carefully apply the brakes on one side of the vehicle to reduce the effect of a side wind gust on the vehicle's path.
So overall, the Ford is easy and comfortable to drive and copes with a full load without complaining.
While it will tow up to 2500kg, we didn't have the time to try it. However the Transit also has trailer sway control as an additional safety feature.
Ford Transit Custom SWB Dimensions
Overall length of 4972mm
Wheelbase of 2933mm
Width of 2290mm
Height of 2522mm
Loading Bay length of 2555mm
Loading bay height of 1406mm
Loading bay width of 1775mm and wheel arches of 1390mm
Load volume is 5.3 cubic mtrs
Turning circle is 13m
Tare weight 1868kg, GVM of 2900kg
Payload 1032kg

Ford Transit Custom – Safety
Ford has come up with a 5 Star ANCAP safety rating for the Transit. Main features include:
Six airbags,
trailer sway control,
dynamic stability control and
load adaptive control.
In addition the Transit Custom has a new optional Technology Pack. This offers the latest smart features and driver assistance tech including:
Autonomous Emergency Braking (AEB) with Pedestrian Detection,
Adaptive Cruise Control,
Auto High Beams,
Auto Rain-Sensing Wipers,
Lane Departure Warning,
Blind Spot Monitoring with Rear Cross Traffic Alert and more.
Ford Transit Custom – Extended Service Intervals and Warranty:
Customers who travel significant kilometres each year will find the new 2.0L EcoBlue in Transit Custom enables less vehicle downtime, courtesy of recommended standard service intervals increasing to 12 months/30,000km, whichever occurs first.
This represents an additional 15,000km over the current Transit and Transit Custom range.
Small Business and private customers will benefit from Transit and Transit Custom's longer warranty, which will be a factory warranty of three-years/200,000km, whichever occurs first factory warranty, providing an additional 100,000km over the current standard new vehicle warranty.
Good Bits:
Engine Transmission combination
Optional Technology pack
Ride and handling
 Not so Good Bits
Small reversing camera
Not great for taller drivers
Technology pack is optional

Ford Transit Custom – Conclusion
The new Ford Transit Custom is an improvement on an already good delivery van. Priced from $42,440 MLP for the 6 speed automatic.
The new engine/transmission combination is again an improvement over the previous model.
It carries a load with ease, is economical and simple to drive and rides more like a car than a cab forward delivery van. It's definitely worth a test drive.
NUTS and BOLTS – 2018 Ford Transit Custom SWB
Engine: 2.0L turbo diesel producing 96kW/385Nm
Transmission: Six-speed Auto
Warranty: 3 Years/200,000km
Safety: 5 Star ANCAP
Origin: Europe
Price: from $42,440 MLP