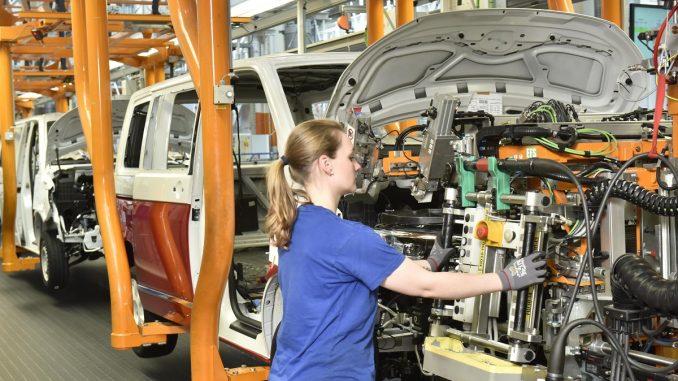 Workers at Volkswagen's Hannover plant have taken a moment or two to celebrate the production of the 500,000th current-generation T-Series van at the facility.
But they didn't take too long to mark the occasion…the plant is currently producing the popular van across three shifts and working around the clock.
Related: New Crafter leads Volkswagen to strong sales result
Volkswagen Transporter production is up 4.5% as demand for the van series continues to grow.
Its three years since the current sixth-generation Transporter went into production, Hannover has been building the van though since 1956.
In total the Hannover plant alone has seen about 8.8 million Transporter vans pass down its production line.
Today, the plant produces Multivan, California, Kombi, Caravelle and Transporter, while over at the Poznań plant in Poland workers are producing Kombi, Caravelle, Transporter and pick-up models.
"This milestone is, above all, the result of consistent customer focus," says Dr Eckhard Scholz, Chairman of the Brand Board of Management of Volkswagen Commercial Vehicles.
"We are gearing our production more than ever to the wishes of our customers and with intelligent solutions we are creating added value for their everyday routines and leisure activities.
"At the same time the excellent production figures are indicative of committed employees and thus of a highly efficient site.
"This story of success is one that we will continue to write together!"
Related: Power boost for V6 Volkswagen Amarok
For the record, the milestone 500,000th vehicle was a Multivan with two-tone paint finish in Candy White and Curcuma Yellow.
Check out our most recent Volkswagen Transporter Review.
Stay up to date with the latest Volkswagen Commercial Vehicle News at uteandvanguide.com.au.