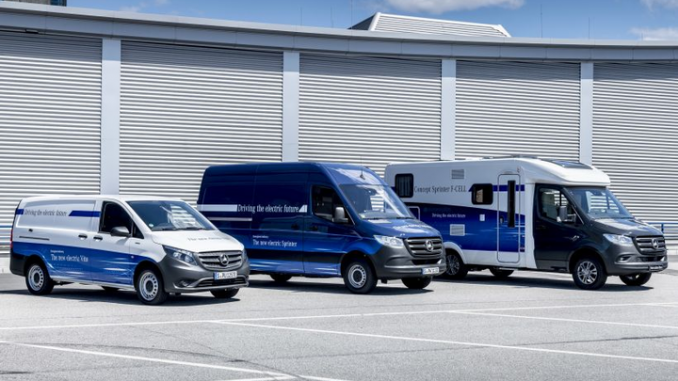 And it's the Mercedes-Benz Sprinter that looks set to be the first cab off rank.
Related: Small number of Mercedes-Benz Sprinter Vans recalled
Daimler AG has just taken the covers off a concept Sprinter that delivers power from a hydrogen fuel cell stack to an electric motor.
They say the van could achieve an effective range of 500 kilometres (310 miles) while producing 147kW/350Nm.
The rear-wheel-drive Concept Sprinter F-Cell, which would function similarly to a plug-in hybrid vehicle, follows the company's Mercedes-Benz GLC F-Cell midsize SUV that was shown at the 2017 Frankfurt International Motor Show.
Will the electric/hydrogen Sprinter become a reality? Yes, Daimler execs say the company intends to offer the vehicle as a production model.
Three hydrogen tanks store 4.5 kilograms of gaseous fuel and would provide 300 kilometres of range.
Another tank can be added to the rear of the vehicle to increase range.
The powertrain pairs the tanks with electrified power that adds another 30 kilometres of capability.
We will keep you updated as further info comes to hand.
Related: Mercedes-Benz Vans off to solid start in 2018
Stay up to date with the latest Mercedes-Benz Vans News at uteandvanguide.com.au.