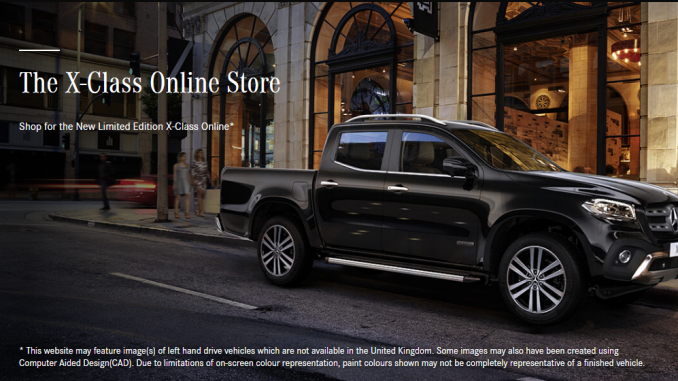 Online new car and commercial vehicle sales look set be common in coming years.
In the UK the trend towards using online car showrooms, configuration tools and even complete vehicle purchasing is well advanced, allowing people to buy a new car without physically leaving their home or office.
Locally, a couple of manufacturers have dipped their toe in the waters of online new car sales, yet there seems to be a reluctance to dive all the way in at this point.
In the UK the latest development is a shift to online sales of the new Mercedes-Benz X-Class pick-up/ute.
Mercedes-Benz Vans UK has launched a new online vehicle sales platform and they say they've taken the action based on both strong customer demand for the model, and the changing consumer buying habits seen in the automotive industry.
At this stage the online sales option will only cover a limited-edition version of the X-Class – the EDITION 1.
The online sales platform also enables a choice of finance products and Mercedes-Benz Vans customers can have the vehicle delivered to their billing address or visit their preferred Dealer to collect it.
Two free services are also included in the offer.
Steve Bridge, Managing Director of Mercedes-Benz Vans UK says it's an exciting development.
"We have historically been the pioneers in the commercial vehicle business and we're proud to be the first commercial vehicle manufacturer to bring this platform to our customers.
"We constantly look for ways to diversify and grow our business for ever-changing customer needs which is what this innovative online platform hopes to achieve."
Will the online sales undermine the dealer network? Mercedes-Benz Vans say it won't.
In announcing the online opportunity, the brand told us that the retailer network's expertise and service is vital and "the online platform introduction helps us as a business put the customer at the centre of everything we do".
Check out the Mercedes-Benz Vans UK online sales portal here.
No word yet on any similar moves in Australia, we'll keep you updated.
Are you ready to buy your next van or ute online? Let us know your thoughts in the comments section below.
Stay up to date with the latest Mercedes-Benz LCV News at uteandvanguide.com.au.