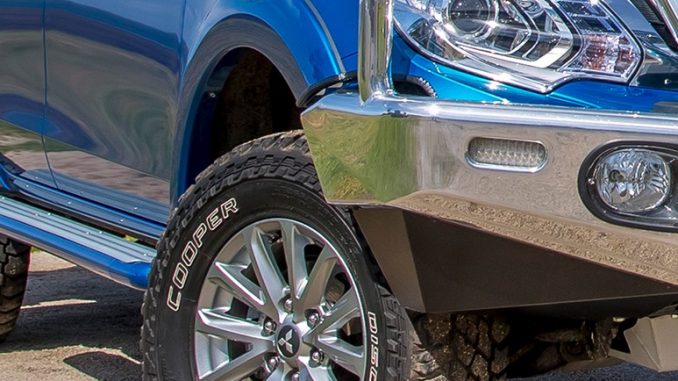 Great, you've purchased a ute or a van with a one-tonne payload.
It's time to hit the road, first up you have to fuel it up and add your family.
You might also want to invest in a bull-bar, snorkel, tow-bar, bigger wheels, a fridge/esky full of drinks, luggage, a roof-mounted storage box…that's one nicely kitted out vehicle.
Maybe a tinny on the roof to go fishing?
Or a roof-mounted tent?
A canopy?
Tool box?
Side-steps?
Fishing gear?…the list goes on!
But do you still have the ability to throw a one tonne load in the back? Of course you do, it's a one-tonner!
Wrong.
You have to factor in all the things that you've added to your vehicle above the standard 'dry' weight of the ute or van when calculating your remaining weight capacity.
Let's have a quick look at just some of those add ons and how they can quickly chew into your one tonne load capacity…
A family? Well lets be kind and say you and your better half weigh 150kg combined. Two kids, that's probably 50kg there.
That's 200kg, 800kg to go.
An alloy bull-bar for a ute is probably going to be 30-40kgs, a steel bull-bar will be double that.
Throw in a full tank of fuel – 80 litres = 56kg.
So, that's a third of your one tonne payload gone straight off…without any kind of 'official' load being added to the vehicle.
The snorkel, wheels, fridge etc. could have you easily at 500kg before you realize it.
That's half your one tonne (total) payload gone without actually loading those dirt bikes in the back, the bags of cement, the pavers, tools, etc. etc.
We wanted to make the point that the one tonne capacity starts to be eaten away as soon as you start adding stuff into and onto your vehicle.
This is a particularly important point for people who use their vehicles for both and work and play.
Oh and don't forget that we haven't even started to talk about the limitations placed on LCVs when hooking up trailers and caravans!
Having an overloaded vehicle is in no ones interest.
Carrying too much weight is not only illegal, you could seriously damage your vehicle, and significantly increase your crash risk.
Please try to keep these points in mind next time you're about to throw a big load on, or in your Light Commercial Vehicle (LCV).