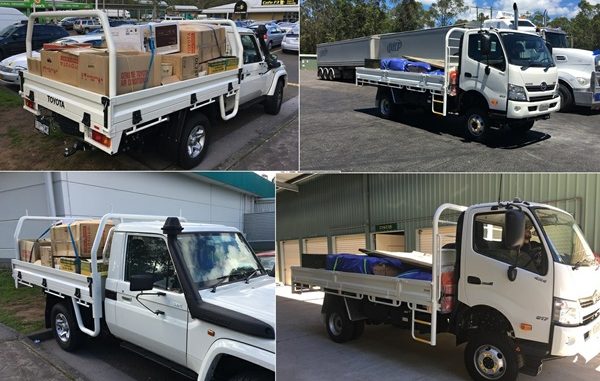 Sometimes we do seemingly odd things in life. Like compare a Toyota LC70 Series GXL Single Cab Ute to a Hino 300 Series 4X4 Truck Ute.
On the surface they are nothing alike, but there are some similarities that may surprise and the differences may prompt you to think a little differently.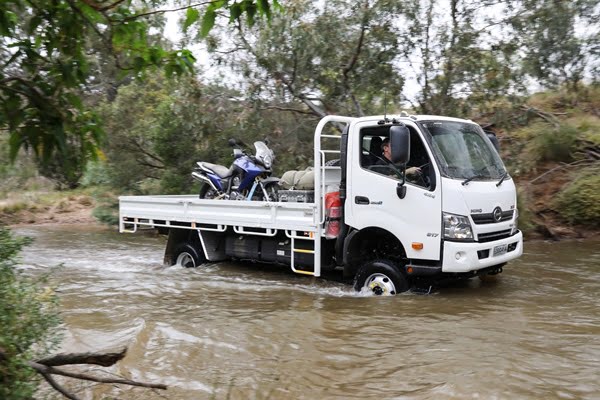 We all know the Toyota LandCruiser Series 70 Cab Chassis Ute. It has been around forever, has stood the test of time on mining fleets, on farms around the country, by tradesman and other workers and recreational users.
It is big, bold, expensive 4X4 Ute. The pinnacle of the Utes.
It is also devoid of many comfort features, lacks many safety features and can be tiresome to drive.
Sit this alongside the Hino 300 Series 4X4 Truck Ute. Just recently launched, it carries on the Hino reliability and ruggedness, just in 4WD form. The normal 2WD Truck also has stood the test of time on fleets etc. and is a rugged delivery Truck.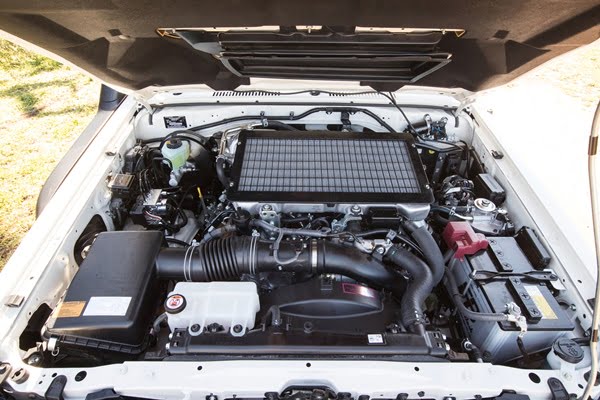 The LC70 GXL has a 4.5L V8 TD engine producing 151kW @ 3400rpm of power and torque of 430Nm @ 1200-3200rpm running through a 5 speed manual transmission.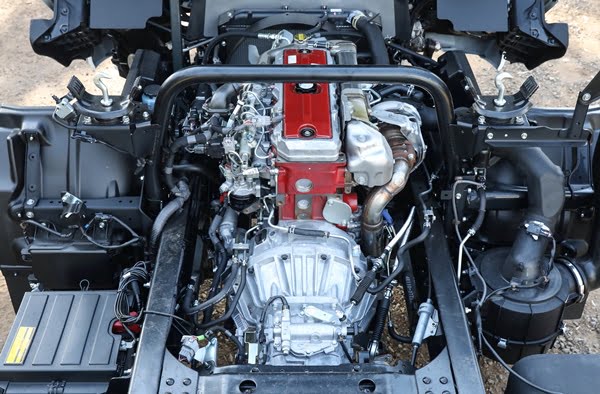 The Hino 300 Series 4X4 has a 4 cylinder TD engine producing 121kW @ 2,500 RPM of power and torque of 464Nm @ 1,400 RPM running through a 6 speed transmission.
Both vehicles have a dual range transmission with high and low range. The Hino needs to manually lock the front hubs, but then can shift to 4WD with the push of a button. The LC70 runs full time 4WD.
Let's have a look at what is similar between these two 4WD Utes. They both
Come in single and dual cab versions
Are around the $70,000 – $85,000 mark. For the LC70 and $85,000 – $90,000 for the Hino
Have a dual range 4WD system
Have a tray back
Only come in manual transmission
Will tow 3500kg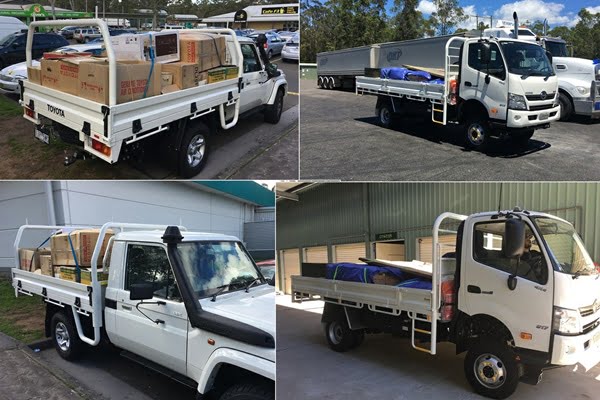 What are some of the differences?
The LC70 SC Ute has a payload of about 1T while the Hino has a payload of around 2.4T
The LC70 SC Tray dimensions are usually 2420 long and 1820 wide (both internal measurements)
The Hino Tray dimensions for the SC are 4390 long and 2320 wide.
So the Hino is as wide as the LandCruiser is long in the tray. You can fit 2.4 LC70 trays in the Hino tray. That is a massive difference.
The Hino will carry three or seven people. The LC 70 will carry two or five at most.
In the Ute market the LC70 reigns supreme for carrying capacity and ruggedness. However it pales compared to the Hino 300 Series 4X4. The Hino will out 4WD the Landcruiser and carry more people and load while it is doing it.
I sat in a Hino weighing a bit over 7 tonnes all up and we climbed a 45 degree slope in low first gear as if it was flat. As good as the LC70 is, it will never do that.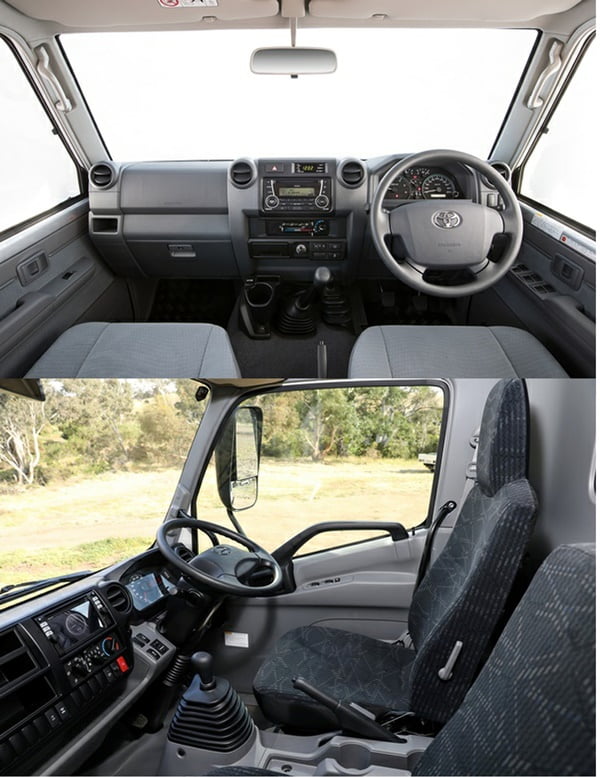 Internally, neither vehicle is what you call luxurious. The LC70 still carries over switchgear from the HJ60 of the 1980's. It still has manual adjusted external mirrors. It has however had some safety and comfort improvements of late and also some improvements to the steering geometry and suspension to make it easier to drive on road.
The latest model is much better on road than any previous model.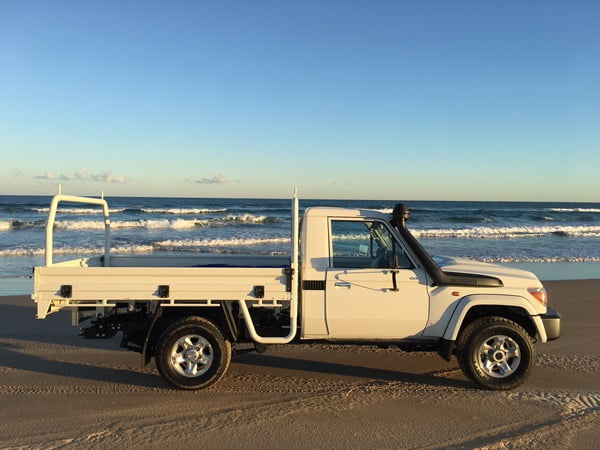 While there are concessions to driver and passenger comfort, the Hino is vastly different to top spec Dual Cab Utes from Holden or Toyota etc.
The drivers magnetic suspension seat is comfortable enough as is the front passenger, but if you opt for the dual cab version and lump the kids in the back, they will be complaining before the first hour. Better to individualise the rear seats and set the area up for them, they will love it.
You obviously climb up into the cab and you are right there. The cab forward design means that you pretty much look straight down. This can be a benefit off road in tight tracks. It's also scary as shit going over steep slopes.
While the Hino 300 Series 817 4wd has a theoretical top speed of 120+ kmh it is electronically limited to 100kmh so that does prove frustrating on the open road when you are used to cruising at speeds above that. There is no auto transmission version available.
To be honest this is a major limitation. I had to actually sit in the left hand lane while other trucks (obviously not limited) passed me. At least the LC70 can cruise comfortably between 110 and 130kmh.
The Hino also drives like a truck, meaning leisurely acceleration, heavier on fuel than you are used to, it bounces around even with a load on, the cab over style means that you are steering through corners before turning and the width is more than normal Utes.
Yes the Hino is heavier, longer and wider, more difficult to drive around town and on bush tracks, harder to climb up into and uses more fuel (marginally) but it has 2.4 times the tray size and payload capacity.
If you are looking for something larger than the LC70, perhaps also you may be looking to design something more permanent on the back.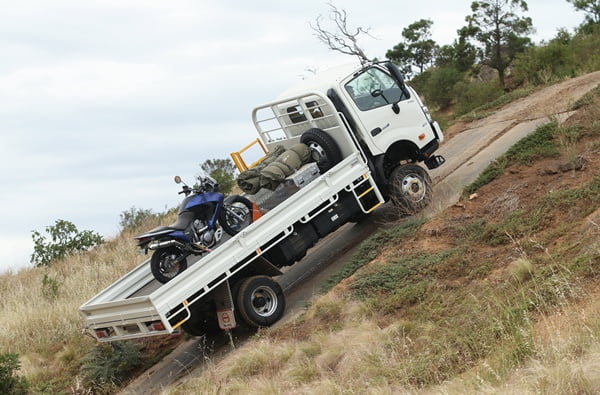 If you are looking for a farm or trade Ute both are acceptable. However here the Hino has tremendous advantages. This is especially so where you're not travelling long distances or in tight roads or trails.
The characteristics of the Hino 4X4 system and the super low crawl gear were reinforced again and again around the test track to the point where I found myself thinking, why aren't all 4WD Utes like this?
The Hino has some impressive 4WD credentials. Water fording, courtesy of the high air intake is outstanding, approach angle is 34°,  rampover angle is 159° and departure angle is 30° (depending on the tray). The ground clearance is 205mm which is a little low but the underpinnings are bullet proof.
You do have to remember to lock the hubs before engaging 4WD, reminiscent of a previous life, however once they are locked you can switch between ratios with the push of a button.
For a pure 4WD Ute you can't go past the Toyota LC70 though. It is king of the 4WD track.
For recreational users the dealers can offer single rear wheel options, diff locks, GPS Sat Nav with 4WD tracks, additional reversing cameras, LED Headlights, bull bar and winch options. The waterproof reversing camera is excellent for assisting with hooking up the trailer as well.
Safety is a big feature on the Hino 300. The Hino 300 Series 4×4 is brought to a stop by four-wheel ventilated disc brakes, combined with the standard fitment of Anti-lock Braking System (ABS), Electronic Brake-force Distribution (EBD) and Power Assisted Braking (PAB) and Vehicle Stability Control (VSC).
Put simply, VSC helps prevent the truck potentially skidding out of control by monitoring wheel rotation speed, steering angle, yaw rate, lateral G forces and braking.
The VSC can autonomously take the appropriate action required such as reducing engine power and/or applying individual brakes with the intent of keeping the vehicle upright and safely negotiating the corner.

Having driven literally hundreds of 4WD Utes over the years, I have a reasonable feel for how they perform. It's not often I walk away from a test drive with a renewed perspective for what is achievable.
I'm not saying the Toyota Landcruiser 70 Series Single Cab GXL Ute or the Dual Cab are direct competitors for the Hino 300 series 4X4 single or dual cab Truck Utes.
What I am suggesting is that when considering your options as to what best suits your needs, the Hino 300 series 4X4 Truck Ute, just may come into the options. It has its strong points and is definitely worth looking at.