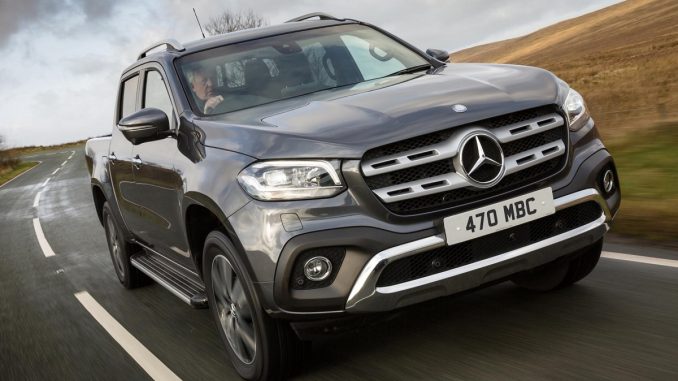 The Mercedes-Benz X-Class is expected to be a popular choice among ute buyers who want something a little more flash than the standard one-tonner.
Sure, there's a Navara underneath, but by all reports Mercedes-Benz has really done the hard yards to ensure the vehicle's dynamics are up to what you would expect from the big-selling luxury car brand.
Related: 2018 Mercedes-Benz X-Class lands with top safety score
And that work, which comes on top of a better than decent platform, seems to be paying off.
The X-Class has just been honoured with its first UK award, 'Professional Pickup of the Year', at the inaugural Professional Pickup & 4×4 Awards.
The judging panel consisted of 12 pickup owners who use their vehicles as part of their daily lives and include farmers, builders, fencing contractors and even a professional hunter.
Liam Campbell, Editor, Professional Pickup & 4×4, said the new Mercedes-Benz ute ticked all the boxes for the different driver's requirements.
"From a lifestyle perspective, it was deemed the most comfortable, refined and the best furnished out of all the contenders, but also from a working aspect, the X-Class has a 3.5t towing capacity, a respectable 4WD system and it's backed by Mercedes-Benz's reputable commercial vehicle Dealer network."
While Steve Bridge, Managing Director of Mercedes-Benz Vans UK, said the brand was delighted with the award win.
"The feedback from customers and those who have tested the vehicle has been outstanding and we are pleased to be raising the bar in this ever-growing sector with the first truly premium pickup."
Related: LSX returns in 2018 Holden Colorado range
Stay up to date with the latest Mercedes-Benz ute and van news at uteandvanguide.com.au.