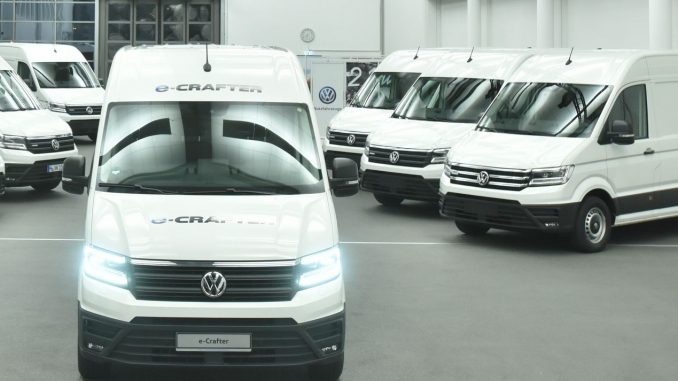 Volkswagen will make another step towards their electric vehicle future later this year with the first customer deliveries of the all-electric eCrafter taking place in Europe and the UK.
Locally, Volkswagen Australia tell us the eCrafter isn't on their radar just at the minute, however they say they are committed to an electric future, starting with the ID family of vehicles, commencing from 2020.
We'll keep you updated as further details come to hand around potential Australian availability.
Related: First customer deliveries for Volkswagen e-Crafter
For the UK and Europe though the eCrafter will be a reality very soon.
The electric van has been scheduled for a public debut at the upcoming Commercial Vehicle Show later in the month and then real-world testing with four UK customers from next month.
All going well, Volkswagen is expecting the eCrafter to officially go on the market in September.
Aimed at operators whose vehicles cover between 70 and 100 km per day, the Volkswagen eCrafter boasts a range of around 160 kilometres from a 5.5-hour recharge (wallbox).
There's 100kW of power on tap and a top speed limited to 90km/h.
There's no loss of cargo space – the eCrafter's lithium-ion battery is completely integrated into the underbody, while the van boasts a maximum payload of up to 1.75 tonnes.
Carl zu Dohna is the head of Volkswagen Commercial Vehicles, he says it's very exciting to see the van about to enter service.
"Our promise to work with all customers and provide them with bespoke mobility solutions to keep them and their businesses moving is at the heart of everything we do.
"Having the right vehicles, including alternatively fuelled vans, is essential and we are sure the eCrafter will play an important part in our future model strategy."
Related: Mercedes-Benz extends van recall action
Stay up to date with all the latest Volkswagen Commercial Vehicle News at uteandvanguide.com.au.