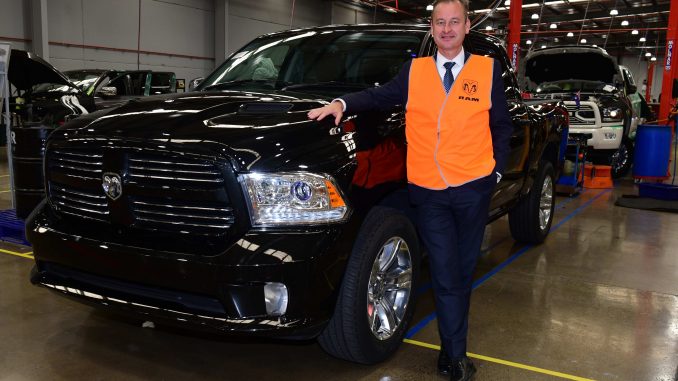 Roger Zagorski, the Managing Director of Australia's official factory appointed RAM importer and distributor, the Ateco Group, has driven the first RAM 1500 off the Melbourne production line where the legendary American truck is being remanufactured into right hand drive for sale in Australia and New Zealand.
"With the official launch of the RAM 1500 just weeks away, it was great to be at the wheel of the first of what is now a steady stream of RAM 1500 Trucks that are coming off the Melbourne production line and getting ready to head to RAM dealers right across Australia and New Zealand," said Mr Zagorski. "The RAM 2500 and 3500 have paved the way for RAM 1500, but the new truck takes RAM into the heart of the premium Ute market in Australia, with major advantages over its rivals, and so the volume expectations are on quite a different scale. This is why we have a new purpose-built production line in Melbourne that is producing RAM Trucks that are without a doubt full production quality."
"The Australian designers, engineers and technicians on the production line, along with the Australian component suppliers with which we are working, have done a remarkable job on the Australian remanufactured RAM 1500. This is a world-class vehicle of which they can be truly proud," says Mr Zagorski.
When the RAM 1500 launches in Australia later this month, it will do so with significant advantages over its rivals. The RAM 1500 will be powered, as standard, by the automotive legend that is the 5.7 litre HEMI V8 engine, marking a return of the V8 powered Ute to the Australian market. The RAM 1500 is significantly larger than its market rivals and will offer the ability to tow up to 4.5 tonnes, a tonne more than the rest of the market. It will also offer features and options that are simply not available on lesser Utes.
"The moment that Hemi V8 sprung to life at the end of the production line for the first time, accompanied by its unique throbbing sound track, it was audibly clear that the RAM 1500 will offer Australian something that is uniquely capable to meet all the demands of an Australian lifestyle or business," says Mr Zagorski. "I am sure, as it rolls into dealers throughout Australia after its mid-June launch, it will be clear that the RAM 1500 will set a host of benchmarks."
Full pricing and specifications for the RAM 1500 range for Australia will be announced when it is launched in mid-June.