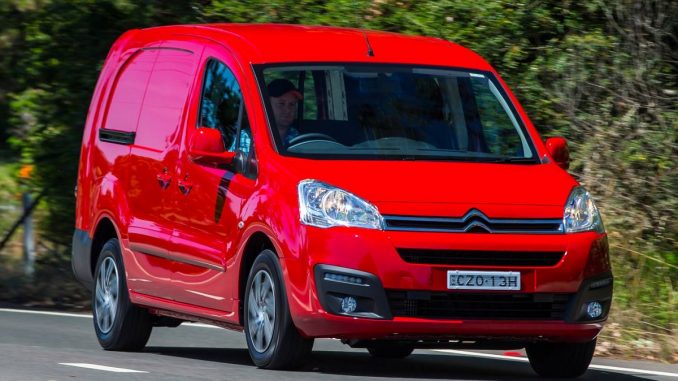 Citroen has already started showing images of the new generation Berlingo van but it's not here until next year.
It looks similar to the current model with a "funny" face and compact dimensions – check it out here.
But there will be plenty of changes inside and under the bonnet of the new Citroen Berlingo.
Meanwhile, the current car-based offering soldiers on after a recent upgrade that brought Apple CarPlay/Android technology along with some additional kit such as:
Reverse camera
Stability control
Multiple load doors
Hill hold
No advanced driver assist technology though – because the vehicle was designed a long time ago when that sort of stuff wasn't around.
As it stands, the Berlingo is a good, useful working vehicle capable of returning excellent fuel economy while carrying up to 750kg in the back and possibly 800kg towed behind.
Not possible you say.
I beg to differ because the Berlingo diesel manual I drove has plenty of get-go and feels strong as an ox when working hard.
The base model driven had black plastic exterior body panels and looks a bit like a panda around the face. Who cares, it's cheap and honest and probably as reliable as grandfather's axe.
Exterior
Not much to say here except…. slightly kooky looking "eyes" and a big chin (bumper) with Citroen's chevron brand in the middle.
From the large front doors back it could be any other small `blind' van but Citroen fits this latest version with twin side sliders and rear barn doors.
The load compartment of the Citroen Berlingo is rounded off a tad but you can squeeze in a full size "Aussie" pallet through the rears that open to 180 degrees.
Loved the working class "steelies" on the test vehicle complete with silver paint. No mucking around with frivolities here mon cher.
Interior
It's hard and grey and plastic but you can hose it out or spill stuff in there and it matters not a hoot.
The dash has a centre 7″ touchscreen with all the necessaries and there's an instrument pod in front of the driver, slightly offset to the right.
I am pretty sure the metal load protector is standard behind the driver and the test vehicle had a thick plastic cargo blind as well as a plastic floor liner in the cargo bay.
Some side protection is fitted in the 3.7 cubic metre back of the Citroen Berlingo, along with a bunch of tie down hooks.
Berlingo's interior is not pretty by any stretch but is functional and serviceable. The lack of driver seat adjustment range may be an issue.
Features
Punchy and economical 1.6-litre turbo diesel engine
Twin side sliders
Twin barn doors at the rear
Plastic floor protector in load area
Tie down hooks
Apple CarPlay/Android Auto connectivity
Four wheel discs
Car based van
Takes full size pallet
60 litre tank
Remote headlight height adjuster
Air conditioning
Numerous storage bins
750kg load capacity
Drive and Engine
I admit to being surprised at how well this little van performs. It has plenty of kick off the line and at highway speeds, there's plenty still left under your right foot.
The ride is good from a strut front and beam and coil springs at the back.
Sharp steering response too but a slightly large turning circle. A 'roo jumped out in front of us on a country drive and it demonstrated how powerful the brakes are.
But I couldn't find a comfortable driving position ending up sitting like a bus driver with bent knees and a fairly upright back due to the protection bar behind the driver.
Some drumming is apparent at high speed but the plastic curtain damped it to an acceptable level.
Easy to use controls and you can stream your phone through the infotainment system.
A high mounted manual gear stick is functional but has relatively long throws between cogs.
I attained an average of 6.0-litres/100km with mixed driving including carrying a 400kg load for 1000km.
Got out at the end OK.
Berlingo is a functional workhorse that is pretty easy to live with and cheap to buy and run.
Safety
Four star rating from ANCAP but no advanced driver assist technology due to its age.
Does have dual airbags, stability control and hill hold but that's about it.
The new model will likely be a full five star vehicle.
Good Bits
Impressive engine performance and economy
Decent load capacity
Tows up to 800kg
Two side sliders and twin barn doors at the rear.
App driven connectivity through your phone
Reverse camera
Affordable
Cruise control with limiter
Not So Good Bits
Uncomfortable driving position for taller people
Offset steering wheel disconcerting
Floppy sun visors in some positions
Latch on roof above barn doors impedes loading
Summary
I took this van on a 2000km round trip over a weekend to get some car parts…. mad huh?
It used minimal fuel and kept up a fast clip on cruise control uphill and down dale. Didn't back off once and averaged 6.0-litres/100km.
I chucked all the stuff in the back, hooked some okky straps over the load and off I went streaming iHeart radio for the entire journey without any drop outs.
A most useful vehicle by anyone's measure.
Facts and Figures: 2018 Citroen Berlingo manual diesel van
Engine: 1.5 litre four-cylinder turbo-diesel producing 66kW/215Nm
Transmission: 5-speed manual
Safety: 4-star ANCAP
Origin: France
Warranty:3 years/100,000km
Price: from $26,990