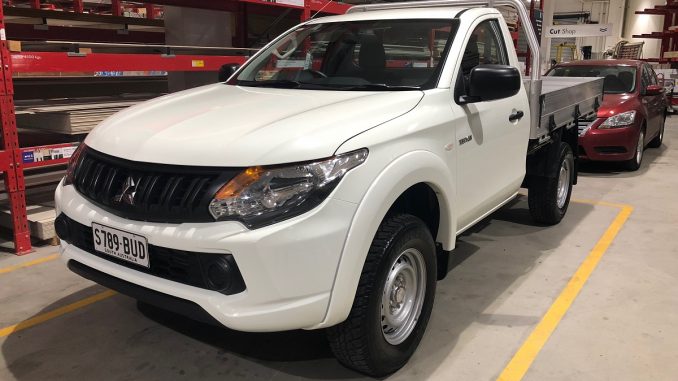 The Mitsubishi Triton Single Cab is a ute you must test-drive if a new workhorse is on the agenda.
And should you decide to go with the 'Mitsi' the 4×4 version is probably worth investing in too.
My test vehicle was fitted with the auto transmission, the self-changer will set you back $2,500 more than the manual.
Choosing a 4×4 over a 4×2 comes with a price premium of just under $7,000, however for applications such as a builders set of wheels the ability to not get stuck on muddy work sites makes it worthwhile.
It's also handy if you want to use your ute on the weekend for adventuring around etc.
As always, rivals in this segment include the Isuzu D-MAX, Holden Colorado, Nissan Navara, Mazda BT-50, Ford Ranger and the segment leader, Toyota's HiLux.
There are plenty of options, but as I said the Triton is one you don't want to skip over.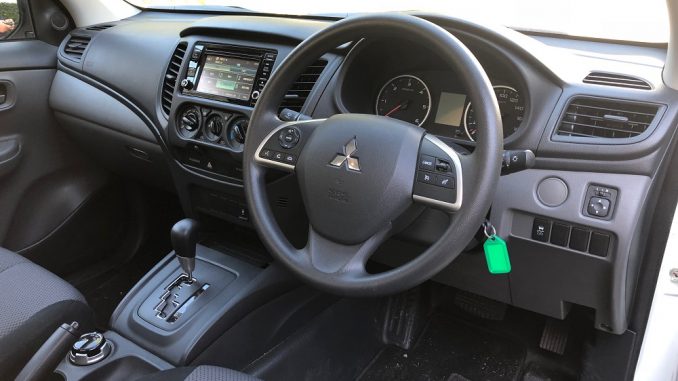 Some of the really good bits of the 2018 Mitsubishi Triton 4×4 include:
Comfortable seats (though only for two – click here to look at your three seat single cab options).
Easy to operate/solid tray
Good infotainment system
Easy to read gauges
Cruise control
Bluetooth
Reverse camera
Rubber floor mats
Decent cabin storage areas
Height-adjustable driver's seat
On the Road
The Mitsubishi Triton GLX 4×4 is certainly tightly-sprung and this means you get bounced around a bit on speed humps and the like when you're not carrying a load.
We used the Triton to transport 30 roles of turf and this load (estimated at around 250-300kg) made all the difference.
If you used to drive a Triton in the 1980's and 90's you'll remember the ute had a really poor turning circle and quite vague steering – both of those idiosyncrasies are now a thing of the past.
The five-speed auto transmission works well with the engine, I never felt like the engine wanted for any more grunt either loaded or empty when I was piloting it around.
It also gets off the line a lot quicker than the pedestrian utes of yesterday.
Visibility from the driver's seat is very good with A pillars that aren't particularly thick.
While rear vision is better than decent with quite large door mirrors (they have a triangular shape at the base to give you better vision down the side of the vehicle).
No matter which single cab ute you get I reckon investing in some window tint on the rear glass is a great investment – even in winter in Sydney I felt the sun on my neck, ears and rather bald head when moving away from the sun.
The Cabin
As mentioned, cabin storage areas are fairly well sized, there's also a handy nook on the console for your phone.
Mitsubishi has given the Triton a bank of blank switch positions on the dash that might come in handy for controls for things like a tray light or driving lights.
There's a well-positioned 12V outlet on the dash, along with a USB port.
As you might expect you miss out on things like auto headlights and wipers, there's also no digital radio and that's a disappointment.
The infotainment system features Apple CarPlay/Android Auto functionality, however I felt (as the photo shows) that the volume knob was a touch close to the edge of the plastic surround.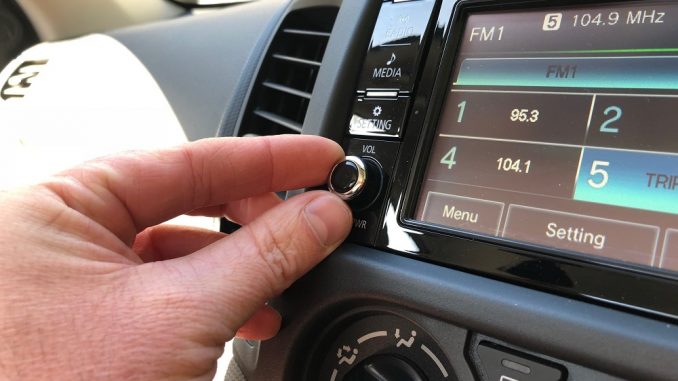 This means you can't really get your fingers right onto both the volume and tune knobs – both knobs are also quite small and slippery too (not quite tradie or farmer friendly).
It's just a two-speaker stereo but the sound quality was impressive.
The Triton Tray
As mentioned above the aluminium tray has a sturdy feel about it and the sides are easy enough to lower, however it's bloody hard to get up onto it!
I thought the tray might have had a step area or the like to help you climb aboard. Instead you pretty much have to use the tyre or the tow-bar to give yourself some climbing purchase.
There's sturdy and well-placed anchor points though for you to tie down your load.
Safety
The 2018 Mitsubishi Triton GLX comes with a full five-star ANCAP safety rating.
The vehicle is fitted as standard with Stability Control, Traction Control and Trailer Sway Control, along with side airbags and even a driver's knee airbag.
At this stage Autonomous Emergency Braking (AEB) hasn't been seen in the Mitsubishi Triton range.
Should you need to position a child seat or baby capsule in the passenger seat you can disengage the airbag on that side of the dashboard by way of a lock positioned on the far edge of the dash (on passenger side).
The Summary
The Mitsubishi Triton is a no nonsense vehicle that has an incredibly strong following in Australia.
Here in single cab/4×4 configuration is where the Mitsubishi product really excels.
It's a serious vehicle for people wanting functionality and ruggedness, but then it's comfortable enough and has enough features to make it easy to get around in too.
With realistic pricing, a generous warranty and that top safety score it would be hard to go past.
Facts and Figures: 2018 Mitsubishi Triton GXL 4×4 single cab
Engine: 2.4 litre turbo-diesel producing 133kW/430Nm
Transmission: Six-speed manual or five-speed auto
Safety: Five stars
Warranty: Five years/100,000kms
Origin: Thailand
Towing capacity: 3000kg
Kerb Weight: 1665kg
GVM: 2900kg
GCM: 5785kg
Price: from $32,990 (manual) and $35,490 (auto)