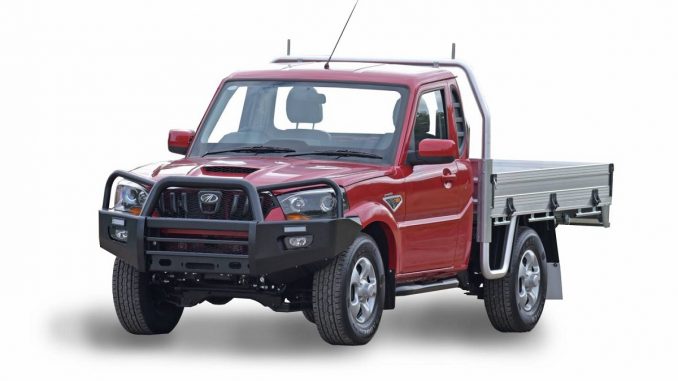 The Mahindra PikUp now offers buyers another four variants to choose from.
Confirmed this afternoon by Mahindra Australia, the four new variants for the Aussie market bring the total number of different configurations of the Mahindra PikUp to nine.
The new Mahindra PikUp variants include:
S6 Single Cab 4×2 Cab Chassis
S6 Single Cab 4×2 Cab with GPA Tray (as well as Bluetooth and Cruise Control)
S10 Single Cab 4×2 Cab with GPA Tray
S10 Single Cab 4×4 Cab Chassis
Russell Thiele from Mahindra Australia says the new variants come following a strong local reaction from buyers to the new-gen PikUp.
"Sales have been great and with new metro dealers in Geelong and Penrith about to be announced, momentum in the light commercial segment is with Mahindra."
While Russell tells us the new additions to the range have come following feedback from potential customers, particularly those wanting features such as Sat-nav, Bluetooth, Climate Control and Alloy Wheels.
"Many of our farm and trade customers like our S10 Dual Cab but have been wanting those specifications in Single Cab.
"Now with the introduction of S10 4×4 and 4×2 Single Cab we are able to offer a truly competitive high spec Ute in the light commercial market."
Mahindra PikUp prices kick off from $21,990 drive-away.
Check out our recent Mahindra PikUp Review.
Stay up to date with the latest Mahindra News at uteandvanguide.com.au.