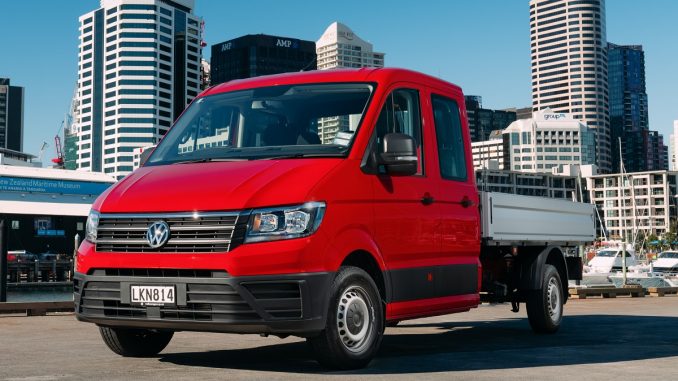 The impressive 2019 Volkswagen Crafter has helped turbocharge Volkswagen Commercial Vehicle Sales in July 2018.
July sales data for the German vehicle manufacturer has just been released and shows the commercial vehicle division delivered 41,900 commercial vehicles to customers in the month.
That total was a 13.4% improvement on the same month last year.
Leading the way was the recently released new-generation Volkswagen Crafter.
The large van/cab chassis grew its global sales by better than 44% with more than 4,300 sales in the month.
In Australia, Crafter did even better with a near 89% jump in local deliveries.
All four Volkswagen Commercial Vehicle lines finished ahead of their July 2017 total on the big stage with the T product line (i.e. Transporter) shifting 17,600 vehicles.
Caddy 13,300 vehicles (+15.8%) and Amarok 6,600 vehicles (+4.1%) also recording growth in July 2018.
Some of the best performing markets for Volkswagen Commercial Vehicles in July included Western Europe (+21.6%), including big gains in Germany (+29.4%) and France (+18.5%).
Sales were up nearly 10% in Eastern Europe, 6.1% in South America and 45% in Africa.
July 2018 Volkswagen Commercial Sales – Australia:
Volkswagen Amarok 4X2 – 13 (-64.9%)
Volkswagen Amarok 4X4 – 720 (+36.1%)
Volkswagen Caddy Van – 133 (-9.5%)
Volkswagen Crafter – 34 (+88.9%)
Volkswagen Transporter – 120 (-26.4%)
Locally, Volkswagen Commercial Vehicle sales in the Asia-Pacific totalled 2,100 vehicles – a 1.0% improvement.
Stay up to date with the latest Volkswagen News at uteandvanguide.com.au.