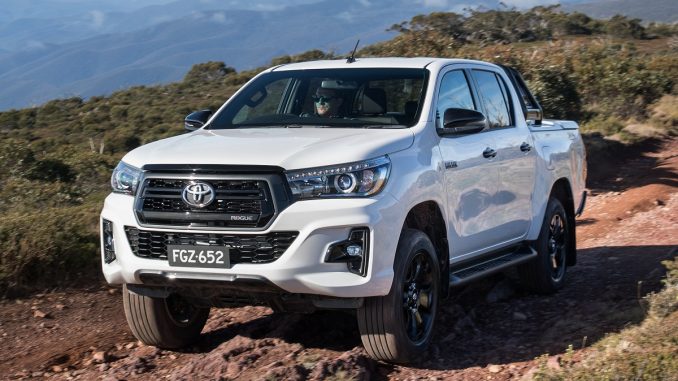 Toyota's Hilux ute is the number one seller in this country and Toyota want to keep it that way in the face of stiffening competition from other quarters.
So, they got their heads together and came up with a trio of so called "halo" models equipped to a similar spec' many buyers aspire to.
Toyota Hilux Rogue targets the '"urban adventurer" rather than the hard-core off road enthusiast.
It's first cab off the rank here with Toyota's new global truck styling that features a vertical trapezoid shaped grille and specific lights and bumpers.
Based on the SR5, Rogue boasts a swag of luxury kit to make your weekend excursions into the scrub more comfy.
It's no shrinking violet and will go just about anywhere but the additional goodies give Rogue wider appeal and tick many of the boxes current buyers go for on the options list.
Exterior
There's no missing the new, vertically mounted grille that gives Rogue a snouty face accentuated by horizontal lines and specific driving lights towards the edge of the truck.
It's a much better look than other Hiluxs with the shovel fronted facial treatment and thinner headlights.
The skunk works out of Melbourne whacked on new bumpers and shiny black wheels and hardware to differentiate Rogue from lesser models.
It all works, toughening the one tonner's appearance while delivering more on road presence.
There's a smidge of Ford Ranger about the grille but not enough to complain about.
Interior
Inside is upgraded too with a new instrument cluster, black roof liner, metallic black ornamentation, perforated leather upholstery and a ToyotaLink infotainment system with hard-wired sat-nav running through a 7″ touch screen and apps.
Apple CarPlay and Android Auto as well.
Apart from that's Rogue is pure Hilux SR5, functional with an amount of luxury in the mix. Looks OK inside too… in a typically Toyota way.
Features
Toyota went to the order books to see what buyers fitted optionally to their Hilux. It's market research 101 and the result is no surprise especially as three different halo models are offered.
The Rogue comes well equipped for all types of driving with goodies like;
Eight way electric driver's seat adjustment
Towball, tongue and wiring
Marine grade tub carpet
Multiple load tie downs
Hard tonneau cover linked to central locking
Six-speed auto only
Functional tub sports bar
Decent audio
Drive and Engine
There's not much to report here as the engine and transmissions are the same as other Hilux models – a 2.8-litre, turbo-diesel, four-cylinder with a variable geometry turbo and chain driven double overhead camshafts.
The engine is good for 130kW/450Nm in the six speed auto and 130kW/420Nm in the manual.
But the manual can tow more at 3500kg v 3200kg for the auto.
The vehicles ride on strut front suspensions with leaf springs and a live axle at the rear. The set-up delivers impressive ride qualities for a working truck.
Drive is selectable 4WD with 2WD and 4WD high and low range dialled up on the centre console.
Performance is good and fuel economy on our long Rogue drive lived up to the manufacturer's claim at 8.5-litres/100km.
It's pretty economical towing too.
The turning circle is OK and noise levels in the dual cab were low, even with the engine working hard.
Safety
Hilux scored a five star crash rating back in 2015 when this model came out. It is a safe truck to be sure but there isn't any advanced driver assist technology to speak of.
Some owners would be happy with that.
The basics are provided but we were a tad taken aback at the rear drum brakes. Again, some buyers would prefer them.
It feels as strong as a tank on and off road and has plenty of grip from the road biased Thai -made tyres.
Thank goodness there's a reversing camera.
Good Bits
Strong performance
Respectable fuel economy
New look is a move in right direction
Will go just about anywhere
Roomy cabin
Tows like a beauty
Comfortable over a long haul
Not So Good Bits
Drum rear brakes
No advanced driver assist technology
Annoying sat-nav programmable only with vehicle stopped
Needs a light bar like the Rugged X
Summary
Yep, I totally understand why the Hilux is so popular. It's a bloody good thing and really does feel unbreakable.
I like the Rogue's appearance, didn't like the earlier iterations of this Hilux series with the shovel nose.
As this model ages, more features from Rogue (and Rugged, Rugged X) will filter through the range and that's a good thing. I'd have the Rogue in a flash. Then there's the dealer network etc etc.
Facts and Figures: 2018 Toyota Hilux Rogue
Engine:  2.8-litre turbo-diesel four-cylinder producing 130kW/450Nm
Transmission:  Six-speed auto only
Safety: Five-stars
Origin: Thailand
Warranty: 3 years/100,000km
Price: from $61,690