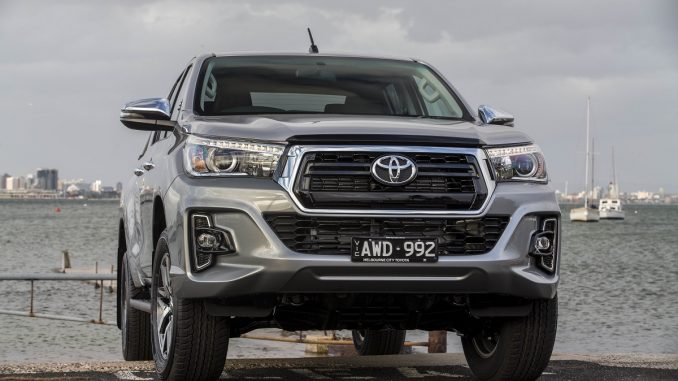 Toyota has just let us know that the SR and SR5 variants of the Toyota HiLux are being changed.
Interestingly, the new-look front (as seen above) is only for Australia.
Designed in Australia by local Toyota designers, the HiLux follows in the footsteps of the Mazda BT-50 which recently shunned the global face for a locally-focused facelift.
If the new looks for the HiLux SR and SR5 look familiar – well that's because the front end is virtually identical to the top of the line Toyota HiLux Rogue (reviewed here).
Toyota say the new front styling on the HiLux SR and SR5 brings a stronger look and more imposing road presence for the big-selling models.
The changes incorporate a large trapezoidal grille, honeycomb insert and outboard fog lamps.
"HiLux now offers a more contemporary, bold and refined style to go with its 'unbreakable' reputation." – Toyota Australia's vice president sales and marketing Sean Hanley
Better fuel consumption too for HiLux.
Toyota also telling Ute and Van Guide that they've made some tweaks that will help the SR/SR5 use less fuel.
Models fitted with the six-speed auto transmission now get a Diesel Particulate Filter switch to manually initiate a "burn" to cleanse the system.
This helps 4×2 models save 0.2L/100km, 4×4 offerings drop 0.1L/100km.
Toyota say the ability to manually flush the system will assist drivers who have covered long distances at high speeds, causing the filter to become overloaded.
Prices for the updated variants of the HiLux remain the same, however there is an $80 increase for 4×2 Hi-Rider SR models, 4×4 SR extra cab chassis and SR double cab chassis and pickup models.
Stay up to date with the latest Toyota LCV News at uteandvanguide.com.au