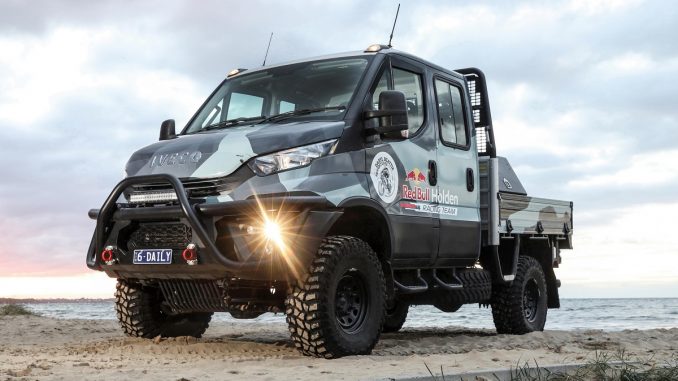 Iveco dealers around the country are taking delivery of an updated version of the Iveco Daily 4×4.
Mirroring the upgrades to the van and cab chassis versions introduced recently, the biggest change for the off-roader is the standard fitment of SRS airbags.
Iveco telling us the move should strongly increase the models appeal among mining and exploration customers, as well as in emergency service applications.
In addition to airbags, the Iveco Daily 4×4 also gets some styling tweaks, a revised dashboard, and better cabin soundproofing.
Interior noise also brought down by the redesign of the side mirrors that now move more quietly through the air.
While under the bonnet the Iveco engineers have boosted power and torque by 10hp and 30Nm for new outputs of 180hp (135kW) and 430Nm (from 1,250 rpm).
Importantly, Iveco hasn't made any tweaks to the Daily 4x4s very capable underpinnings or approach/departure angles etc.
Product manager at Iveco, Marco Quaranta, says the updated Daily is another step ahead for the off-roader.
"Increasingly stringent OH&S regulations are now requiring many vehicles to be fitted with airbags, particularly from the mining and exploration industry as well as in the emergency services sector,"
"The latest Daily 4×4 now addresses this situation and the enquiry rate from these type of companies and organisations has already increased considerably.
"For some recreational users the inclusion of airbags has also been well-received, allowing these customers to confidently tour the country with even greater peace of mind."
Check out our most recent Iveco Daily 4×4 Review and we hope to have the updated model available for a test drive in coming weeks.
Stay up to date with the latest Iveco News at uteandvanguide.com.au.