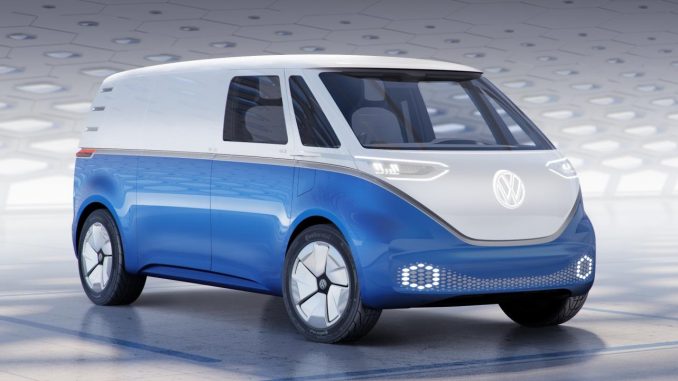 There could be a new electric van joining the Volkswagen Commercial Vehicle range in coming years with the German manufacturer taking the covers off the I.D. BUZZ CARGO.
Revealed earlier today at the IAA Commercial Vehicles Show in Germany, the van is the delivery van version of the I.D. BUZZ passenger van unveiled last year.
Volkswagen quick to mention that the cargo van won't be replacing the T6 (i.e. Transporter), instead the vehicle would be a supplementary model.
It could be in production by 2021.
Volkswagen confirming the I.D. BUZZ CARGO would boast an 800kg payload and would have customizable battery sizes that provide range and capacity to meet individual customer needs.
The manufacturer talking a drive range though of between 330 kilometres and up to better than 500 km from a charge and a top speed of up to 160km/h.
While concept vehicle features three seats up front and a computer workstation that allows the driver to take care of organisational matters via an integrated laptop.
And the van could potentially be able to drive itself around too.
We'll keep you updated on the potential new addition to the Volkswagen Commercial Vehicles range as further details come to hand.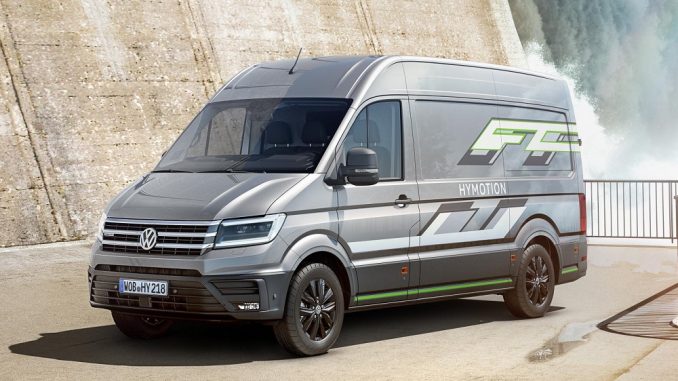 Meantime, Volkswagen also used the IAA event to show a hydrogen-powered version of the Crafter.
Known as the Crafter HyMotion, the van (as seen above) the van features a hydrogen fuel cell drivetrain that will propel the 4.25-tonne van more than 500 km on just 7.5 kilograms of hydrogen.
And all that will come from the exhaust pipe is water vapour!
While VW also had electric-driver versions of the Caddy and Transporter on display too.
Stay up to date with the latest Volkswagen LCV News at uteandvanguide.com.au.