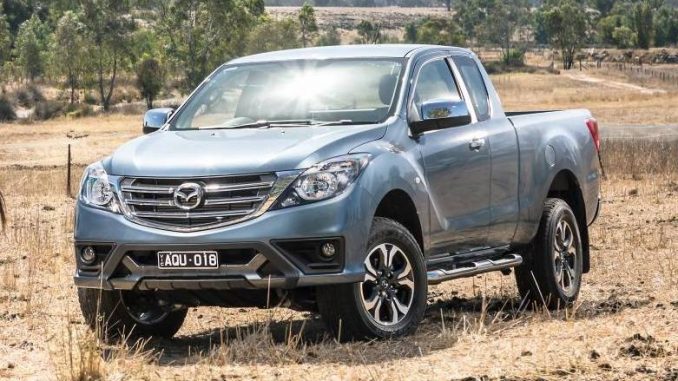 With a new model sourced from Isuzu due in a year or two, Mazda has introduced possibly its best (looking) BT-50 since the current model arrived a few years ago.
Always polarizing in terms of appearance, the latest version is toned down visually and has a passing similarity to the Mitsubishi Triton. It finally looks pretty decent.
Underneath the latest Mazda BT-50 is much the same as before with Mazda adding more kit in each model to sweeten the deal and engineering tweaks.
BT-50 is available in a large number of variants in 2WD and 4WD, 2.2-litre four and 3.2 five cylinder diesels with a number of body types.
This review is of the XTR 4WD dual cab – Mazda's most popular BT-50.
Exterior
They bolted on a new front in a similar vein to the earlier models but with a new grille featuring horizontal bars, new lights and front bumper and some other detail body hardware changes.
The result achieves what I suspect Mazda was after and that is a more conventional look to the front of its ute.
Some new colours have become available including the striking deep metallic blue on the test drive BT.
It runs conventional looking alloy wheels and has a soft tonneau cover over the load tray.
Some optional bits including a front nudge bar were fitted but no tow bar. I reckon all utes should come standard with a tow bar, oh, and a tray bed liner.
Interior
Inside is mildly revised over the previous model and is standard Mazda fare in terms of layout and function. There's a central touch screen with apps and an instrument cluster in front of the driver with sundry switch gear dotted along the dash and in the centre console. The five seats are a good size and the cloth upholstery is serviceable and comfortable.
Access to the rear seats is through large doors (for a dual cab ute) and enough adjustment is provided to make long trips in the Mazda BT-50 more car-like comfort-wise.
There's smart phone streaming this time around.
Features
A bit more to get excited about with the penultimate XTR model but no high tech driver assist tech. It gets some goodies including:
Alpine audio
Tailgate lock
Satnav
Apple/Android phone streaming
17″ alloys
Trip computer
Rain sensing wipers
Leather clad multi-function wheel
Side steps
Dual zone climate control
Drive and Engine
The XTR comes with Mazda's 3.2-litre five cylinder turbo diesel good for 147kW and 470Nm output while consuming fuel on the combined rating at 10.0-litres/100km
It weighs plenty at 2100kg but tows 3500kg and can go deeply off road thanks to ample ground clearance and a proper, selectable 4WD system offering 2WD along with 4WD high and low range and shift on the fly facility.
Minor revisions have reduced noise and vibration intrusion into the cabin while the suspension gives a surprisingly comfortable ride with good handling for a "fourbie" ute.
Up to 1100kg payload can be slung into the load tray and then you can hook up a trailer behind that with more weight to be dealt with….impressive.
The six speed auto transmission provides smooth shifts and makes using the BT-50 as a work or play vehicle much more palatable.
Safety
Scores a five star ANCAP rating but doesn't have any advanced driver assist technology. There is a reverse camera, trailer sway control and roll-over mitigation among BT's primary safety features. Drum rear brakes though… some will like them, other will see them as outmoded.
Good Bits
Feels truck tough
Goes well
Comfortable ride even when loaded
Tows like a beauty
Looks better than before
Big payload
Impressive off road capabilities with underbody protection
Great sat-nav with speed camera and other warnings
15,000km service intervals
Not So Good Bits
Heavy
Can be thirsty
Phone hook-up can be touchy
Drum rear brakes
Needs a tray liner as standard
Summary
I don't mind a BT-50 but wasn't a fan of the frontal styling. That has been addressed with this model and it actually looks good this time around. A big vehicle, Mazda BT-50 feels robust and capable but the XTR is getting a touch expensive. Aren't they all…
Facts and Figures: 2018 Mazda BT-50 XTR 4×4 Dual Cab
Engine: 3.2L four-cylinder turbo diesel producing 147kW/470Nm
Transmission: Six-speed automatic
Warranty: 3 years/ unlimited km
Safety: Five stars
Origin: Thailand
Price: from $53,190