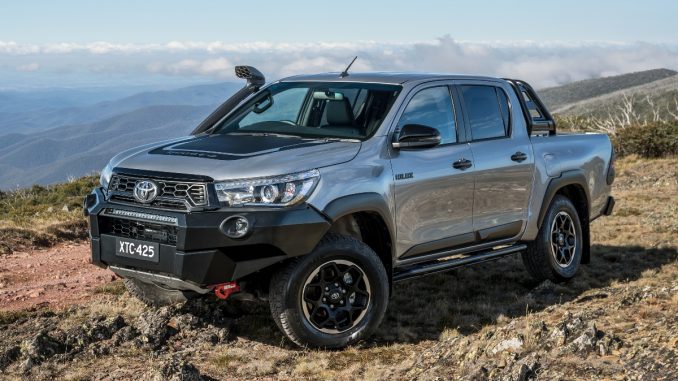 The Toyota Hilux continues to be Australia's top selling vehicle.
It has consistently held this mantle for a very long time and shows Australians shift to SUVs favours heavily in their buying plans for the foreseeable future.
"Hilux is a light commercial vehicle", I hear you cry, and so it is.
However, Hilux is full Four-Wheel Drive, with high/low range and switchable 4WD. It is high set, rugged, and is built on a ladder chassis. You can sleep in the back of it, and it will carry up to 5 adults.
You can use it easily in town, and it cruises highways comfortably and economically. The tray makes it infinitely more useable, and the interior is every bit as posh as the 5 door stablemates.
So, I say it is every bit an SUV.
Exterior
Toyota Hilux Rugged X is the top of the 6-model line-up.
As with all brands, you get lots of extra stuff as move up through the ranks, and Rugged X is no different.
Chunky 17" "rugged" wheels are unique to the top model, and look great. Although fitted with road tyres, high sidewalls allow a little trouble-free off-roading.
Anything more serious will need those notchy off-road tyres. Off-road tyres are noisy and not the best for normal road use.
Hefty bumpers front and rear sit above rescue points and continue the chunky Tonka-toy look of Hilux.
Under the doors, a solid steel rock guard rail has narrow foot plates to help you climb on board.  The LED headlights and DTRLs are complimented by an LED light bar in the middle of the grille.
The tray liner is sturdy but only covers the floor and tail gate.
Check out the cool fully functional black sports bar.
Interior
Seats are comfortable, but only the driver's seat has power buttons.
There is a neat bag hook on the back of the front seats and bottle and cup holders front and back. Rear seats get air conditioning outlets in the centre console.
Despite being a very large vehicle, the cabin feels smaller than you might expect. It creates a sense of intimacy that tradies might think twice about.
The black on black scheme, rubber floor mats, and chunky controls lends itself to a utilitarian feel.
The cabin is beautifully laid out. Knobs and switches are all in easy reach. The USB ports and power outlets can be used while on the move.
After a very short while, you feel little difference between the big Tonka toy, and a little hatch.
Features
Off-road features include: 4WD, High/Low range gears, rock guard under the door sill, rear camera, SUV ground clearance, specialised bumpers front and back, rescue point front and back, winch fitment points, high intensity LED light bar.
On-road features include: cruise control, driving modes, navigation, DAB radio, 7" touch screen, auto lights, high sitting position, reversing camera, and automatic transmission.
Hilux is a commercial vehicle at the end of the day so it misses out on blind spot monitor, lane guidance and control, and emergency braking. That is something you find in regular SUVs and might put some buyers off.
Smart entry and start were welcome additions.
Apple Carplay continues its absence, and continues to annoy.
Warranty is also an issue. Toyota steadfastly refuses to meet the market. It, rather naughtily, issues a 3 year plan that might have been okay 20 years ago, but is far short of expectation.
Toyota says their service plan and statutory obligations offset the 3 year warranty offer, but I disagree strongly.
Drive and Engine
Our Rugged X came with a 2.8L turbo diesel mated to a smooth, if outdated, six speed automatic.
Sure it's short a few cogs on what one might expect of a modern day road-going vehicle, but Hilux goes off-road. Perhaps Toyota thinks a tried-and-tested shifter is less likely to leave the "unbreakable" Rugged X stranded.
130kW is nothing to write home about but it is the 420Nm of torque that does all the heavy lifting. Most people make the mistake of placing more value on the kW, but no, the torques are far more important.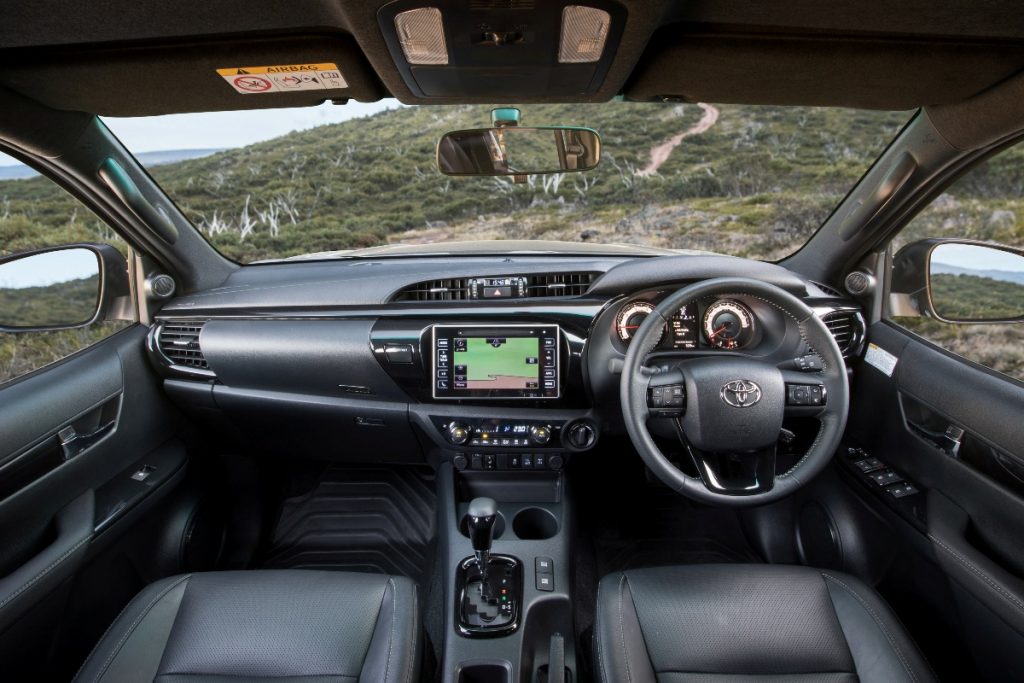 The real strength is the dealer network that will get you out of strife as long as you're not too far out of town. It seems that there is a Toyota service department on every street corner.
There are 3 driving modes: eco, normal, and power. I left the Hilux in Power, of course.
I managed 10.5L/100km unladen mainly for the fact that every drive saw extensive use of the power mode
Olde worlde hydraulic steering has good feel considering the huge tyres sitting below you.
Even on the highway, Hilux felt stable and steady, for an LCV anyway. Sitting high and mighty gives you a commanding view of the way ahead. You look over the top of most other traffic.
The is just the right amount of road presence to give you the right to feel smug, even if you don't look it.
I'd be lying if I said there wasn't just a hint of butch tradie lurking somewhere deep in my inner sanctum.
Safety
Airbags and stability control are present, but AEB is not. Reversing cameras have been the single most valuable asset added over the last few years.
Children being hurt in driveways happened far too often. Now there is no excuse.
Safety ratings from ANCAP don't apply to commercial vehicles as they dos to passenger cars, and regular SUVs. Apparently pickup drivers are not so highly valued.
Good Bits
Good looks
Equipment level.
Drivability
Not So Good Bits
No Apple CarPlay/Android Auto
Some cheap plastics
No AEB
Summary
It had been quite some while since I drove an LCV of any kind.
To get back in to one after time away gives a fresh perspective, and I had forgotten just how great it was to be sitting high having fun.
When you're finished with the tarmac, you can hitch your wagon and head into the bush. No one need ever find you if you don't want them to, and I like that.
I don't like being uncomfortable and Rugged X made life feel fun and easy. It isn't something you can quantify, but you know it when you feel it.
Up against Nissan's Navara, Ford's Ranger and Holden's Colorado, Hilux has stiff competition. Even with that august company, Hilux outsells them all. The market has spoken.
Facts and Figures: 2019 Toyota Hilux Rugged X
Engine: 2.8L four-cylinder turbo diesel producing 130kW/420Nm
Transmission: Six-speed automatic
Warranty: 3 years/ 100,000km
Safety: Not tested
Price: from $63,690