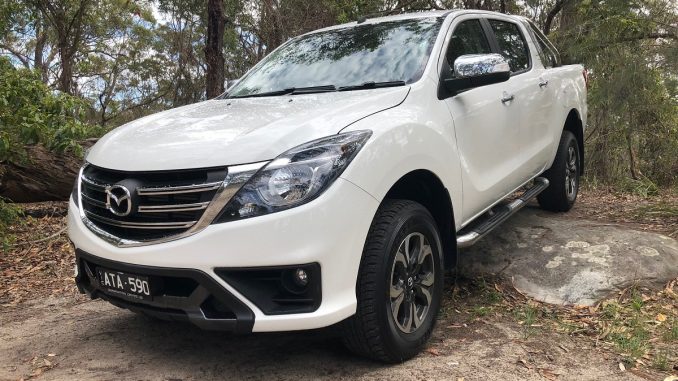 The Mazda BT-50 GT is the flagship offering in the Mazda BT-50 range and prices kick-off at $54,990.
Kick in another $2,000 if you want an auto transmission.
My test vehicle was the auto version of the 4×4 dual cab Mazda BT-50 and my test drive of the Mazda dual cab ute comes after recent drives in rivals like the Volkswagen Amarok Dark Label and Nissan Navara ST Black Edition.
I also recently sampled the Rugged, Rugged X and Rogue versions of the Toyota HiLux and the Freestyle Cab version of the Mazda (with 3.2 litre engine).
So, getting about in the Mazda BT-50 GT I had plenty to think about!
Exterior
Mazda's ute recently got an all-new front, specifically for Australia, specifically because Aussie ute buyers thought the BT-50 previously looked a bit awkward and dare I say even a bit prissy.
Not anymore though, the BT-50 now looks the part and has the tough and chunky look that we seem to crave.
Naturally, the differences between the Mazda and the Ford Ranger on the outside are fairly minimal, if you like the Ranger you'll like BT-50.
Albeit, Ford's hotted-up Ranger and Wildtrak offerings break away from the kind of conservative overall look that the Mazda boasts.
Interior
If you look closely on the windscreen manufacture info sticker you'll see 'FoMoCo', yep – Ford Motor Company.
This vehicle might carry the Mazda badges and BT-50 specific taillights and front-end, but make no bones about it, BT-50 is more Ford than Mazda.
This can be seen on the inside – there isn't one component that you would find in any other Mazda available in 2018.
If you're familiar with the last series of Ford Falcon, or say Fiesta or Focus, you'll be at home in BT-50! Gauges, controls, look and feel – it's all Ford.
That isn't to say there is anything particularly wrong with that, just an interesting observation.
Where the Ford Ranger has a humongous lead over the Mazda sibling is the infotainment system.
Ford Ranger has SYNC, a Ford-developed system that is one of the best infotainment interfaces around.
The Mazda gets a head-unit supplied by Alpine that is clunky, awkward and frustrating. It's only saving grace is that it does have Apple CarPlay/Android Auto functionality and Digital Radio.
However, I couldn't get the system to find any more than three DAB+ stations – frustrating!
Another complaint (common to both the Ford and the Mazda) is the dated driver info screen. This is well behind the screen found in front of the driver in the Navara and Amarok.
Both Ranger and BT-50 only have tilt-only steering adjust too.
The door pockets in the Mazda BT-50 are tiny and almost unusable.
On a more positive note, the glove box, centre console bin, forward console storage area and an area above the infotainment screen are all nicely sized.
The leather seats in the GT-grade BT-50 are comfortable and the seating position up front is decent.
The Mazda/Ford pick-up/ute's big claim to fame though is the space and comfort for rear seat passengers. As covered here the BT-50/Ranger has a lot more rear seat legroom than Amarok.
There's also a fold-down centre armrest/cupholders for rear seat passengers, but no rear air-con vents.
Interestingly, there's only one rear storage pouch behind the front passenger seat…not sure why you don't get one behind the driver.
Standard Features
The flagship Mazda BT-50 GT comes standard with:
17″ alloy wheels
Dual-zone climate control
Reverse camera
Keyless entry
Diff lock
Cruise control
Electric drivers seat
Sat-nav
Digital Radio
Auto headlights and wipers
Side steps
Leather seats, steering wheel, transmission selector
On the Road
The Mazda BT-50 rides along quite well and has good steering feel too.
The turning circle is rather large, so be prepared to have your U-turn turned into a three-point turn.
The 3.2 litre turbo-diesel engine provides adequate acceleration, especially when the initial lag is overcome by increased revs.
The Mazda BT-50 GT has a power to weight ratio of 69.4, this is a fair way off the figures returned by most of the competition (check out our dual-cab ute power to weight ratio guide here).
470Nm helps the Mazda cruise along happily and tackle hills without too much trouble.
The engine is ably assisted by a smooth-enough six-speed auto transmission.
Good Bits
New/improved front styling
Rear seat legroom
Comfy seats
Decent ride
Engine torque
Not So Good Bits
No Autonomous Emergency Braking
Sub-par infotainment system
Misses out on Mazda look, feel and features inside
Safety
As mentioned, Mazda BT-50 continues to run without AEB (check our guide to utes with the safety tech) and there are no front or rear parking sensors either (a help in a vehicle this size).
The Mazda ute does boast a five-star ANCAP safety rating though.
Summary
The 2018 Mazda BT-50 GT comes with a hefty price tag, but does miss out on some features, refinement and tech that you might expect for this kind of coin.
The infotainment system is the weak link for sure, while the rest of the interior gets only a pass mark.
Again, it's a shame it isn't a bit more Mazda and a bit less Ford.
Facts and Figures: 2018 Mazda BT-50 GT
Engine: 3.2 litre turbo-diesel four-cylinder 147kW/470Nm
Transmission: Six-speed manual or six-speed auto
Safety: Five stars
Origin: Thailand
Warranty: Five years
Price: From $54,990