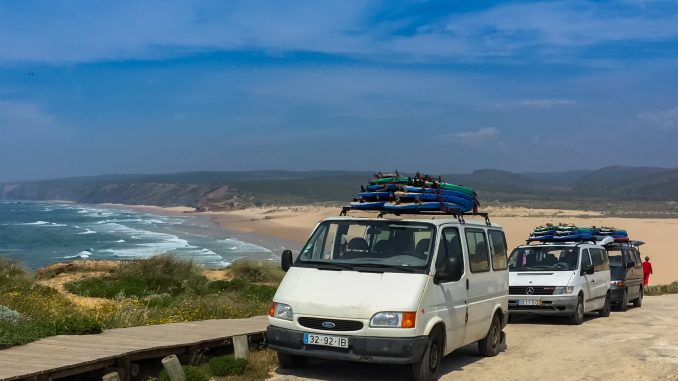 Vans and UTEs make great road trip vehicles.
There's nothing better than the feeling of being on the open road in a vehicle that you love. Especially when it comes with a 2.3 litre engine and enough space in the back for all of stuff! You could even sleep in your van, or take a trailer tent with your UTE.
When it comes to taking a long road trip, preparation is the key, and it starts with your vehicle. If you just bought your van new, then lucky you! If not, then you will want to check out every detail before you set out on your grand adventure.
So the first piece of advice: prepare your van for the trip.
You definitely don't want to be breaking down in the middle of nowhere in the bush! So the first piece of advice: prepare your van for the trip. Van drivers are known to be more at risk when driving, especially if you are not experienced. Vans like the Volkswagen Transporter and Iveco Daily are safer to drive, but any van can be safe if you drive it well and make sure it is well serviced before setting off. Be as thorough as possible when preparing your van.
Start with an inspection, either by yourself if you know your way around the vehicle, or with a mechanic if not. Check everything from the engine belts, fluids and brake pads, to the tire wear and pressure. Change the oil if needed. Make sure all of the indicators, lights and horn are working fine. The more detailed you can be, the better. If it means examining your air filters and adjusting your windscreen wipers then do it. It's better to fix everything now, while you are in a familiar place, than to do it on your road trip.
Of course, you could make all of the preparations in the world and still have an unfortunate breakdown on your trip. That doesn't mean you shouldn't do whatever you can now to prevent this from happening. Give yourself the best chances of a smooth ride. Once you are confident that your van is up-to-scratch, it's time to get ready to leave for your road trip. Next up is to decide on your destination.
Decide on your road trip destination.
Will it be Sydney to Melbourne, or the Great Ocean Road in Victoria? Once you know, you can choose individual stops along the way. Get hold of all of the road maps that you need for your journey. They will be crucial along the way. GPS is good, but paper maps are more reliable.
You may also want to book accommodation at this stage. It depends how you are doing it. Will you stay in hotels along the way? Or will you cosy up in the back of your van with a blanket?
Pack your stuff into your van.
Now it's time to pack your stuff into your van. With the trip outlined, you will have a better idea of what you will need to take.  Pack up your clothes and sleeping gear, food and water, luxury items and anything else that you need. Feel free to get excited at this point!
We recommend taking a spare set of car keys with you, especially if you are prone to losing them. Fuel up your van, and kit it out with your bed and stove if needed. Take a spare tyre and a decent mechanic kit, with tools and other gear like towing rope and jump leads.
Give your car a final clean so that it's nice and tidy for your journey. You might not keep it that way, but it's good to start off on the right foot! Take your favourite music along for the ride. Before you go, don't forget all of your important documents like insurance, tax and licenses.
Make the journey.
All that's left is to set off and have the time of your life. Remember, driving can be arduous, so pace yourself. Plan to do less miles and enjoy the scenery. Getting exercise on the road is important, , so get out and stretch your legs every now and again.
Give yourself plenty of time to rest whenever you need and stop wherever you want.
Most of all enjoy your journey. If you have taken care of your vehicle before setting off, then you have done everything you can. Kick back and enjoy the road!