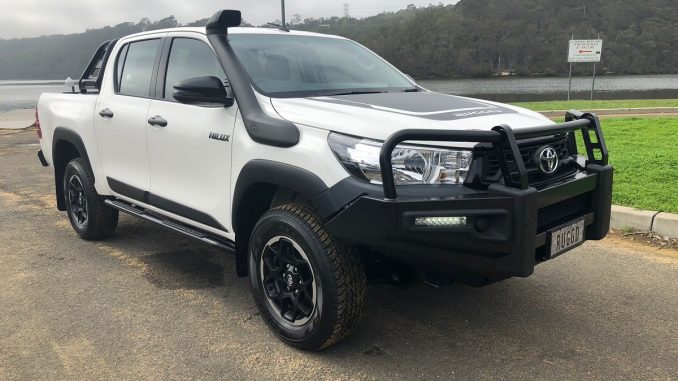 So, you're considering one of the new beefed-up Toyota HiLux 'Rugged' models?
Which one to buy? Well that all depends on whether you're happy to part with the additional $6,700 for the Rugged X.
Either way, in my opinion, if you don't mind changing gears yourself, manual is the way to go.
Why? Because the Toyota HiLux isn't flushed with power and with a 2.2 tonne plus kerb weight, having the manual squeeze some more life out of the engine is an advantage.
More on that further on.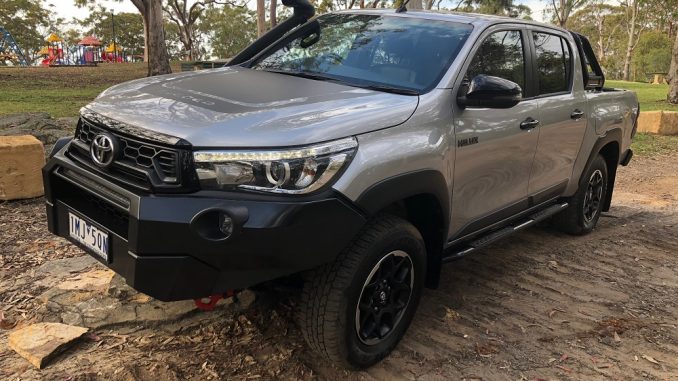 Exterior
The HiLux Rugged X has an advantage here over the Rugged – the half bullbar looks really cool.
It has a large embedded LED light strip in the centre of the bar and this is very cool as well.
The Rugged's two small LED strips look good too, and the full bull-bar is probably a lot more practical.
Aside from the red recovery hooks front and rear on the Rugged X there really aren't too many major differences between the pair.
The black accessories on both work really well on what is quite a good looking series of the big-selling Toyota ute.
Be warned though, on both, the black stickers/graphics tend to look a bit blotchy after they get dirty and washing the vehicle doesn't seem to make that go away.
While the black sticker on the upper section of the tailgate is succeptable to knicks and scratches (as the photo below shows).
If you're going to be using your HiLux Rugged/Rugged X as a work vehicle you might find the sports bar a bit of a pain – there's not a lot of space between the bar and the cab, and through the holes in the bar, to get your hand through when tieing down a load.
There's also no stoppers on the upper section so you'll have to make sure anything you're carrying up there is well tied-down.
Inside the cargo bed there are four somewhat sturdy tie-down points.
Notice the side-steps? Yep, they're really thin and almost redundant because of the lack of width to get your foot on.
Ohh…and both models get the snorkel too.
Interior
The big difference between the two models inside the cabin is the cloth upholstery in the Rugged, along with vinyl floor, while the Rugged X adds leather trim and carpet.
The top-spec version also gets a much sexier driver info screen with a little graphic show that pops up whenever you hit the power button.
Yep, Rugged X gets push-button ignition, and there's an electric drivers seat and heated front seats too.
Both models offer sat-nav, a reverse camera and digital radio as standard.
Frustratingly though I had trouble tuning the digital radio in the Rugged X – my advice is to get a good run-down on the functions of the infotainment system before leaving the dealership.
A lack of Apple CarPlay/Android Auto is a dissapointment, especially when spending this kind of coin on a ute.
As covered here, current series HiLux has better rear legroom than the Volkswagen Amarok, but is behind Ford Ranger/Mazda BT-50.
Overall, not much not to like, or, and you'll probably agree with me, to get overly excited about either on the inside of the 2018 Toyota HiLux.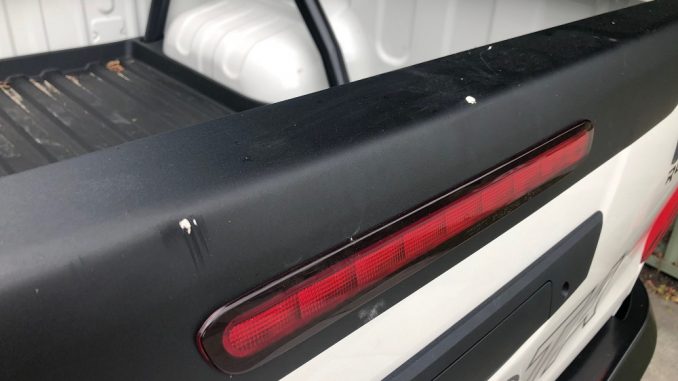 Drive and Engine
Ok, further to what I was saying above, Toyota's 2.8 litre four-cylinder turbo-diesel engine as found in the current series HiLux is a good engine, but one that isn't flushed with a huge amount of power.
And the problem is that when mated to the auto transmission you get an additional 30Nm of torque (420Nm and 450Nm), but there's no extra power.
As we've covered here, a lack of power can make dual-cab utes disappointingly sluggish…especially in city/suburban environments (where Rugged/Rugged X are likely to be most often seen).
130kW feels a lot better with the manual transmission as you're able to squeeze more go out of it – I'd cop the torque penalty and do it myself if I was buying a HiLux today.
Fuel use is only acceptable – expect to use about 10.5L/100km (that should tell you a lot about the physics of shifting 2.2 tonnes + your passengers, fuel, kids bikes etc.).
The HiLux Rugged/Rugged X ride along acceptably well (even with leaf-spring rear suspension), the steering is a touch heavy, the turning circle is BIG, and the engine is acceptably quiet.
Like the interior, on the roads you can hardly say the HiLux does anything wrong, but there's nothing it particularly excels in either.
Safety
No sign yet of Autonomous Emergency Braking (AEB) on the Toyota HiLux yet (stay updated here). Never the less, both Rugged and Rugged X boast a maximum five-star ANCAP safety rating.
Good Bits
Looks the part
Off-road ability
Not So Good Bits
Graphics don't clean up well, can be easily scratched
No AEB
No Apple CarPlay/Android Auto
Rear drum brakes
Rear leaf springs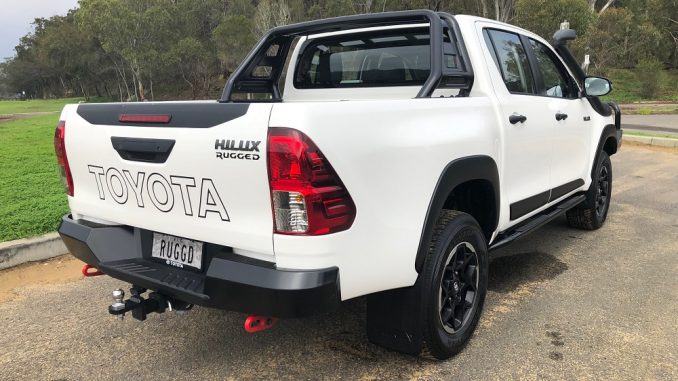 More showpony than work truck, as you might have gathered, the Toyota HiLux Rugged/Rugged X are designed for those who want to look the part without having to bolt any accessories on themselves.
It generally works well, it looks good.
There's nothing about either truck that is a deal-breaker, neither is their much above the lived experience that makes you really excited either.
To really get buyers attention in this kind of space you have to have some grunt and the HiLux is handicapped here.
So, which one to buy? For me, HiLux Rugged with a manual transmission is the sweet spot.
Facts and Figures: 2019 Toyota Hilux Rugged/Rugged X
Engine: 2.8L four-cylinder turbo diesel producing 130kW/420Nm (manual) and 450Nm (auto)
Transmission: Six-speed automatic/six-speed manual
Warranty: 3 years/ 100,000km
Safety: Five stars
Origin: Thailand
Price: Rugged from $54,990, Rugged X from $63,690