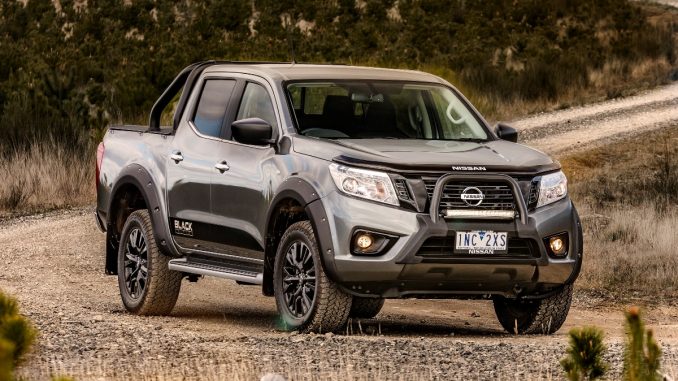 The Navara is Nissan's Light Commercial Vehicle offering.
The range has 2 or 4-wheel drive, and 3 body styles. A cab chassis that can have an aluminium tray fitted, a king cab, and a full 5 seater dual cab.
There is a choice of manual available and automatic transmissions too, depending on the model you want.
Every now and then, Nissan bungs on a few extra bits and calls it a "special edition". The Nissan Navara Black Edition is one such model, which is based on the ST 4X4 dual cab.
Exterior
The ST is already fairly well equipped but the Black Edition gets a nice set of 18" wheels, a black nudge bar, and a light bar mounted centre front. A black sports bar fitted behind the cabin adds a touch of mean-ness.
There are decals too, also in black, and match the mud guards and grille.
The additions amount to 10 grands' worth for no extra cost. They make a big difference to the look of what is already a large impressive vehicle. The changes are mainly decorative, but they look the business.
The rest is pure ST and includes side steps, body coloured front bumper, LED headlights, and useful things like a towing pack at the front.
The tray has tie-downs inside it, as well as lights, and a handy 12volt power outlet.
Interior
Remember, LCVs were designed for tradies. The fact that all sorts of people buy these vehicles now is down to a versatile drive, ever more efficient engines, and modern convenience touches like power windows, and air conditioning.
LCVs are being used more and more by drivers who once only thought of SUVs.
The cabin doesn't feel luxurious as such, but it does feel very comfortable, if just a little old fashioned.
The dash is full of hard surfaces. They will wear well in a commercial environment and are easily cleaned should they get muddy.
What sits in front of the driver comes straight from Nissan Passenger vehicles, not that there are many of those left. Like fellow Japanese auto-maker, Mitsubishi, Nissan has transitioned into an SUV/LCV retailer.
The centre stack has a distinctly utilitarian look to it. A touch screen has fixed buttons either side and tuning pre-set radio stations is easy. There is DAB but no Apple CarPlay.
Air conditioning is a do-it-yourself affair. Although there is only an intermittent wiper function, at least there are dusk-sensing headlights.
I impressed with a power outlet right on top of the dash in a shallow tray.
Cloth upholstery made seating comfortable but would need covering if tradies were going to be doing their thing.
The rear seats are not exactly capacious, but shortish trip around town are fine.
Features
There are features we expect like: four wheel drive, 4 cup and 4 bottler holders, 3 X 12V power outlets, an overhead sunglasses holder, floor mats, driver's LCD screen, and external temperature  display. There is a neat phone holder that fits into the cupholder cavity.
One thing I love is the power operated window between the cabin and the rear tray. That would be very handy should you decide to put one of those fiberglass canopies on.
The rear-view mirror has a non-dazzle function, which works well. In fact, much of what is in the Navara you might also find in a family hatch. The reversing camera displays in the centre LCD and makes parking a less stressful event.
There is no tray liner standard except in the top model. It would be a good investment if you value your trust steed.
Drive and Engine
There are 2 transmissions, 2 engines, and either 2 or 4 wheel drive, depending on the model you choose.
Our Black Edition had the optional 7 speed automatic in lieu of the standard 6 speed manual.
Although our test car had the more powerful 140 twin-turbo diesel with 450Nm, it was no power house. It is quiet at cruise, but a trifle rambunctious if pressed.
The 6 speed transmission shifts smoothly and finds the right gear most of the time. It wants to hold high gears though, even if pressed.
The drive is a leisurely affair. Like all LCVs, the Navara has a long wheelbase that needs extra attention in tight spaces. At 5255mm long, it will take almost all of the parking spot.
Ride is decent on the multi-link rear suspension. You waft along with bumps hardly noticeable. Highway cruising is fairly quiet.
Drum brakes on all models feels absolutely antiquated. Strangely, this isn't uncommon in the segment.
The more weight in the tray, the better the ride. Your performance suffers somewhat, but it is more than adequate for your daily use.
It has 226mm of ground clearance which, along with low range and a 4×4 drive system, gives Navara pucker off road credentials. The rear end is light without a load on, so the electronics get a work out keeping grip.
You sit high, and it is difficult to avoid feeling like a lumber jack such is the inherent testosterone.
There are none of the driver aids you might want. No active cruise control, lane control, lane warning, or blind spot monitor. Otherwise the drive is a pleasure. The hydraulic power steering is reasonable considering the size, weight, and height.
Safety
Isofix outer rear seats
Reversing camera
Vehicle dynamic control
Brake assist
Electronic diff lock
Hill start assist
Daytime running lights
Good Bits
Handsome looks
Solid feel
Large tray
Not So Good Bits
No tray liner
Few driver aids
Slightly old fashioned interior
Summary
I like driving a big, bold pick-up truck. It will never replace a nippy hot hatch or open top sports car of course. There is a sense of freedom and adventure in SUV-like vehicles that sports cars, even open top ones, can't match.
Once you are used to the size, Navara is easy to drive and park.
The Black Edition is going to be around $51,000 on-road, and for the price you have Ranger, Hilux, Amarok to drive as well. All have a similar look and feel.
When it comes time to sign on the dotted line, be sure to check for deals and special offers.
Facts and Figures: 2018 2018 Nissan Navara Black Edition
Engine: 2.3L Cylinder twin-turbo diesel producing 140kW/450Nm
Transmission: 6-speed automatic
Warranty: 3/ 100,000km
Safety: Five stars
Origin: Thailand
Price: from $51,190