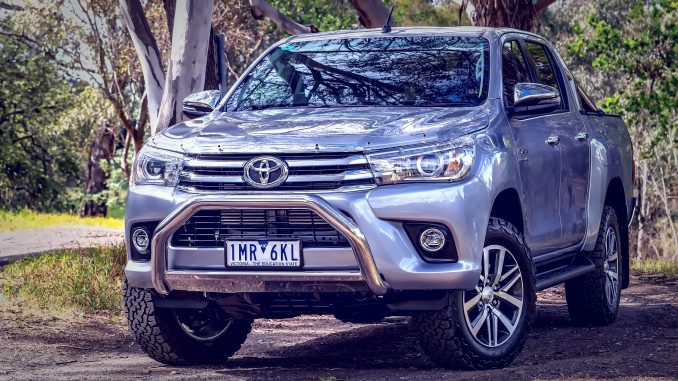 Toyota bullbar or aftermarket?
Dealer accessories vs. aftermarket extras
Buying a new ute or van is always exciting. From the test drive to choosing your favourite color, the whole experience is something akin to Christmas morning for adults. However, when you start adding on those must-have accessories, the sticker price starts to grow and what you once thought was an affordable ute turns out to be a drain on your finances. Fortunately, this doesn't have to be the case because you can still simply add your accessories post-purchase. But are aftermarket accessories a good idea? Let's take a look at your options.
Dealer extras
The sales race between Ford and Toyota is becoming intense once more, but as is the norm, the HiLux is still ahead of the rest of the field in terms of units sold. And if you're one of those buyers lucky enough to be in the market for a new ute, then this heightened competition between the two giants of the motoring industry is great news. With dealers being pushed to sell as many units as possible before the end of the year, you might just manage to land yourself a few free accessories.
However, free accessories often come with a hidden cost. You see, dealers run a business and so they need to make their income in some way. This means that when they offer you something for free, they'll often offset this cost by tying you to something else such as compulsory dealer servicing. They will also limit free accessories to those that cost the least so no, you probably won't be getting a free alloy bullbar.
Dealer accessories often cost more than their aftermarket counterparts. The argument here is that branded accessories are of better quality, but if you've ever owned anything from ARB or TUFF, then you'll know that this is not necessarily true. However, there is one significant advantage to accessorizing through a dealer; convenience.
Picking up your new ute or van from the dealer with all your extras already fitted is so convenient that some buyers are willing to overlook the additional cost. And the fact that they can include the cost in their finance package makes it almost too good to be true. But remember, this means higher monthly payments for the duration of your loan. Are you sure you can afford those higher payments for the next few years?
Aftermarket accessories
As you may have guessed, we're all about the aftermarket express. It just makes so much more sense than dealer extras. Not only are aftermarket accessories often cheaper, but there are far more varieties available. So if you want a particular style of wheel, you're not limited to the small selection offered by the dealer.
Of course, you still have to pay for them somehow regardless of how affordable they may be. And if you'd rather not put another hole in your rainy day fund or if you have a poor credit rating then a short-term loan is a good option. This allows you to pay off the cost of your extras in a much quicker time. So instead of four years of higher payments (through a dealer finance package), you can pay everything off in six months and be done with it.
But it's not just the fact that you'll have lower long-term payments to make. Because these aftermarket accessories are yours and not tied to your dealer's finance package, you can take them off and sell them at any time.
So if you're in the market for a new ute, don't just go to one dealer, visit several and ask about free accessories. And for those extras that the dealer won't offer, buy them later and save yourself some cash. Just remember that if a dealer offers you a free extra, check that there are no restrictive conditions tied to that purchase.