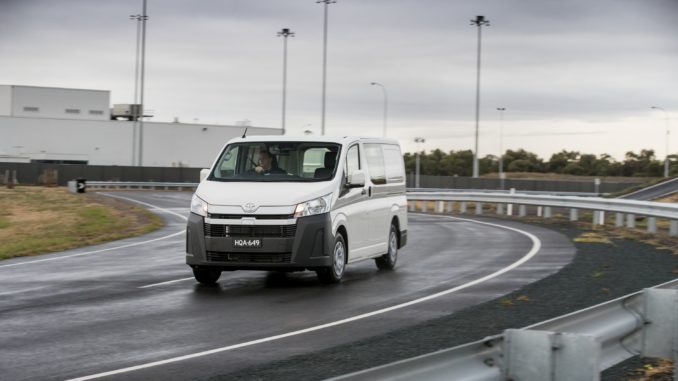 HiAce  – This new model from Toyota comes smack bang into the forefront of the competitive small/medium Van market with a huge step up in power, comfort and functionality paired along with a new and improved safety feature system designed to protect the driver and the payload.
It may not look as stylish and sleek as the current front runner models from Peugeot and Renault etc. But don't let that turn you off from a very well rounded delivery vehicle that is an efficient and handy logistical asset to anyone or company that relies on a van for getting the maximum amount of payload in that can be taken around in hard to get to places with!
What does the HiAce LWB look like?
Compared to older model HiAce vans, straightaway there was a remarkable difference in the contour and shape of the outside shell, where before a rectangular box was what one would describe a HiAce as.
The exterior design has now been shaped into a more sophisticated rear to front sloping taper which does admittedly look very starkly similar to a Ford transit or Hyundai iload type van.
Due to the more curved bonnet design, there is more efficient access in and out of the drivers cabin this to my delight added a huge convenience factor. With the older boxier models the entry and exit would more often than not be very awkward! Particularly for larger bloke like me who doesn't have much flexibility.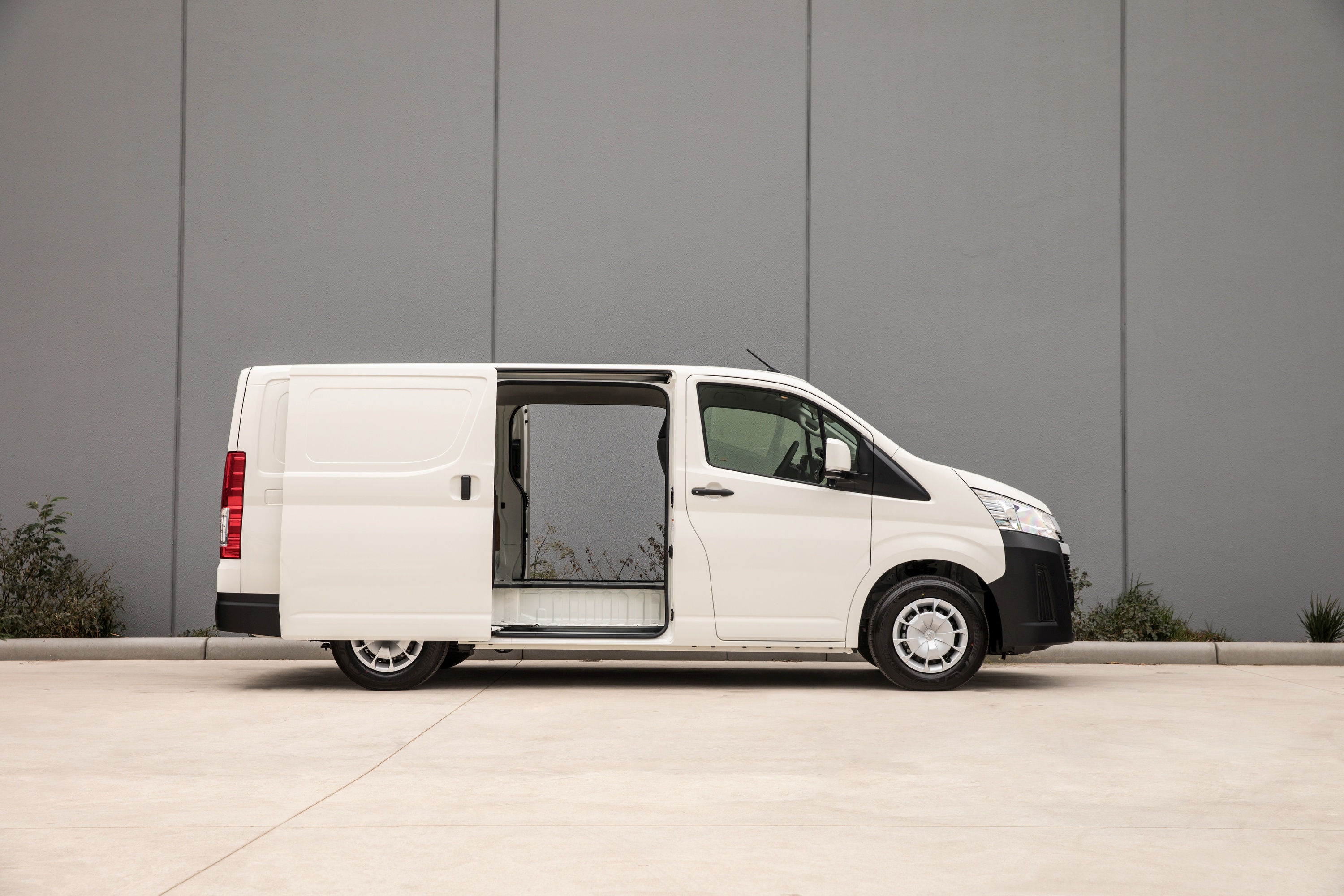 How easy is it to load and unload the HiAce
My most prized exterior feature was the twin side sliding doors, for me being a logistics driver where I constantly have to reverse into tight spots and unload quickly this gave me enormous flexibility and comfort.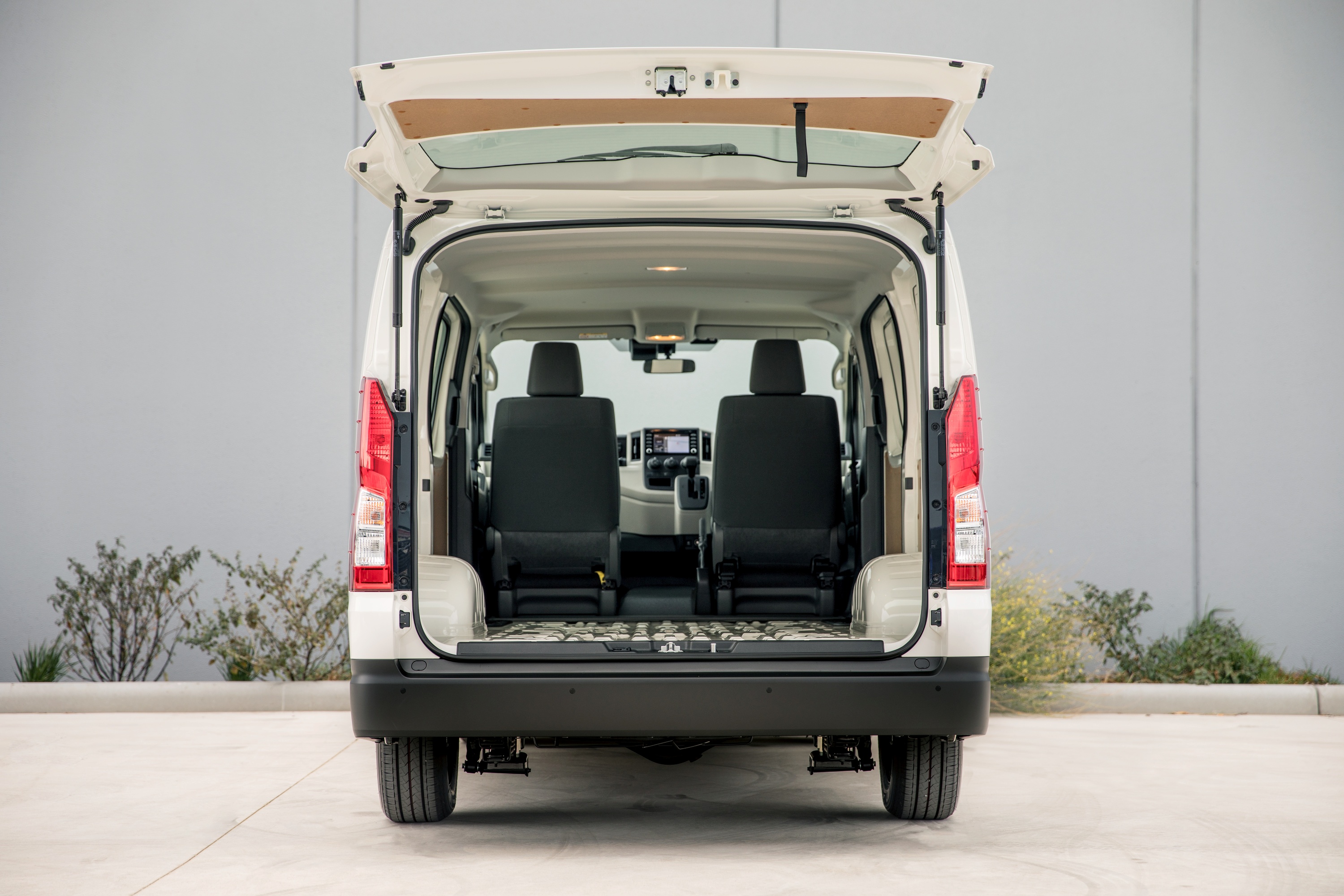 I could reverse to where my drop off point and positioning of the van could be executed, unfortunately the rear door was still your traditional pull up wide back door, but it did open high so I didn't hit my head. Saying that, it didn't actually really effect my method of loading and unloading goods through the back access that badly at all.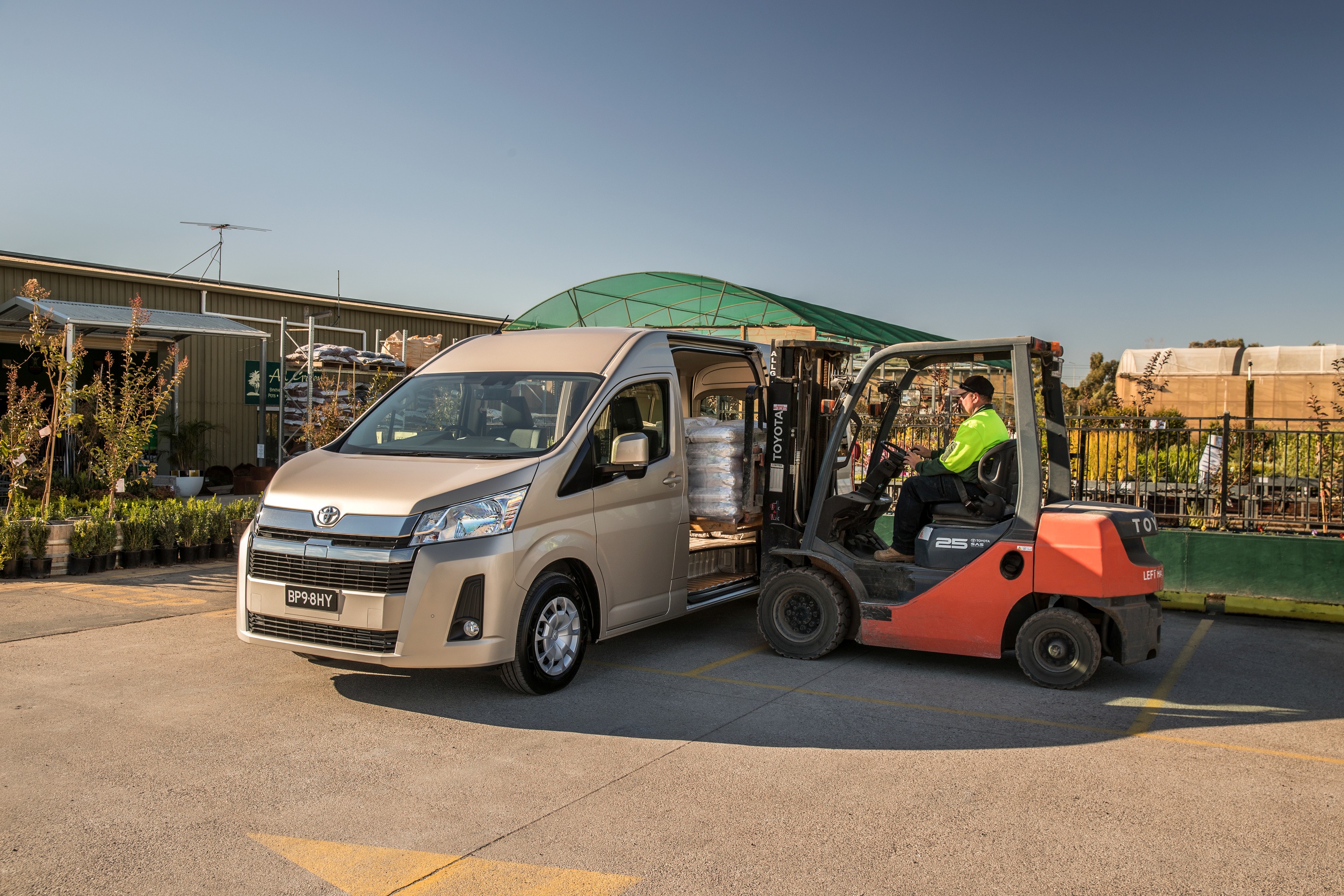 The interior loading space was significantly wider allowing me to place a whole chep pallet in the back with a good inch of space on each side, if I really wanted to I could have placed two loaded Chep pallets in front to back if desperate.
A much wider and larger loading space was a great asset in helping me load the maximum amount of goods I could without having to double stack due to the width of the floor space.
This particular model wasn't fitted with a back cage but that was acceptable as I flat packed as low as possible, there were multiple anchor points for straps and ropes placed in convenient spots that didn't impede with the floor space.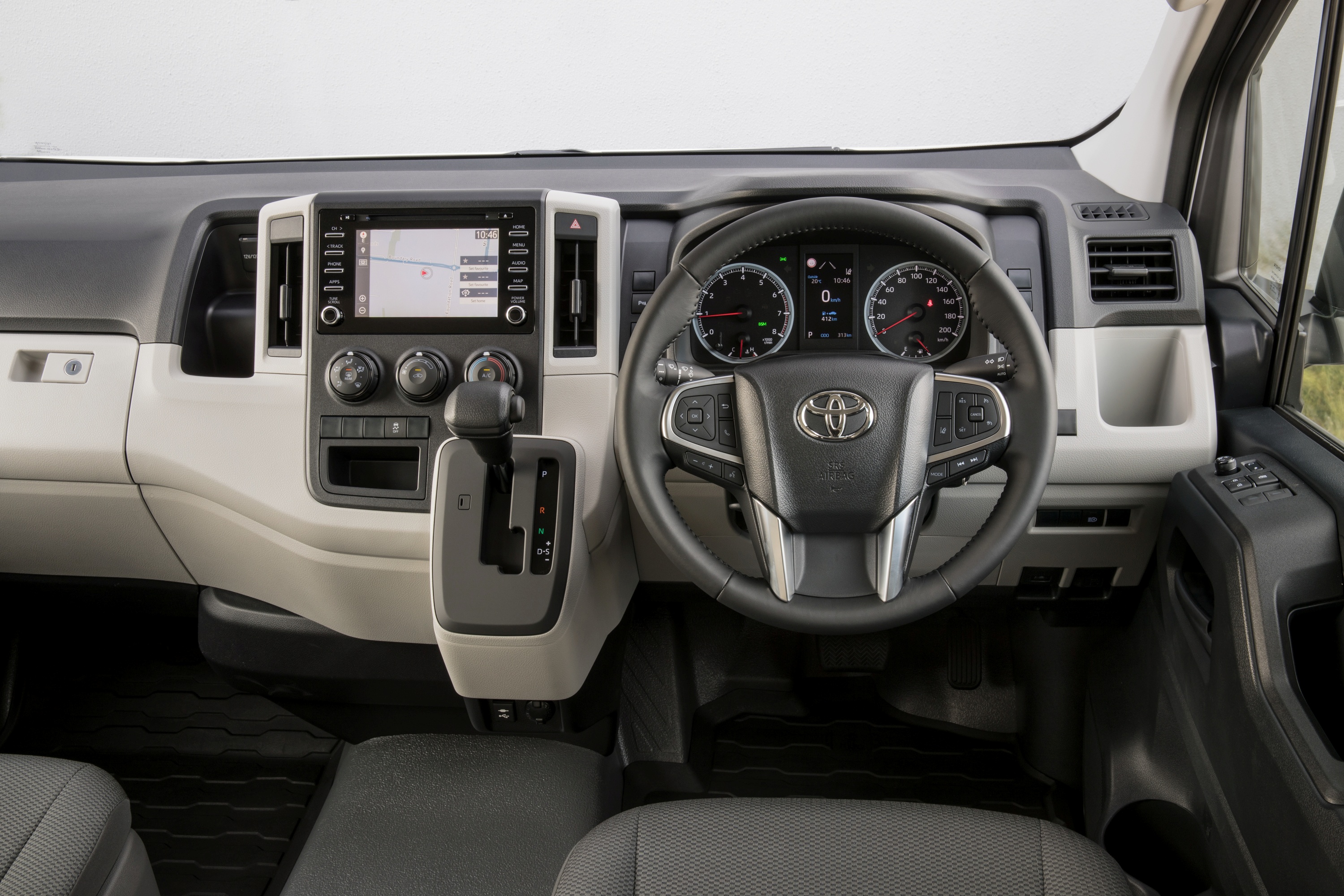 What is the HiAce like inside
I could tell Toyota had gone out of its way to improve its ergonomics in the interior, showcased by an all-new 7.0 inch multimedia unit which was compatible to all modern phone types with its easily connectible Bluetooth system and USB port. All the controls were accessible easily and simplistic to use.
The cab seating still had a utilitarian style feel to it but the spacing of the seat from the steering wheel in this model felt a lot more comfortable with driver's seat adjustability features allowing a satisfactory driving position.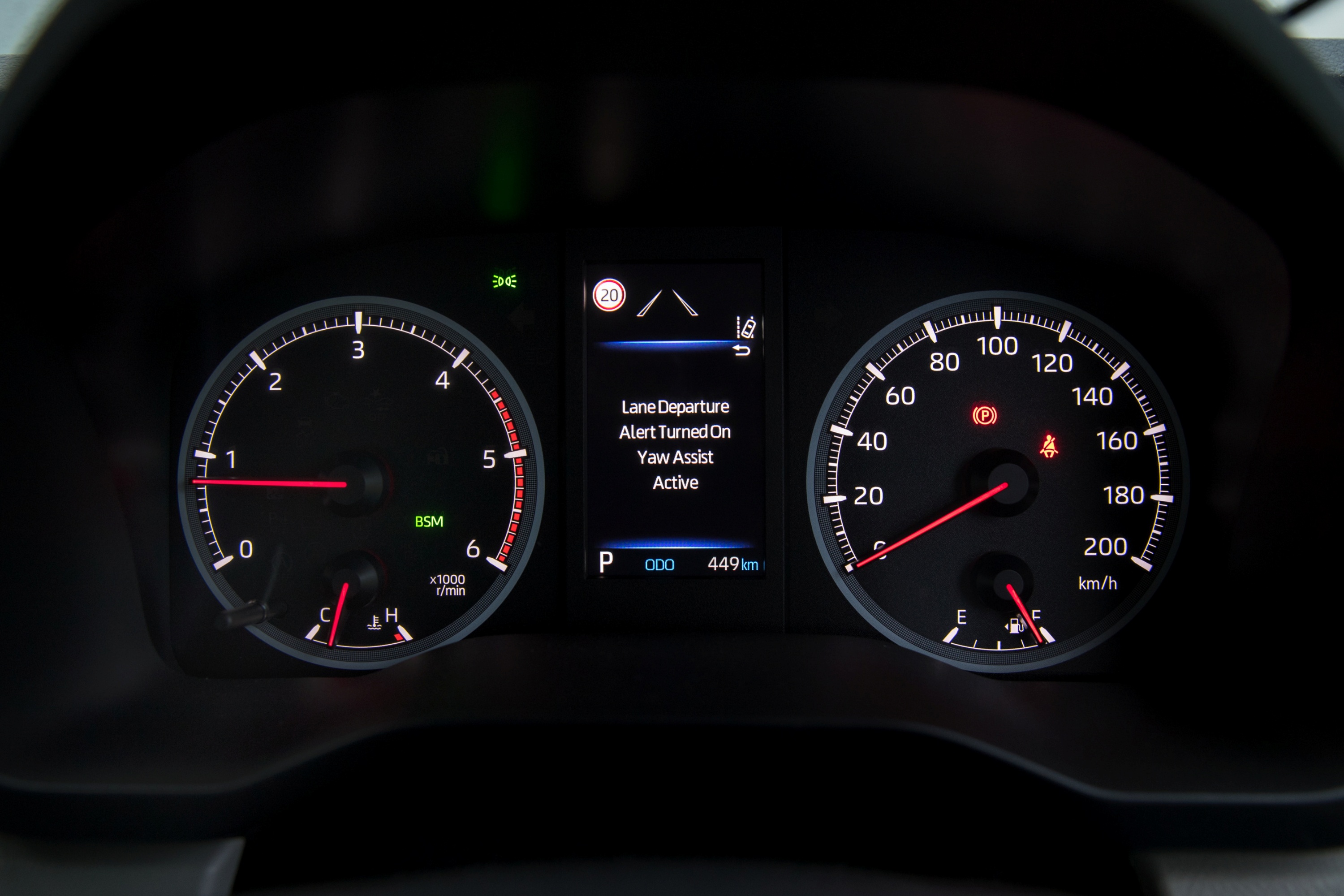 Interior features also boasting plenty of cupholders, a large front dash space and middle containers/holders between the seats ensured I was never short of space for putting essential documents, clipboards and drinks within reach at all times.
A standout spacial feature for the interior front cabin was the overhead storage space which came in handy for placing Hi Vis vests or rain protective garments etc.
What is the HiAce like to drive?
Being a LWB I was very impressed with the ease the new and improved steering system allowed a much tighter turning circle and more direct handling in general.
The new HiAce provides a much improved level of smoothness and the usual harsh engine noise I have always experienced with older HiAce models was virtually non-existent. This was much appreciated as long periods of driving can tend to make me loathe little annoying factors like that.
Braking performance seems to be a major step up alongside with the acceleration, which to me felt more like an SUV than a van.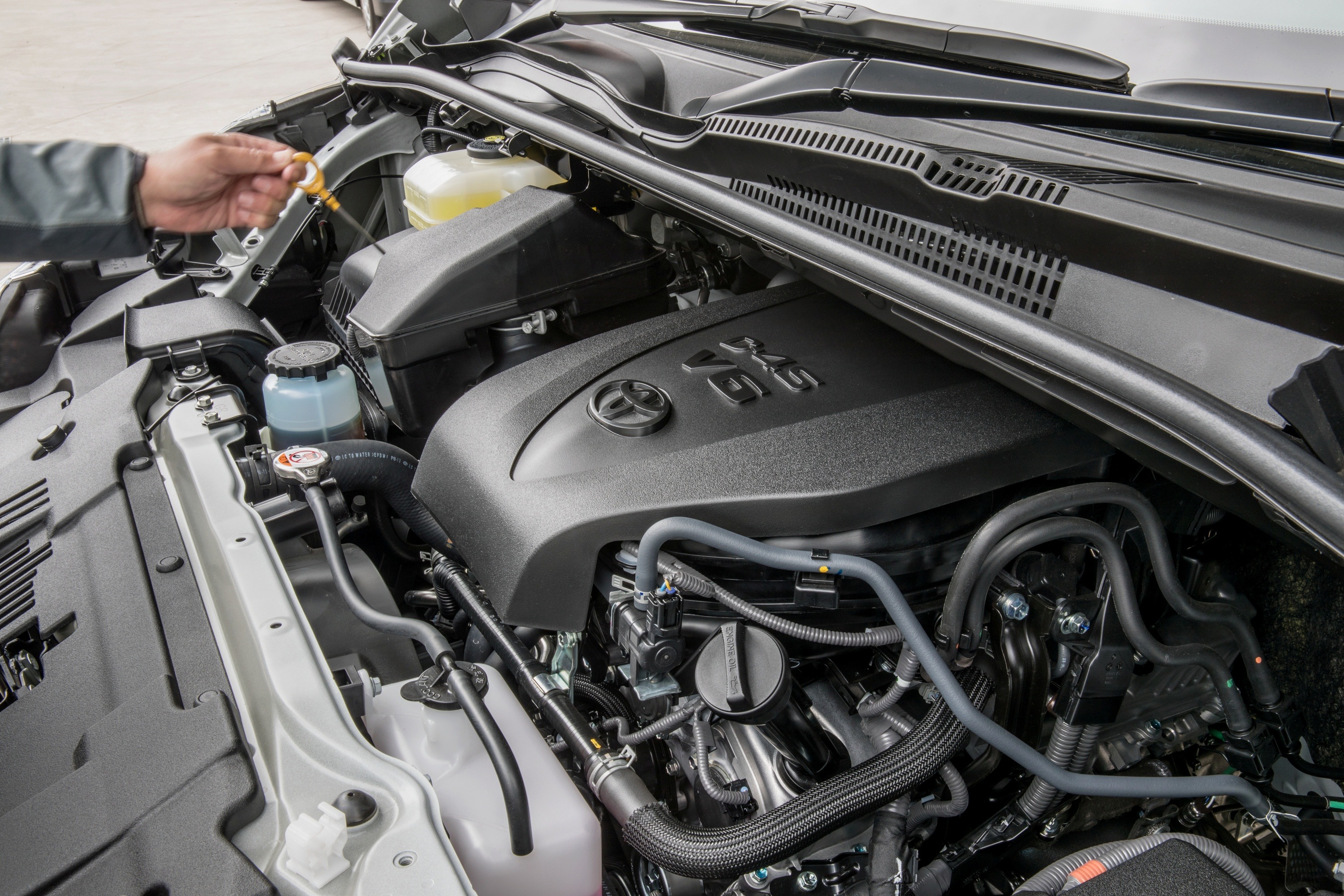 What is under the Bonnet – Engine and Drivetrain?
The 207kW/351Nm 3.5-litre petrol V6 actually packed a fair amount of punch particularly up in the higher rev range. With a full payload it chugged along quietly and effortlessly without any audible noises from the engine and rev changes which I found personally impressive.
This new model is slightly longer (and heavier) than its predecessors, but you wouldn't realise that due to its drastically improved drivability and maneuverability, this vehicle also handled the same amount of maximum payload as the older HiAce models.
Being a V6 petrol engine the fuel consumption was fairly average with at 12.5L/100km and a full tank providing just under 600km of distance when driven with an empty load. I would heavily encourage investing into a diesel model as this van would quickly chew up petrol when fully loaded and in peak hour traffic.
The suspension was very smooth and well balanced loaded or unloaded and was in itself a massive step up from the older models, with a full load there was no issue with the handling of speed bumps, ramps or tight turns and this in itself was a great comfort for me overall in being able to zip around quickly with that peace of mind.
What are the HiAce Safety Features?
This is the first Toyota van to achieve a full five star ANCAP rating, it has most of if not nearly all of the latest safety features which include a pre collision warning system both rear and front, a lane control departure warning system, blind spot monitoring, a reverse camera and rear parking sensors all of this paired along with stability control and anti-lock brakes!
These features very clearly gave me a sense of wellbeing while driving around making my overall driving experience a lot more secure and safer for me.
This model came along with an improved reverse camera that allowed more ease in handling this vehicle in reverse mode, the side mirrors have now been evolved into a long vertical design that gives a more angular view of the side of the van and blind spot area.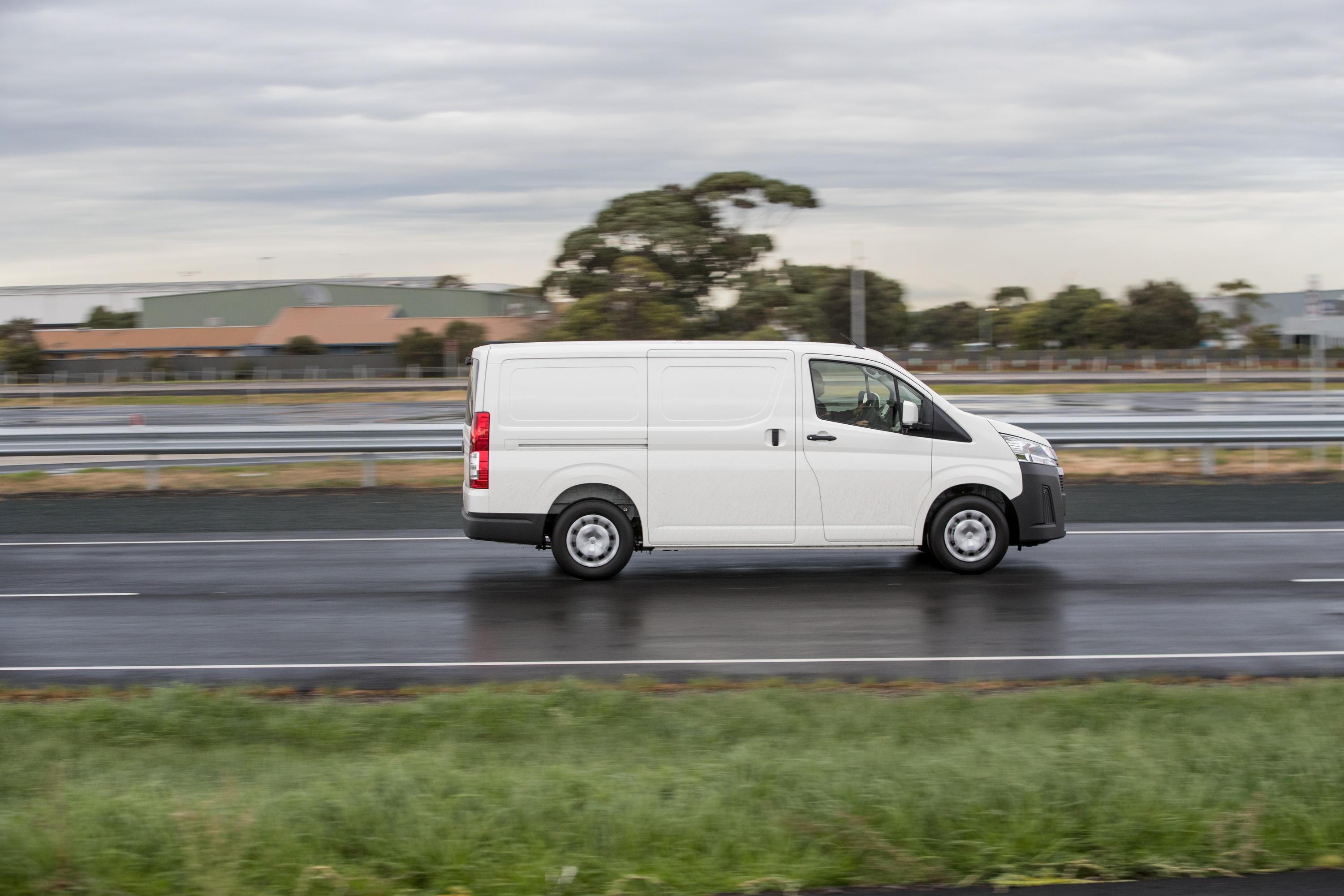 HiAce Summary
I found driving this 2019 HiAce van to be a great advantage to my daily job as a logistics driver, the overall spacial design in the loading cabin paired along with the twin side sliding doors was a game changer.
The functionality of its load bearing capabilities are a practical bonus for me, being able to place various loads and goods into the space. I would love to have rear barn doors rather then the tail hinge door but that's me wanting more easier access with my forklift I am sure others wouldn't have an issue with the rear door at all!
The handling of this vehicle paired along with its new impressive arsenal of safety features gave me a great sense of ease in navigating around with efficiency and security for myself and my payload.
Being a petrol vehicle I drove I am open minded about the fuel efficiency due to the amount of effortless power the engine gave at a full load paired along with the sweet transitioning of its new and improved 6 speed auto gearbox.
As I am a logistics manager I would personally consider purchasing this van for my business. With a competitive price tag, safety features and functional load bearing features, I thoroughly enjoyed driving and making use of this new and improved model and would recommend it.
This particular model I drove sits in the 36k to 40k dollar range which is on the more affordable side of the LWB small van market range, I personally find this price very reasonable for the overall improvement in this model and its functionality.