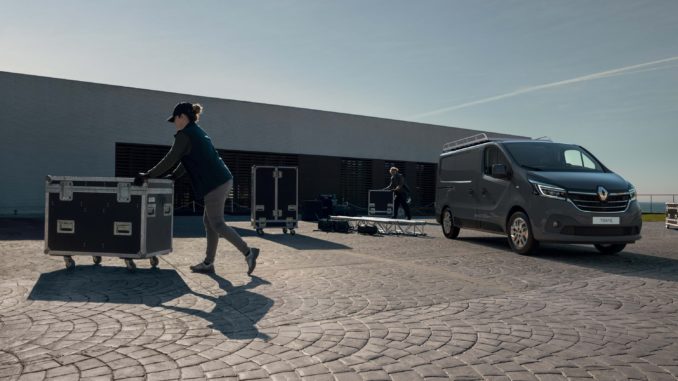 Renault Trafic – In a boost to its already impressive Light Commercial Vehicle line-up, Renault Australia has officially launched an Efficient Duel Clutch automatic transmission (EDC) Renault Trafic.
New, more powerful Euro 6 compliant 2.0-litre turbo-diesel with 125kW, mated to 6-speed Efficient Dual Clutch automatic transmission joins the range

New Renault Trafic Auto to start from $43,490 RRP*

85kW single turbo and 103kW twin turbo-diesel engines continue with 6-speed manual transmission

Bold new front-end styling and interior updates, reversing camera as standard

Additional convenience packs aimed at enhancing the ownership experience

Renault Reassurance package continues to provide peace-of-mind for customers

Renault Trafic Overview
The arrival of the EDC transmission will enlarge the appeal of the Renault Trafic to businesses, government, authorities, and rental fleets where there is a specific demand for automatic transmissions.
"The Renault Trafic has carved an enviable reputation for itself in the Australian LCV market since it was launched in 2015," said Anouk Poelmann, Managing Director of Renault Australia.
"It has been the top-selling manual transmission mid-size van and one of the best-selling vans in the category altogether. With the arrival of a new, more powerful engine combined with the new EDC transmission, the Trafic will broaden its appeal in the market," Poelmann continued.
"This gearbox is borrowed from our high-performance Megane Renault Sport hot-hatch and will deliver crisp, direct gearchanges, providing excellent driver engagement and satisfaction," she added.
The 6-speed Efficient Dual Clutch transmission, that will make deliveries even smoother, also debuts a new Euro 6 compliant 2.0-litre four-cylinder turbo-diesel engine capable of producing 125kW at 3500rpm and 380Nm of torque at just 1500rpm, making it among the most powerful in the class.
This engine is only available in combination with the new EDC transmission.
The Renault Trafic Auto sips just 7.3-litres of diesel per 100 km on the official fuel cycle, making it one of the most frugal in the class. It also offers a payload of 1250kg and a towing capacity of 1630kg in the long wheelbase variant.
Renault pioneered the mobile office concept for the mid-size Trafic, and enhanced it with the launch of this generation in 2015, but now comes even more practicality and features designed to make a day behind the wheel as productive as possible for the driver.
Since launch in Australia in May 2015, the new generation Renault Trafic has been an outstanding sales success and recipient of multiple industry awards, with well-over 7000 examples delivered.
Renault Trafic has been among the top-three sellers in the segment on a regular basis, and is often the top-selling manual transmission van in the class. It has also out-sold its predecessor which was previously available with manual and auto transmissions.

The combination of bold handsome looks, a comfortable cabin, excellent driving dynamics, a versatile 5.2 – 6m3 load space, a payload of up to 1274kg, and a towing capacity of 2-tonnes, has led to record sales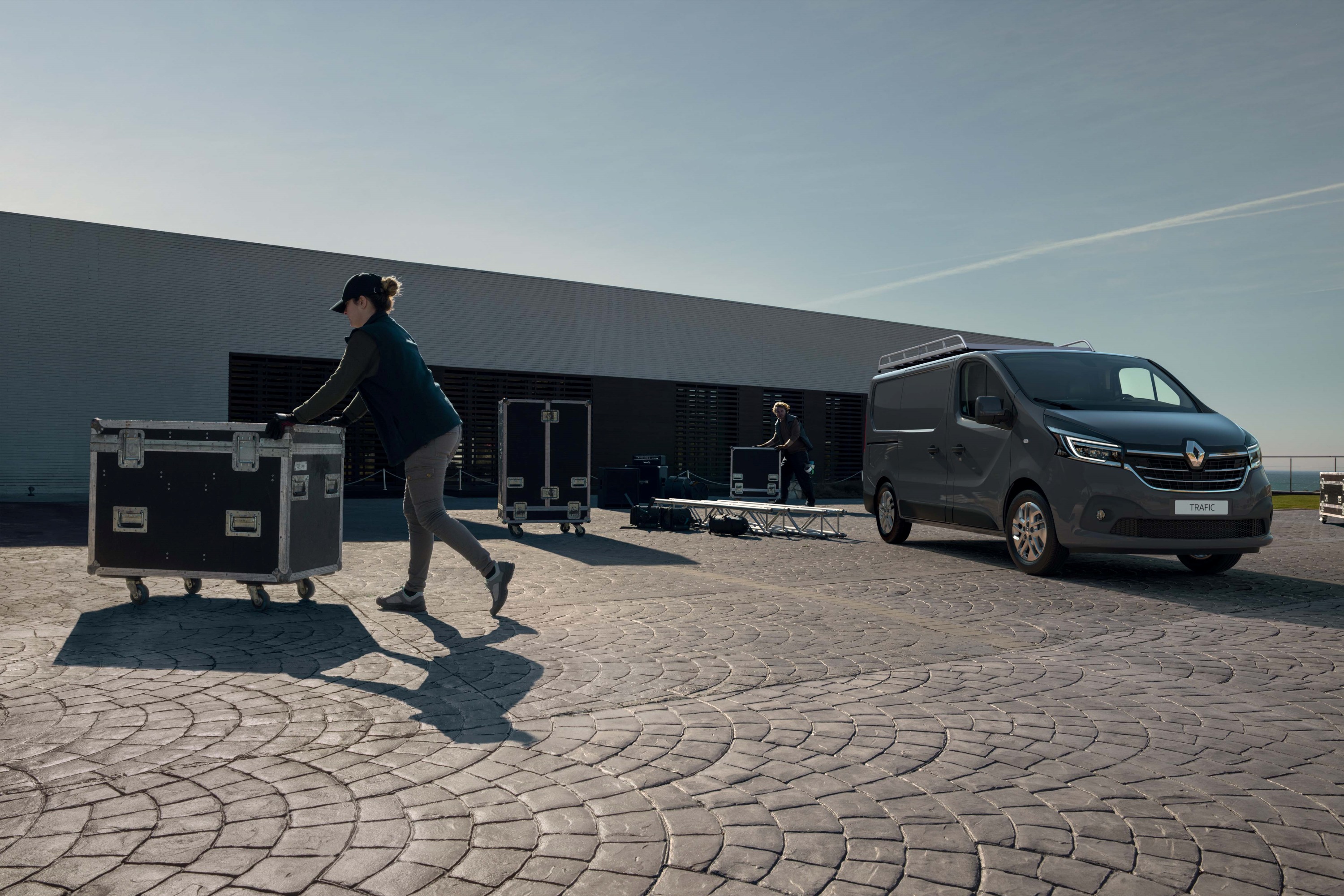 DESIGN
To coincide with the availability of the EDC transmission, the Renault Trafic has been refreshed by the Renault design team under the effervescent leadership of Laurens van den Acker, Executive Vice-President, Corporate Design.
The Trafic, like the soon to be released updated Renault Master large van, both now sport the signature Renault C-shaped LED daytime running lights – as seen on Renault passenger and SUV models.
There is also a more assertive front grille complete with more prominent Renault diamond logo in the centre, while Australian Trafic models gain automatic dusk-sensing Pure Vision LED headlamps. These deliver up to 50% more light on full beam and 20% more light when dipped, compared with halogen headlamps. For regional and rural Trafic operators, these more powerful headlamps will be exceptionally useful.
Inside the three-abreast cabin, the new Trafic provides an updated dashboard with satin chrome finishes and new dark carbon seat-facings. This high-quality long-lasting upholstery is able to resist the wear and tear of everyday work, which may see drivers sliding in and out of the right-hand seat 20 or more times per day.
Safety is a priority with front and lateral curtain airbags standard across the range.
In the Trafic Premium and Crew Lifestyle, there's more on-board connectivity available thanks to high-performance multimedia solutions. Renault's Media Nav Evolution with multitouch screen (compatible with Android Auto and Apple CarPlay) is fitted, along with a new single DIN stereo with a new microphone for better mobile phone call quality and digital radio reception.
These build on the already strong interior features that include one of the best cabin storage capacities in the market, with up to 90-litres of space, including on high-spec models a hidden compartment under the passenger seat (54 litres). There's also a folding passenger seat with integrated laptop storage as well as a clipboard that can be set up to face the driver or passenger. High spec-models also gain a cradle for a mobile phone within the driver's eye-line.
Out back the Trafic continues to serve the multitudinous needs of a broad range of buyers. The loading area's rectangular design helps to optimise the load space which has a capacity of 5.2m3 in the short wheelbase version and up to 6.0m3 in the long wheelbase version. A low step-in height for the load-bay continues to be a Trafic strong point, from an OH&S perspective.
Standard specification is a tailgate for the 85kW Trafic Pro, while barn doors are standard across the rest of the range.
Based around global feedback from customers, there's enhanced interior loadspace lighting using LED bulbs (at a bright 500 lumens) and a new three-button folding key or a Renault hands-free card with Single Door Opening (SDO) option for improved safety, with optional additional Extra Security lock still offered.
Further outstanding Renault Trafic features continue to make life easy for tradies or anyone carrying long high value lengths of material, with the longest loading length in the market, with up to 4.5m lengths able to be stowed inside, thanks to the handy flaps in the bulkhead that allow pipes or timber to be slipped through as far as the firewall.
There are up to 18 tie-down points in the load bay, and the barn doors can open up to180-degrees, allowing easy access for a fork-lift to load in a pallet between the wheel arches.
Renault Trafic Premium and Crew Lifestyle drivers also benefit from the 'Wide View' mirror, mounted on the passenger sun visor to help reduce side junction blind spots as well as aiding reversing. When used in association with a rear-view camera and parking sensors, the potential for low speed interaction with loading docks or street furniture is significantly reduced.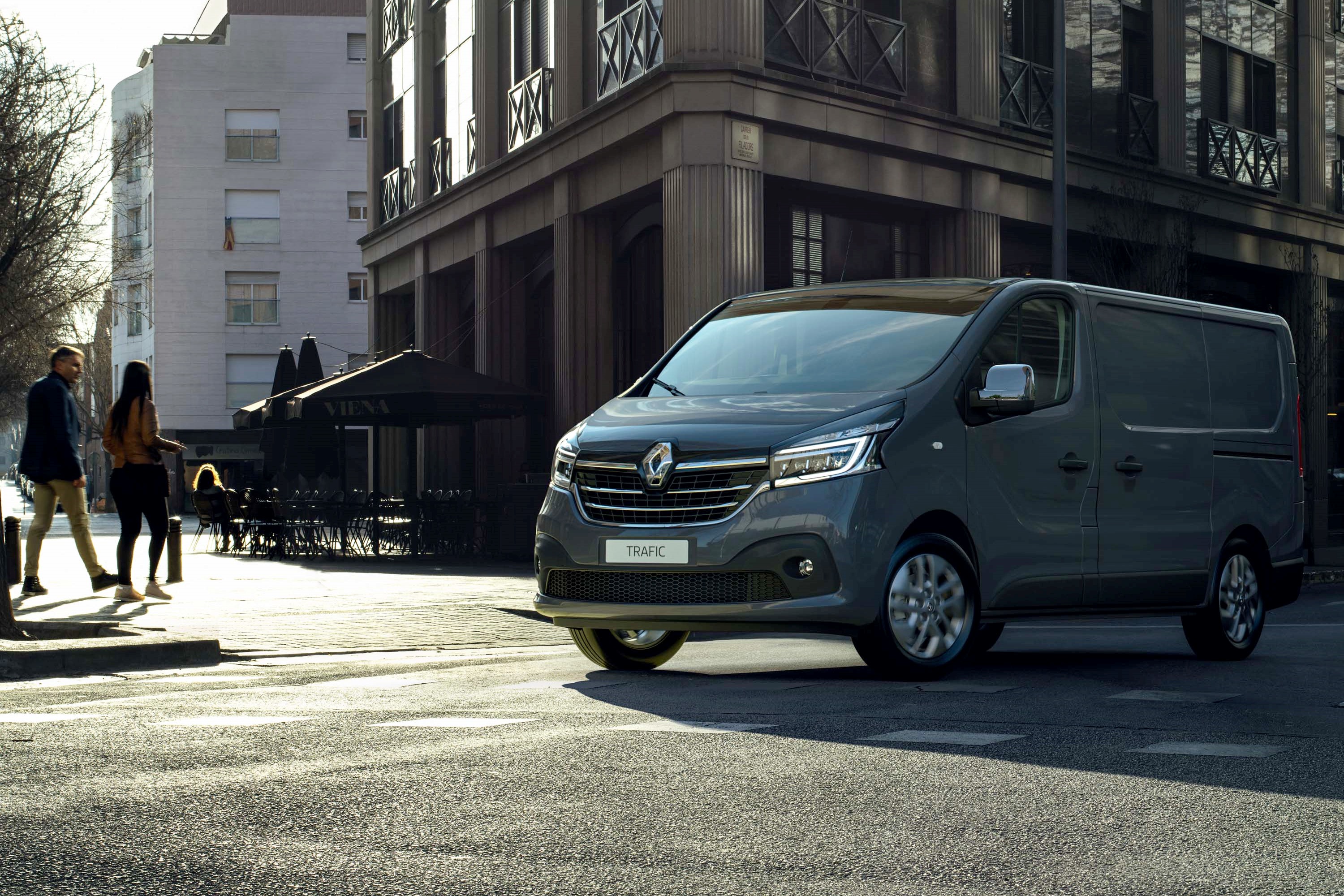 MANUAL FACELIFT
Renault Australia has also debuted improvements for those customers looking for a manual transmission with a facelift unveiled for the existing single turbo 85kW and twin turbo 103kW variants. 
The current 1.6-litre four-cylinder diesel engines are carried over into the facelift models, and continue to be mated with the slick-shifting 6-speed manual transmission.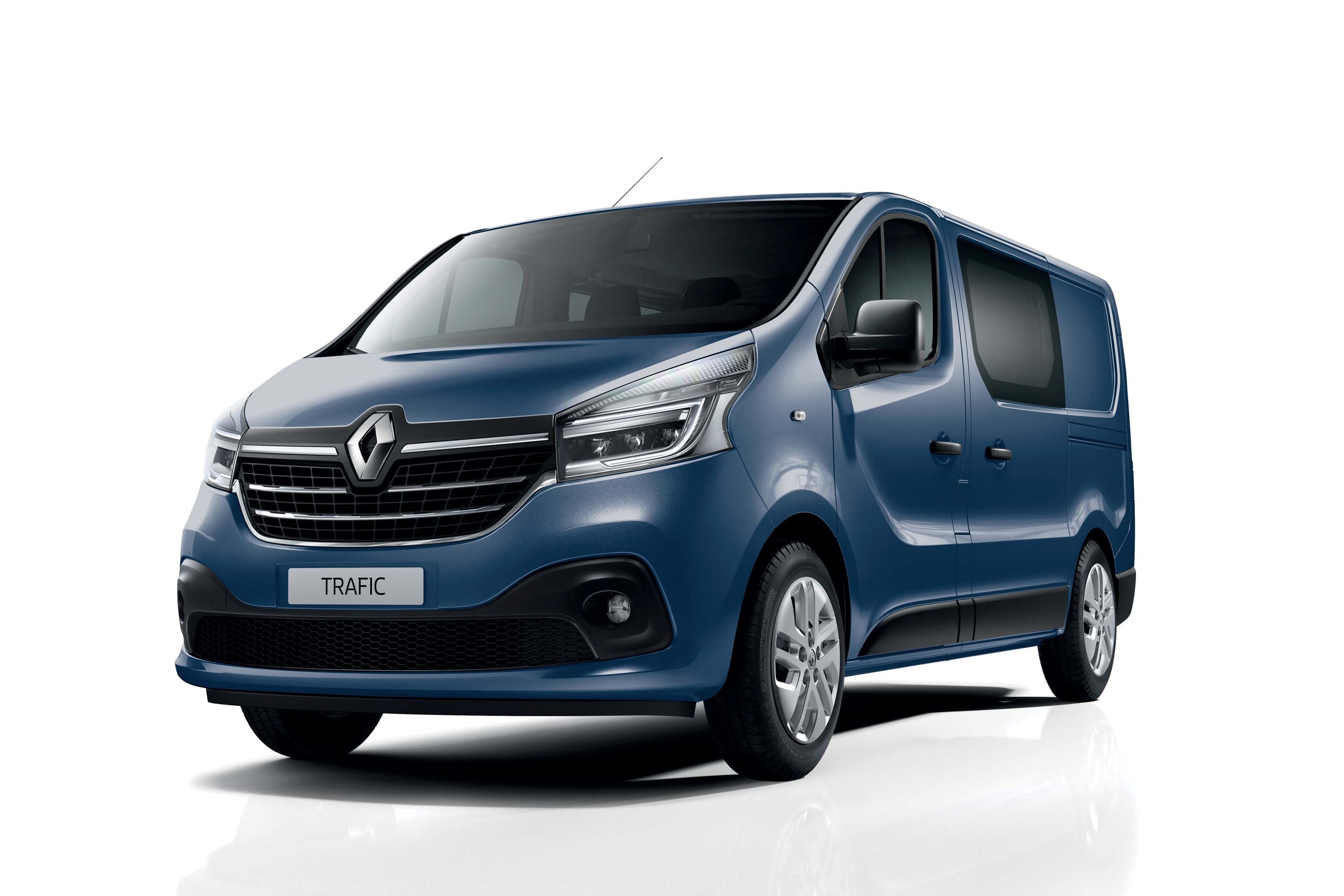 NEW DESIGN = NEW OFFERING
Renault Australia has used the launch of the new LCV range as an opportunity to revise its offering to better suit market demands.
"While the freshened styling helps Trafic look even more distinctive on the road, the additional value we have added, with extra features across the range, means that there are more reasons than ever to test drive a Trafic," Anouk Poelmann said.
The new entry model is the Renault Trafic Pro fitted with the 85kW engine and manual transmission, available in both short and long wheelbases. 
The new high-specification Renault Trafic Premium is available in short and long wheelbases, powered by a choice of the 103kW twin turbo engine mated to the manual transmission, or the new 125kW turbo diesel engine mated to the EDC automatic transmission.
At the top of the range is the Renault Trafic Crew Lifestyle 125kW EDC auto, that offers six seats, 4.0m3 of load capacity and an even larger array of comfort and convenience features.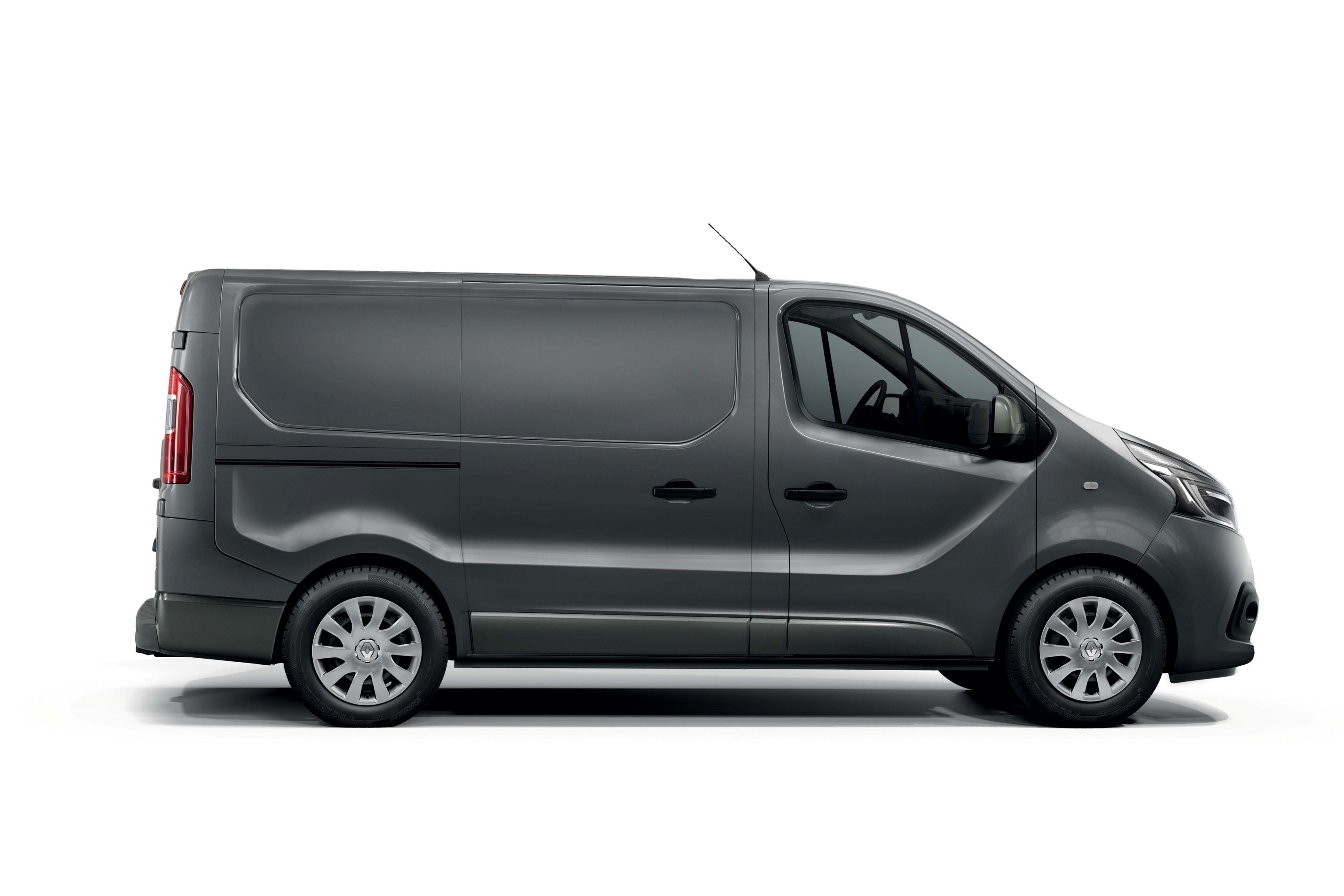 AFTERSALES
As with all Renault Light Commercial Vehicles the Trafic comes with an exceptional package of reassurance features, designed to maximise uptime and reduce the cost of ownership.
All Trafics come with a three-year/unlimited km factory warranty, which can be extended at a modest cost to up to five years/200,000km.
Servicing intervals remain at up to 30,000km or annually (whichever comes first) with capped price servicing offered from $549 for each of the first three scheduled visits to the dealership.
Renault also provides Roadside Assistance for up to four years.
"Our real world data shows us that the average van owner in Australia can quite easily do 30,000km in a year so Renault Australia's class leading service interval is a real world benefit for busy light commercial vehicle drivers and business operators," Matthew Wright, Renault Australia Aftersales and Quality Director said.
"Our 30,000km/annual service intervals means less time off the road for maintenance and more time on the road running your business."
"The added transparency of fixed price servicing also helps to provide peace of mind to business owners needing assurance on the real world costs of their vehicle," Wright continued.
THE REVISED RANGE IN DETAIL
The range starts with the Trafic Pro, available in both SWB and LWB, powered by the 85kW,  300Nm turbo-diesel engine and 6-speed manual transmission.
Additional equipment included as standard for the updated Trafic Pro comprises a rear-view camera, automatic headlights and wipers, leather-wrapped steering wheel, front fog lights, foldable insert key, and under-bench seat storage.
The new Trafic Premium model is available in both SWB and LWB with a choice of either the twin-turbo 103kW, 340Nm twin turbo diesel engine (as a manual transmission) or with the new 2.0-litre 125kW 380Nm turbo-diesel engine (with the EDC transmission).
The Premium model adds the following features over the Trafic Pro: Workstation bench, bulkhead with load-through flap, Media Navigation system with 7-inch touchscreen and Apple CarPlay and Android Auto smartphone replication, barn doors, an additional sliding door on the driver's side, engine Stop/Start system, mobile phone cradle and security deadlocking.
Sitting at the pinnacle of the Renault Trafic range, the new Crew Lifestyle adds the following features over the Trafic Premium: Body painted bumpers, side door protection, chrome grille, climate control air conditioning, 17-inch Cyclade alloy wheels, heated driver's seat, Renault Smart key card with keyless entry and engine start, and rear privacy glass.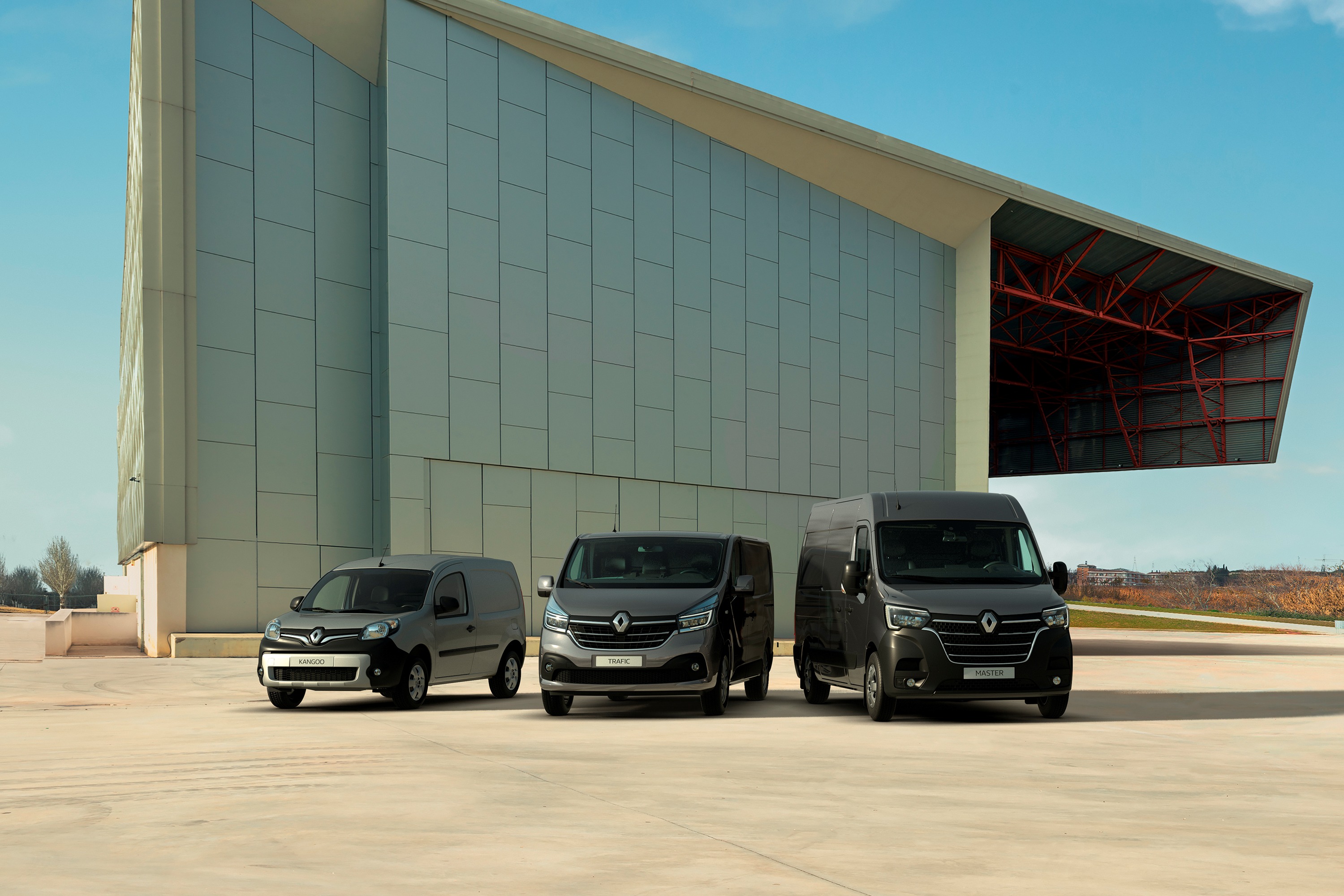 OPTION PACKS
Renault is offering a selection of option packs to allow for easy personalisation, so customers may specify exactly the van they need, while a huge range of individual features and accessories can be dealer-fitted, through the nationwide network of authorised Renault dealers and Renault PRO+ specialist dealers.
The Trafic Pro is offered with an optional Trade Pack for $1600 comprising a smartphone cradle, key with single door opening, Wide View mirror, wooden floor, full height wall lining, heavy duty battery, spare wheel basket and LED ceiling lights.
Further individually available and individually priced options for the Trafic Pro include a right-hand side sliding door, a steel bulkhead, a single passenger seat, barn doors in place of a tailgate, and a 7-inch touchscreen navigation system with smartphone replication.
A Trade Pack is also available for the Trafic Premium.
Trafic Premium also offers access to a Business Pack, comprising automatic air conditioning, tinted windows, 17-inch alloys, hands-free entry card, heated seats and colour coded bumpers and taillight pillars.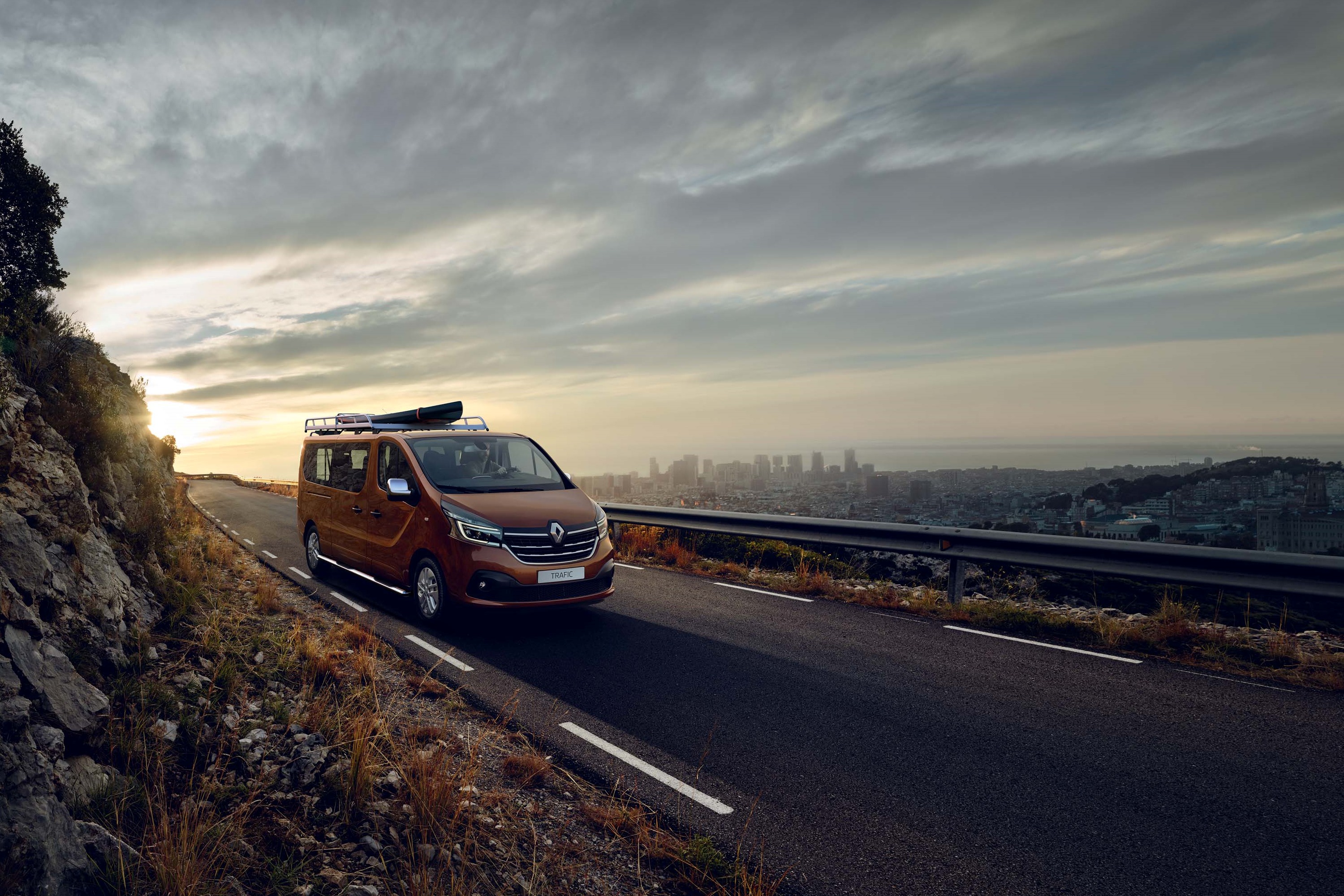 PRICING
The Renault Trafic has always been extremely competitively-priced, and this continues in 2020 with the advent of the updated range. The new Renault Trafic range will go on sale in December, 2019.
Variant RRP*
Trafic  SWB Pro 85kW MT Diesel $36,490
Trafic  LWB Pro 85kW MT Diesel $38,490
Trafic  SWB Premium 103kW MT Diesel $39,490
Trafic  LWB Premium 103kW MT Diesel $41,490
Trafic  SWB Premium 125kW EDC Diesel $43,490
Trafic  LWB Premium 125kW EDC Diesel $45,490
Trafic  LWB Crew Lifestyle 125kW EDC Diesel $52,490
*RRP does not include statutory costs or dealer delivery.
SALES HISTORY OF RENAULT TRAFIC

 

 X82
| | |
| --- | --- |
| 2015 | 1070 (Includes previous generation) |
| 2016 | 1730 |
| 2017 | 2037 |
| 2018 | 1922 |
| 2019 | 1557 YTD to end October |
NB Figures provided by VFACTS