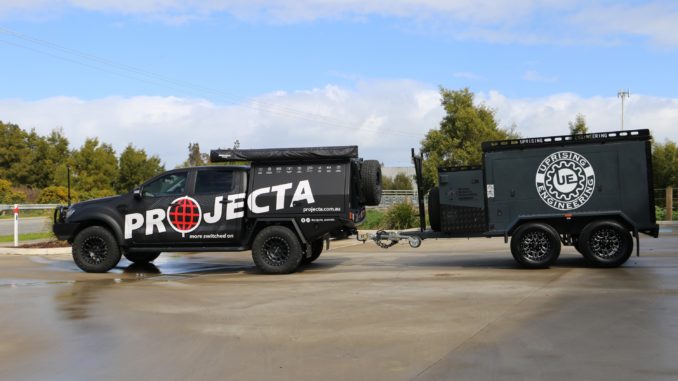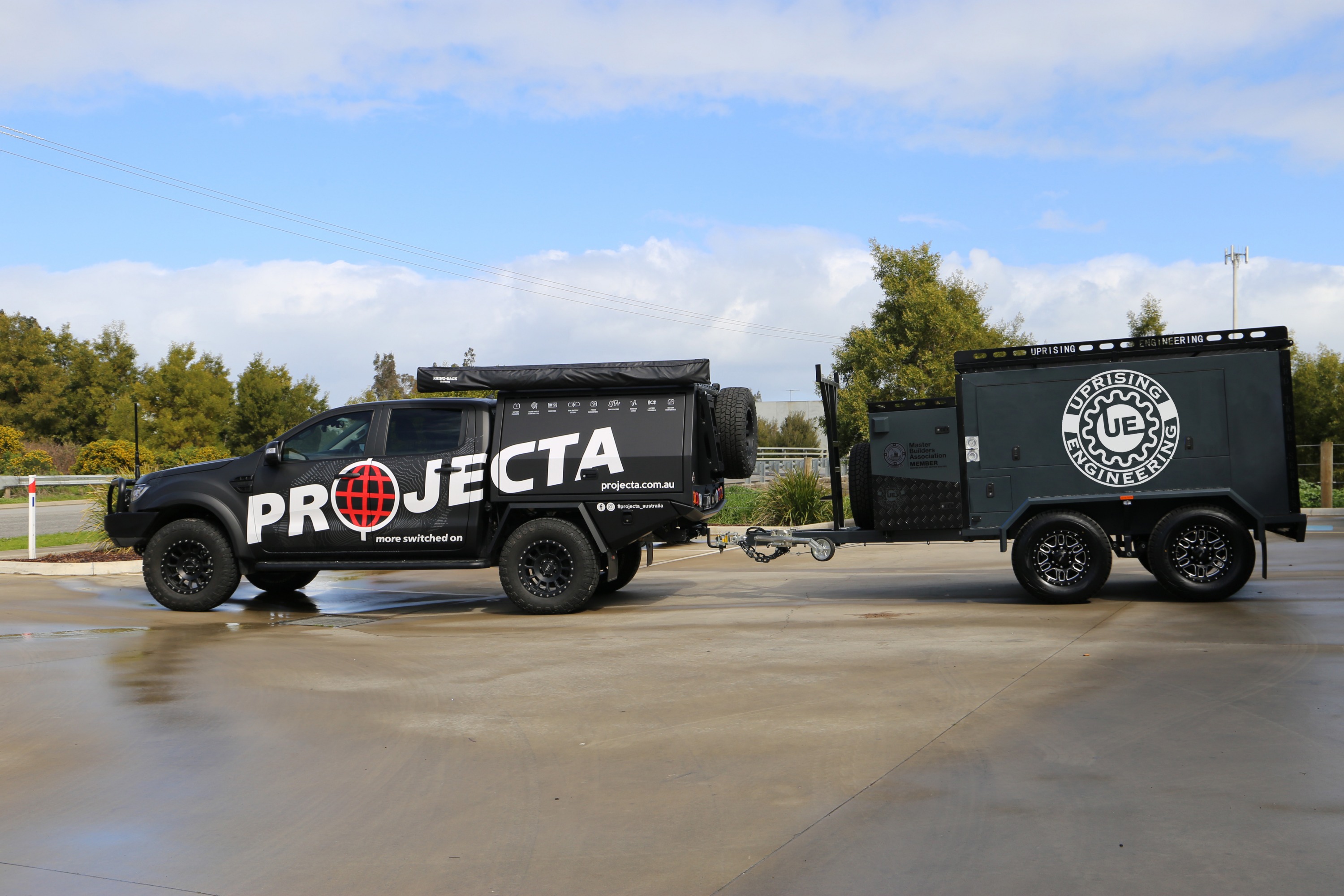 Projecta Tradie Trailer – Over recent years there's been a dramatic evolution in the types of tools that tradies are using on the worksite to make their jobs a little easier and more efficient.
With the shift from air and corded tools to cordless technology, one enterprising local manufacturer, Uprising Engineering, has turned its attention to revolutionising the humble tradies' trailer, turning it into a purpose-built, modern piece of equipment worthy of carrying and maintaining the latest gear.
The company was started around three years ago by Rob Harley, a boilermaker by trade, who has over 16 years' experience working for many high profile fabrication, trailer, camper trailer, truck body and ute tray manufacturers in Melbourne.
This strong knowledge base lead Rob to see a niche in the market for modern, innovative tradesman's trailers that would combine great looks, rugged design and importantly, include exciting new features that would position these trailers as virtual mobile workstations.
Tradesman Trailer
"I have a real passion and drive for the RV industry but I knew it was time to start my own venture," Rob said. "Tradesmen have been long starved of a good trailer to carry their tools and gear and there weren't a lot of options out there because the industry has been too busy selling trailers at a price point to get volume, rather than building something special to better meet the needs of tradies'."
"I'd been dreaming of designing an innovative trailer that was a step above everything else available, so I put it all on paper and sometime later we ultimately launched what I believe could be Australia's best tradesman's trailer, the 'Pro Trade Series'," he said.
In standard guise, the 'Pro Trade Series' produced by Uprising Engineering is already hugely impressive with its heavy duty construction, roof racks, full roller rocker suspension and cleverly thought out storage options comprising tool boxes, slide out draws, lift-up storage hatches and fridge slide, with the main body storage compartments conveniently accessible via gull wing doors.
Projecta Electronics
On the electrical front, the trailers feature full L.E.D internal lighting with a control management panel in the main body, two x 100Amp AGM batteries, a 50Amp Anderson plug for charging while driving or from solar, L.E.D tail/reverse/indicator lights, side marker and front clearance lights as well as a safety breakaway unit.
In addition to the standard fit-out, Uprising Engineering also offer 'Envy Package Options', with option one including a host of additional Projecta equipment providing even more versatility and performance to suit a wide range of trades and applications including for builders, electricians, plumbers, painters, councils and videographers, schools as well as for recreational users.
Included in the upgraded Projecta package is a IDC45 DC-DC charger, IP1000W pure sine wave inverter, IC2500 7-stage AC charger, BM320 smart display battery monitor, 240V install with inlet, outlet and multiple GPOs and 200W solar panel mat.
Other benefits are a fridge/freezer, travel oven, auto tow coupling, security door activation system, GPS tracker, customised signwriting, rubber or marine carpet protection mats, first aid kit and fire extinguisher.
According to Rob, the Projecta equipment is a valuable component of the Pro Trade Series.
"I've used Projecta products for a long time in many applications and the equipment is straightforward to install and easy for our customers to use. The quality and durability of Projecta is also great," he said.
"Projecta is a company I want to be involved with. The Projecta products I use have never let me down and I get a lot of customers thanking me for fitting this brand and also for making it easy for them to understand and use the electronics."
"For our customers, the Projecta products make their work life more efficient, they can charge tool batteries while driving to work or at the job site without mains power, they can also run a fridge and oven meaning they don't need to go to the shop, and they can even recharge their phone and lap top if they need to do paperwork," he said.
Although based in Pakenham, Melbourne, Uprising Engineering have sold many units throughout Australia and more recently have exported their first batch of trailers to New Zealand.  For more information on the range visit: www.tradesmantrailers.com.au or see the video