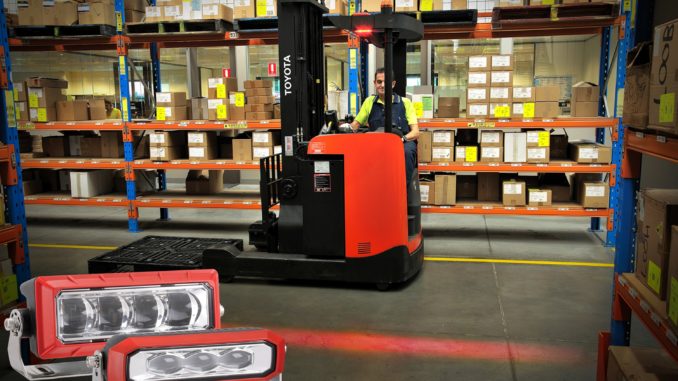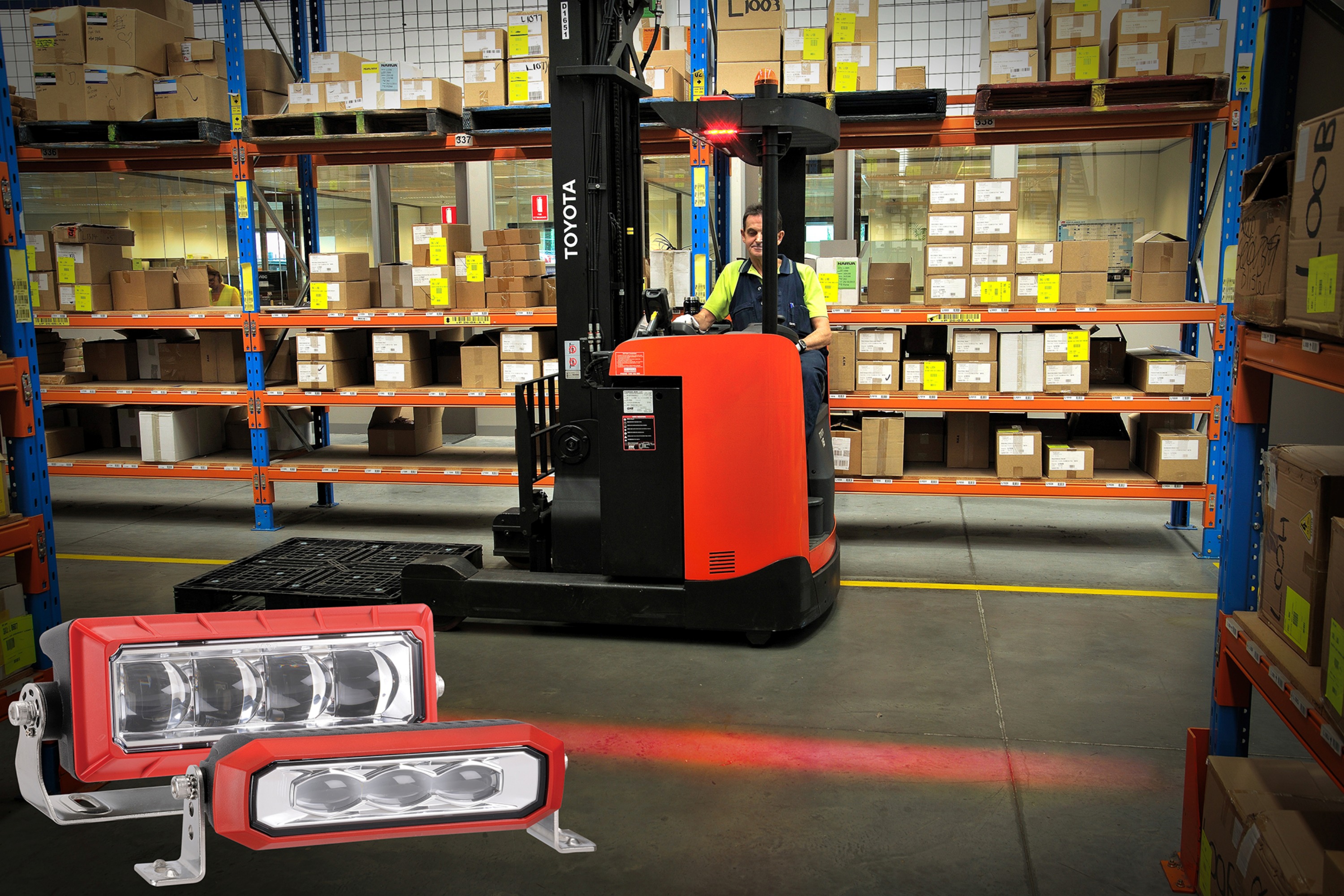 Narva Work Lights – Occupational Health and Safety requirements have become increasingly stringent in Australian workplaces in recent years, as legislators and businesses strive to reduce workplace accidents.
In environments where materials handling, agricultural or construction equipment work alongside people, clear visibility is paramount and Narva has introduced a new range of safety lights to help increase situational awareness for both drivers and pedestrians who work in these conditions.
The new Safety Light models are ideal for fitment to machines such as forklifts, elevated work platforms, excavators and similar. Depending on the model selected, each projects an intense light to the front, sides, or in zones around the vehicles, clearly alerting pedestrians of their presence.
While reversing alarms are already mandated on equipment including forklifts, in loud and busy working environments such as factories and warehouses, the alarm can be lost amid background noise, making a product such as a Safety Light extremely important.

Available in the new Safety Light range are three options: a 10-60V Blue Spot model, the 9-80V Red Safety Line Lamp and a 9-64V Red Safety Zone Lamp, all feature high power Cree 3W L.E.Ds for maximum visibility.
The 10-60V Blue Spot safety lamp is perfect for use on forklifts, emitting a crisp blue square-shaped light on the ground forward of the vehicle courtesy of its 4 L.E.Ds. The added visibility is particularly valuable to anyone crossing from a blind angle, such as in between racking or in front of an oncoming forklift, thus providing a continuous safe operating distance guide for pedestrians.
This model is sealed to IP66, making it suitable for both indoor and outdoor use.
Designed for commercial transport, agricultural and mining vehicles, the 9-80V Red Safety Line Lamp projects an intense, red 'Do Not Cross' safety line to one side of the vehicle courtesy of its 6 LEDs, alerting nearby pedestrians and other vehicles of ongoing works and potential hazards.
Given that this light is more likely to be used predominantly in outdoor environments, it's rated to IP66 and IP67.
Capping off the range is the 9-64V Red Safety Line Lamp with its powerful 12 L.E.Ds, making it a great addition for construction equipment like excavators and mining vehicles, where it can clearly identify danger zones around the machine where others should keep well clear.
All three of the new lamps are impact-resistance thanks to their aluminium die-cast and power coated housing and polycarbonate lens and each is supplied with stainless steel brackets for easy and convenient fitment.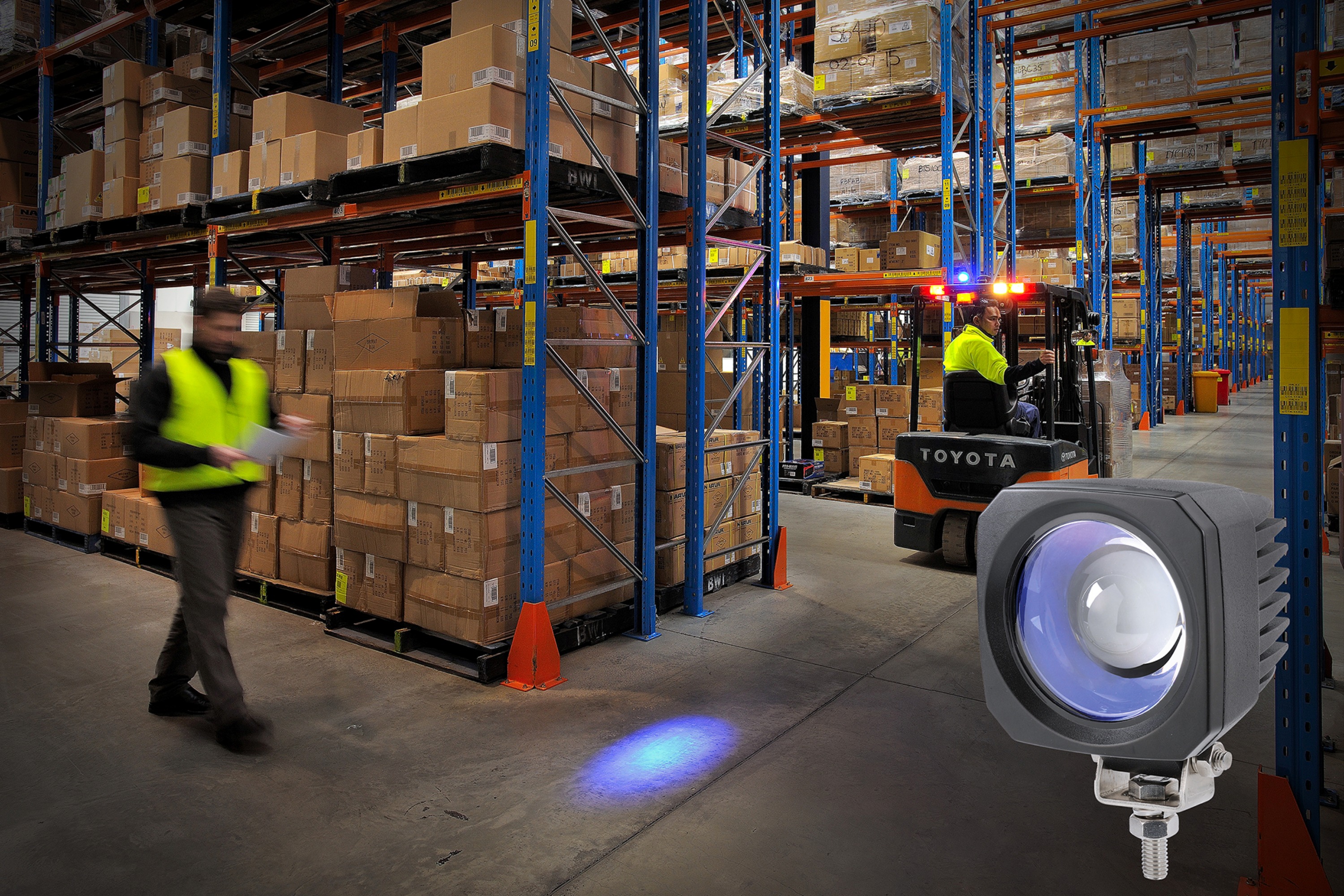 For added longevity in the tougher conditions, both the 9-80V Red Safety Line Lamp and 9-64V Red Safety Zone Lamp models are vibration tested to 7G, while the latter is also fully sealed and waterproof to IP68 and IP69K, making it ideal for the toughest off highway environments.
Despite their impressive light output, the new Safety Lamps, feature a low profile and compact design and benefit from a low current draw. And for added peace of mind, all models are backed by a 5 year L.E.D warranty.
Narva's three new Safety Lamps join an existing 9-110V 'Blue-Spot' model and all can be purchased at leading transport, warehousing and transportation outlets nation-wide.