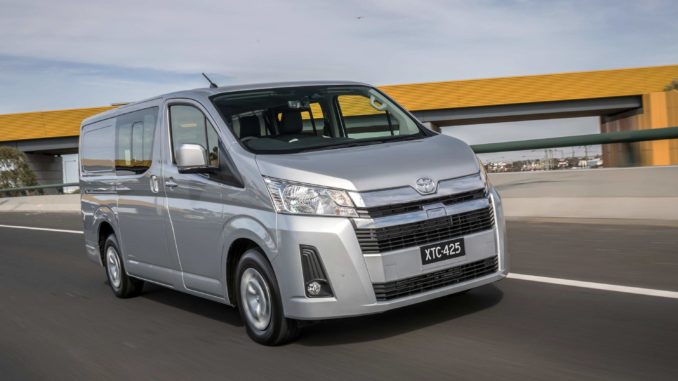 The all new Toyota LWB crew van, a variant of the new fleet of HiAce models released in early 2019, brings a unique twist on the ready to work medium van market.
It has 5 seats, a 2.4cyl diesel engine with a generous large back boot area mixed with a sleek new modern design. This might be one of Toyotas most multifunctional designs yet!
This van was able to provide both a satisfying workhorse service for my logistics job and additionally came into great use in my day to day social life driving mates around and driving on the highways to get to various locations.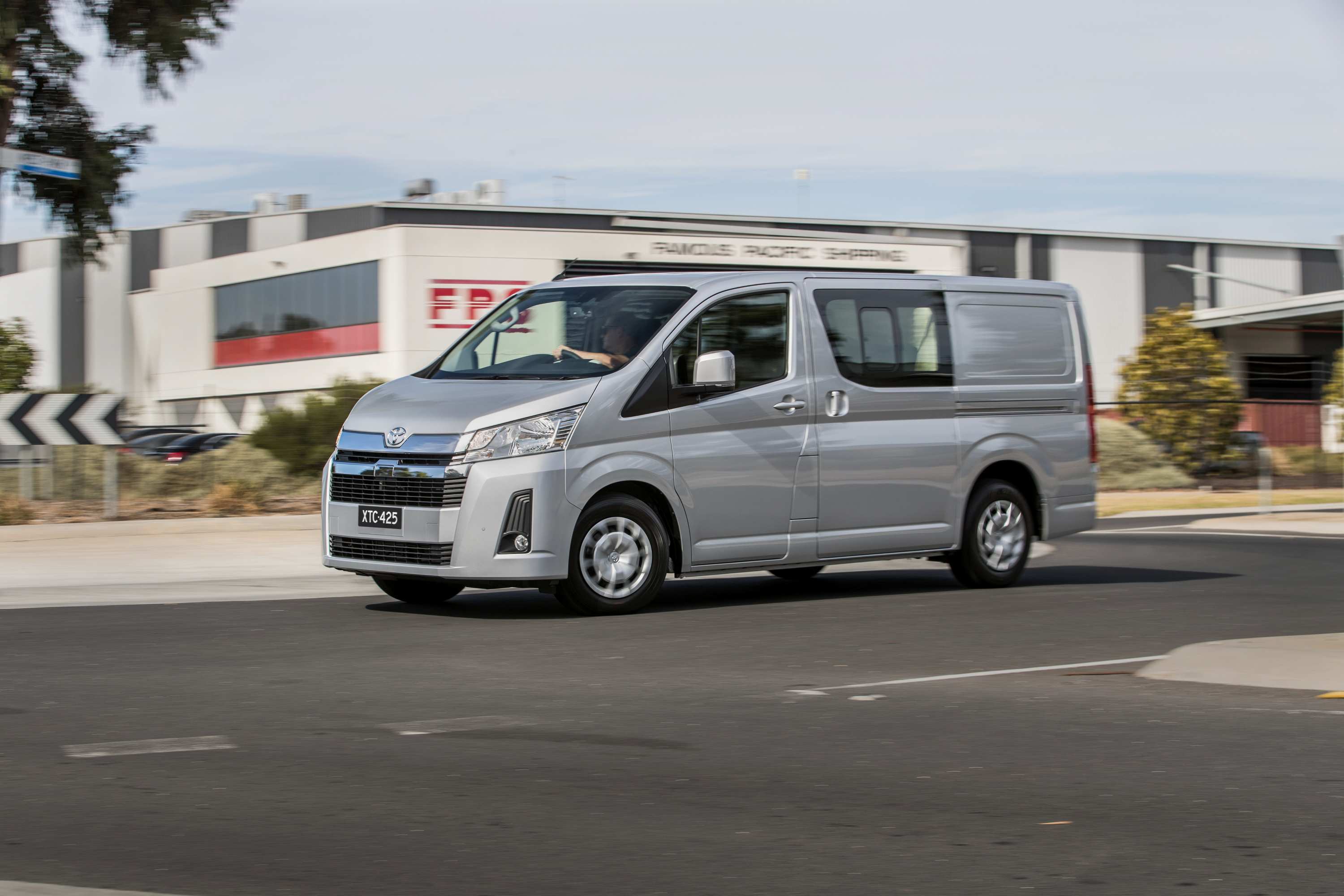 What does the HiAce LWB Crew Van look like?
Having driven older model HiAce vans, the all new design straightaway was remarkably different. Toyota have transformed the traditional rugged rectangular shape of the outside shell into a sleek, sloping tubular shaped shell which tapers down into the front bonnet.
Thus creating an actual bonnet space which gives off a similar exterior finish one would see in the most recent Hyundai i-load model or new Ford Transit model.
This new curved bonnet design has allowed a more user friendly exit and entry point into the driver's seat as the curved bonnet design has eliminated the awkward steering column underneath the steering wheel the older HiAce model had.
Equipped with a strong metallic coat of silver and a very new style of headlight and grilled design this variant is fairly stylish and looks friendly to the eye.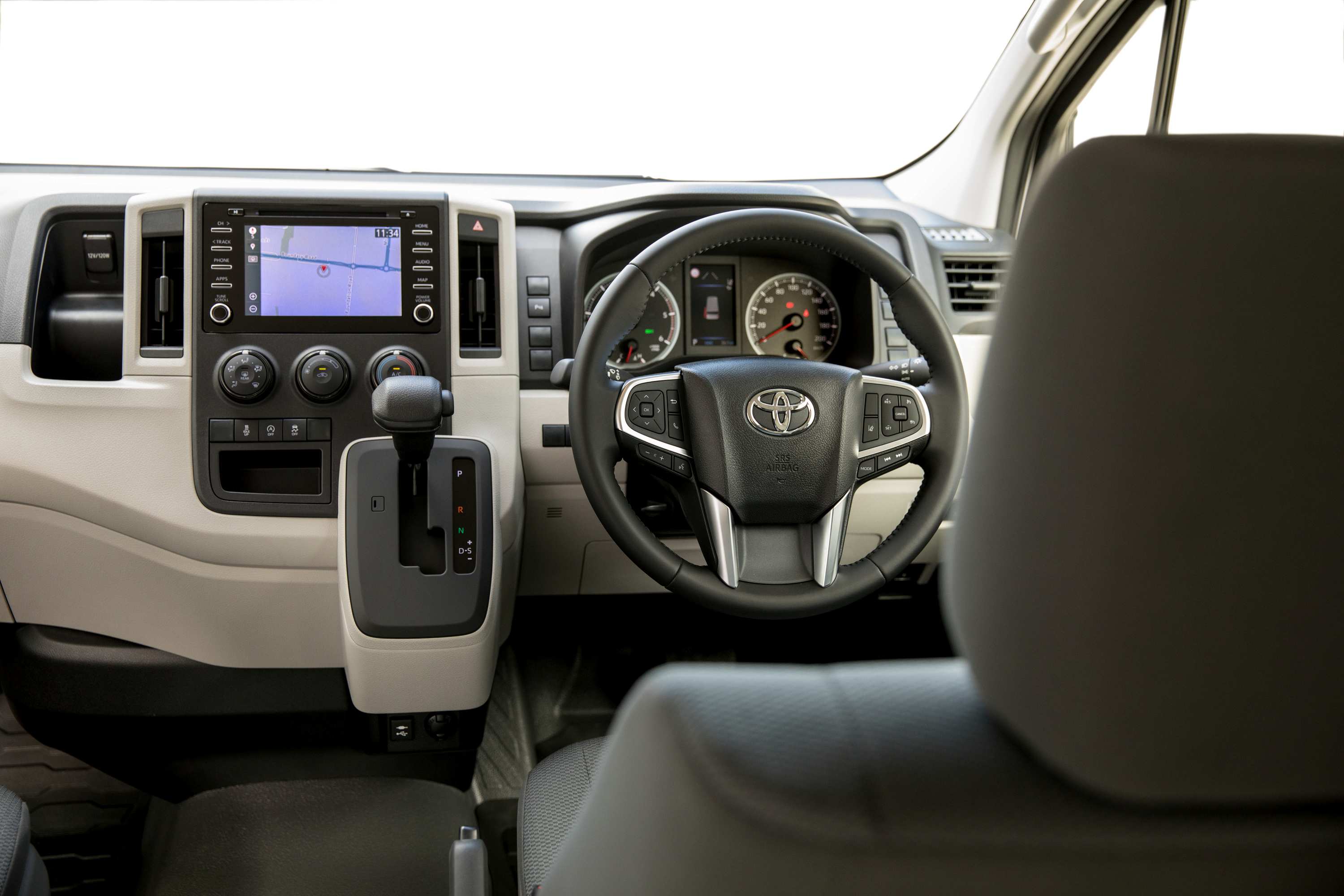 What does the inside of the LWB Crew Van look like?
Starting from the driver's area the first thing i noticed was the luxury of space and room i felt. Due to the new design there was no awkward feet or seat space for the front driver's seat and immediately i felt relaxed and comfortable as i could fully stretch my legs out without feeling restricted.
The seat was reasonably supportive and comfortable and while it was a material based surface, long trips in this van felt relaxed. The seat was also able to be adjusted further back as well if needed which for slightly taller people will be much appreciated!
The functionality of the front cabin space was also outstanding.
I was spoiled for choice of where to put work related documents, drink bottles food and even shopping! Toyota consistently do an amazing job of providing ergonomic driven cabin spaces.
A standout interior feature for me was the large flat middle console area which had enough of a surrounding lip to place multiple objects in a large easy to reach area for the driver or passenger! One gripe I do have was the air conditioning power which i felt struggled a lot on the hotter days to effectively cool down the cabin but this wasn't a major issue to me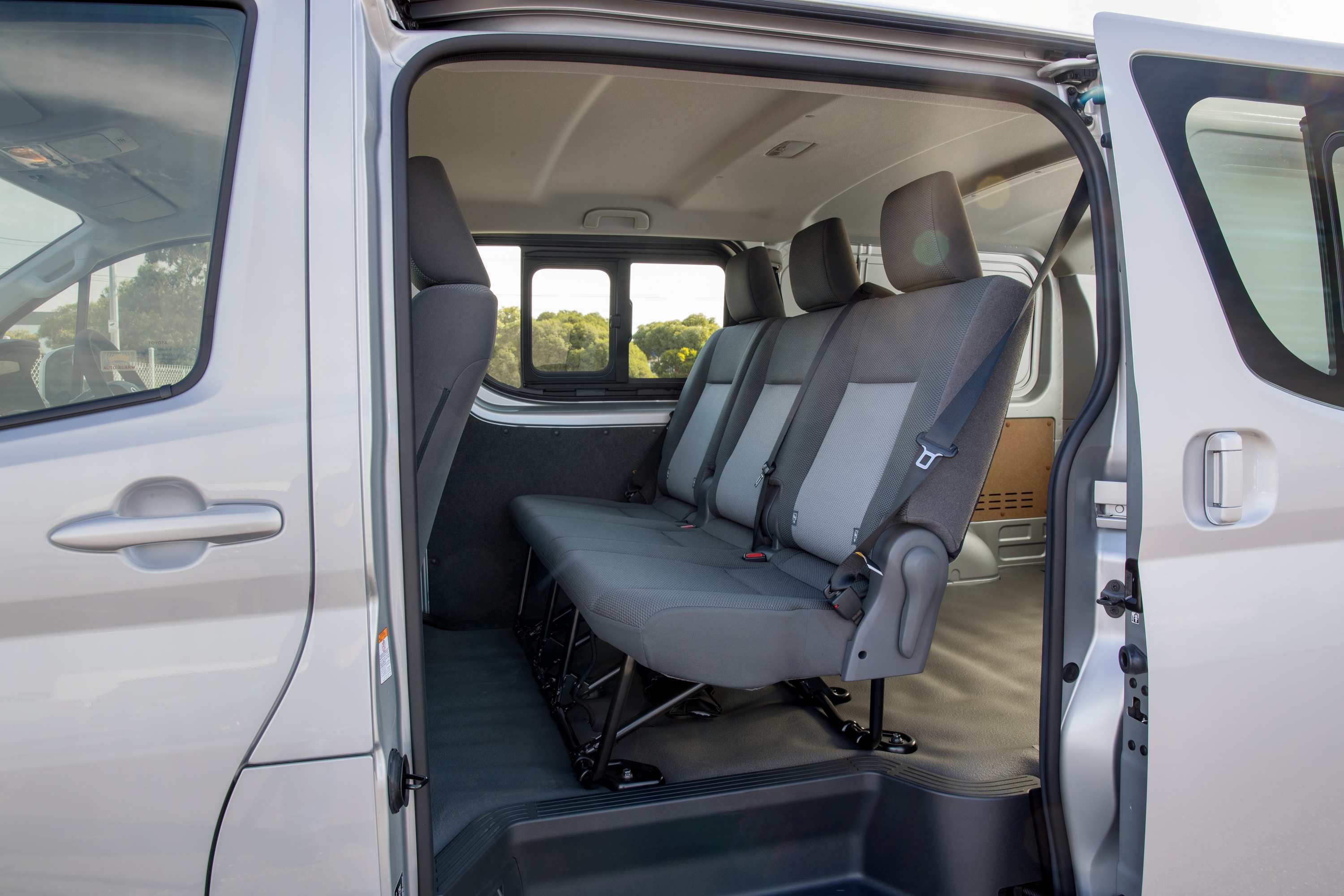 Being a LWB Crew Van, the addition of three passenger seats was a great win as well, I was impressed with how much space and room, both width and length, a passenger got in the 3 back seats.
I was able to seat 3 adult passengers comfortably in the back with no issues at all and still be able to fit multiple suitcases and equipment in the back with plenty of space to go around, the back three seats can also additionally be folded down and slide forward to allow for more room in the back for goods etc.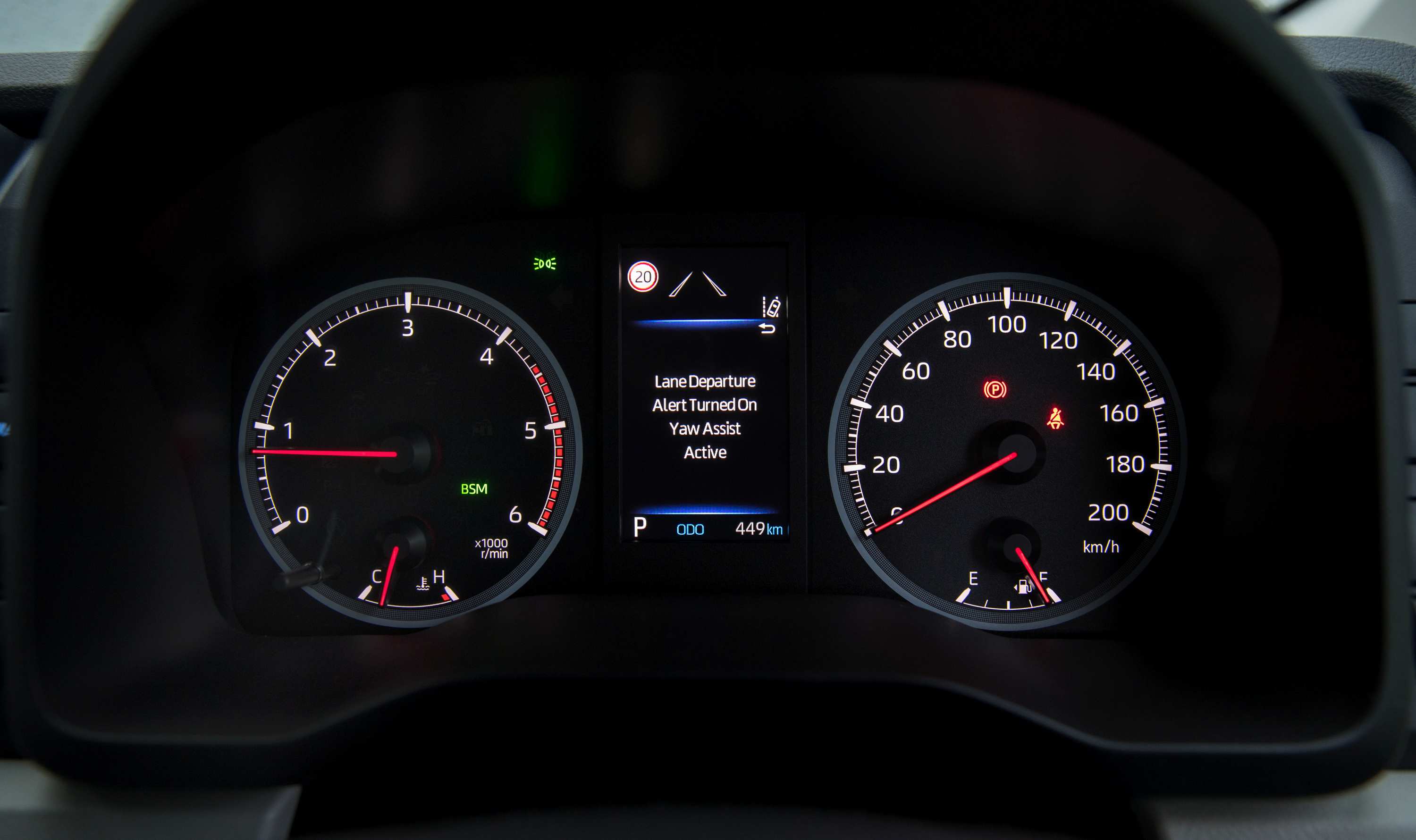 HiAce LWB Crew Van Features and Technology
This LWB Crew Van certainly got jam packed with some cool features.
These include a 7.0 inch multimedia screen with climate control settings conveniently located directly underneath it, while not super modern and flashy compared to other van models the sheer ease it took to use these features was much appreciated!
The multimedia unit also comes equipped with Bluetooth, a USB port and Apple CarPlay and Android Auto allowing me to affectively make use of phone calls and entertainment while on the road with ease. This connectivity is so important to a tradie or courier driver on the go.
The sound system was vibrant and decent quality and provided great entertainment during my stint in this model.
Other standard features include:
12 Volt Power Outlet
Additional 12 Volt Socket/s
Adjustable Steering Wheel – Tilt & Telescopic
Aerodynamic Pack
Air Conditioning
Ambient Temperature Display
Auto Limited Slip Differential
Automatic Stop/Start
Automatic Transmission Lock Out
Auxiliary Input Socket
Bench Seat Rear

HiAce LWB Crew Van Functionality and Loading
For my specific work this model pulled its weight rather well, equipped with 2 twin sliding doors, a back cabin cavity more than capable of fitting a chep sized pallet with room to spare and maximum load allowance of just under 1000kg.
I was able to make great use of this vehicle!
The dual sliding doors in this particular model while primarily are there for passenger entry and exit were still useful for putting in smaller equipment or miscellaneous items outside of work mostly due to the sheer amount of space the seated area had!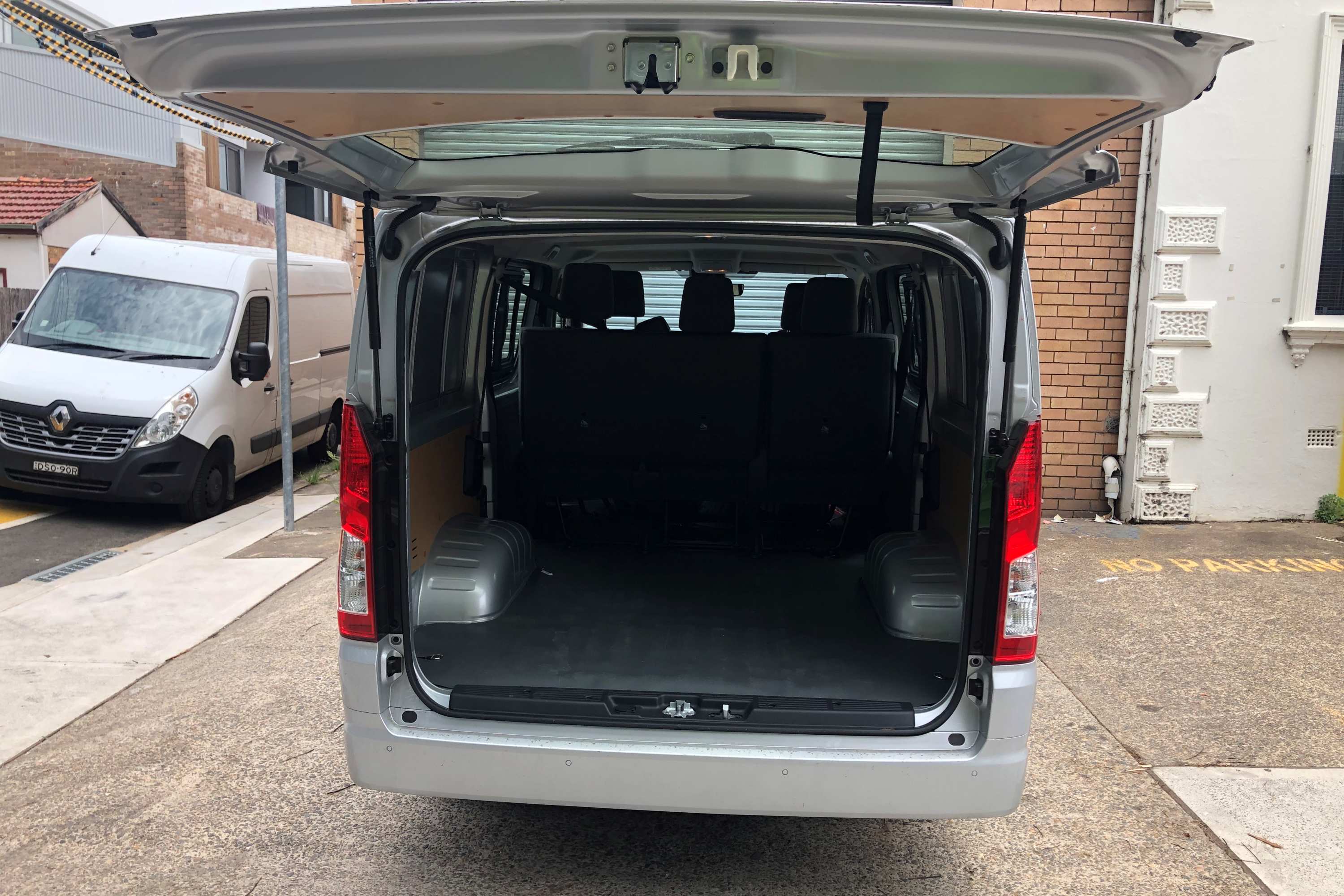 Being a tail lift hinged door unfortunately for my particular sized forklift i wasn't able to manoeuvre a pallet in but with the right sized fork or manpower it is easily achievable and has ample space for more items as well as the pallet space. For load carrying from pallets barn doors are better, however the lift yp tailgate has advantages in narrow spots as well as providing cover from rain and sun etc.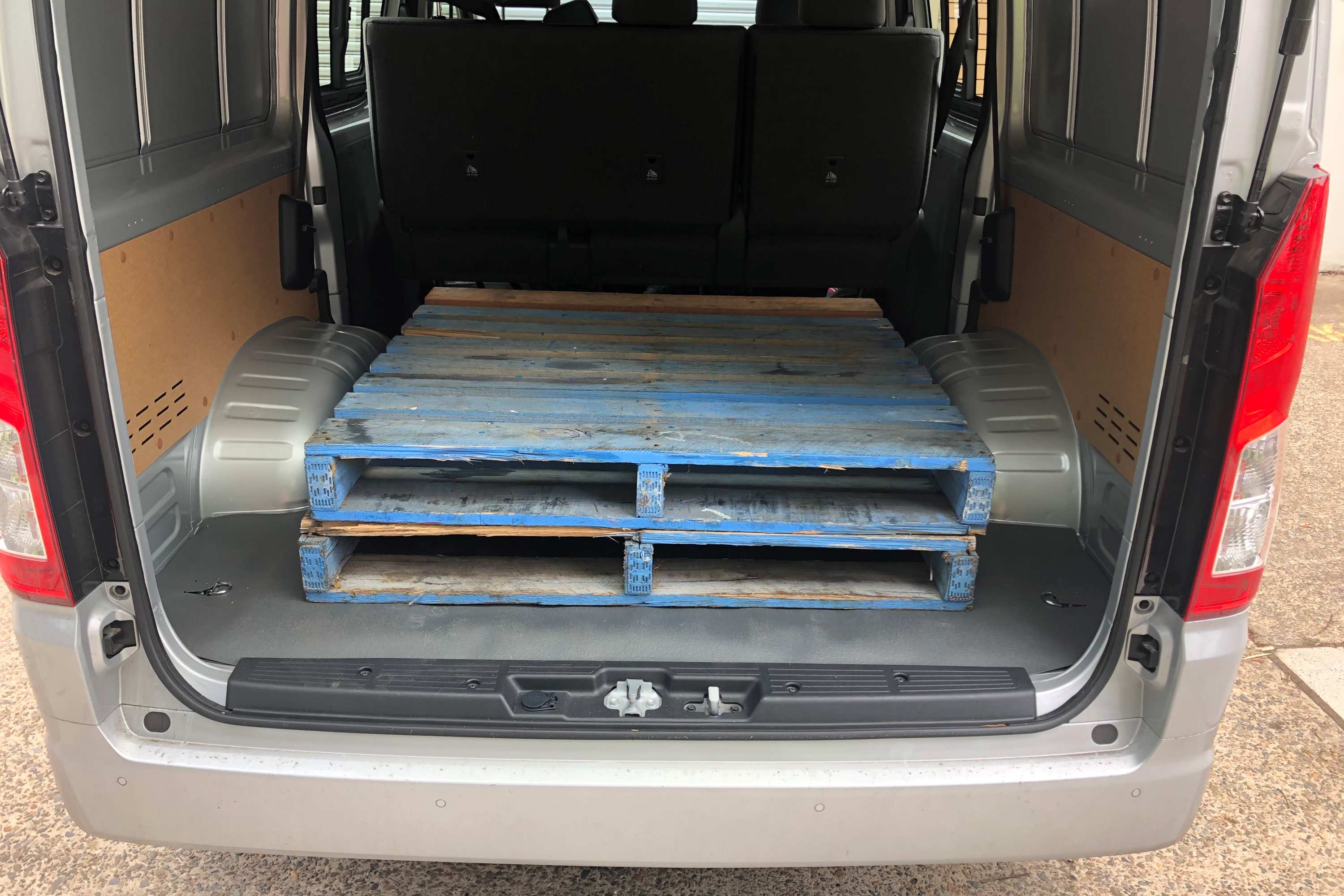 The height and length of this model meant I could deliver multiple goods around tight, hard to reach places a small truck or larger van would most likely not be able to pull off, especially in places like Bangaroo and the Rocks in Sydney.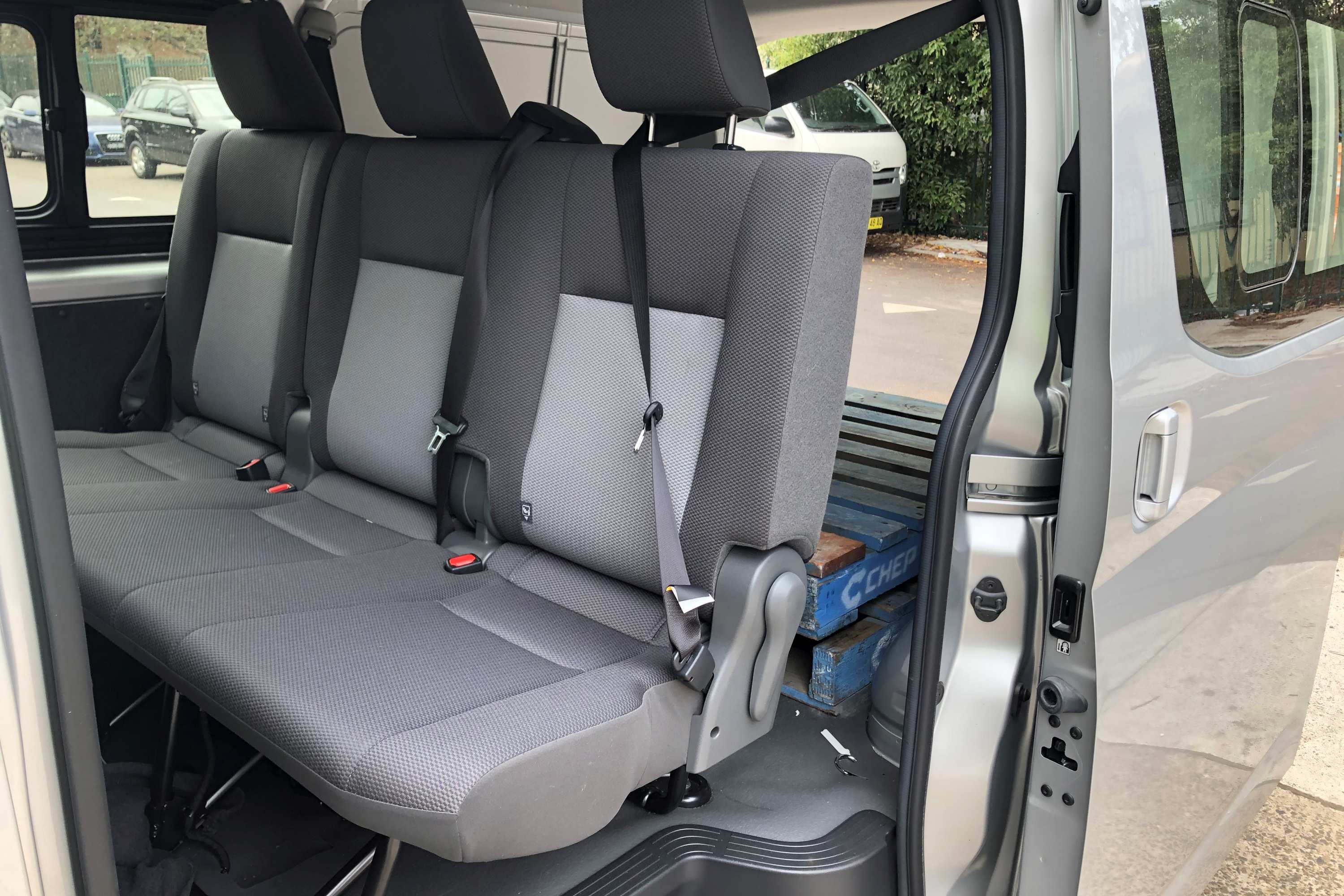 The reverse camera and blindspot assist sensors on both side mirrors ensure the driver was constantly alert to their surrounds and felt safe. As well as pedestrians.
HiAce LWB Crew Van Engine and driveability
Equipped with a 4 cylinder turbo 2.8L diesel engine with a power output of 130kw @ 3400rpm and torque of 450Nm @ 1600 – 2400 rpm, this model has plenty of power to spare and was able to chug along effortlessly with near max weight as well. The six speed auto transmission was well matched to the engine characteristics and extracted the most from the low delivery of torque.
With little to no struggle, surprisingly the engine noise was not intrusive and seemed smooth, where as in the past the older models had a lot of harsh engine noise.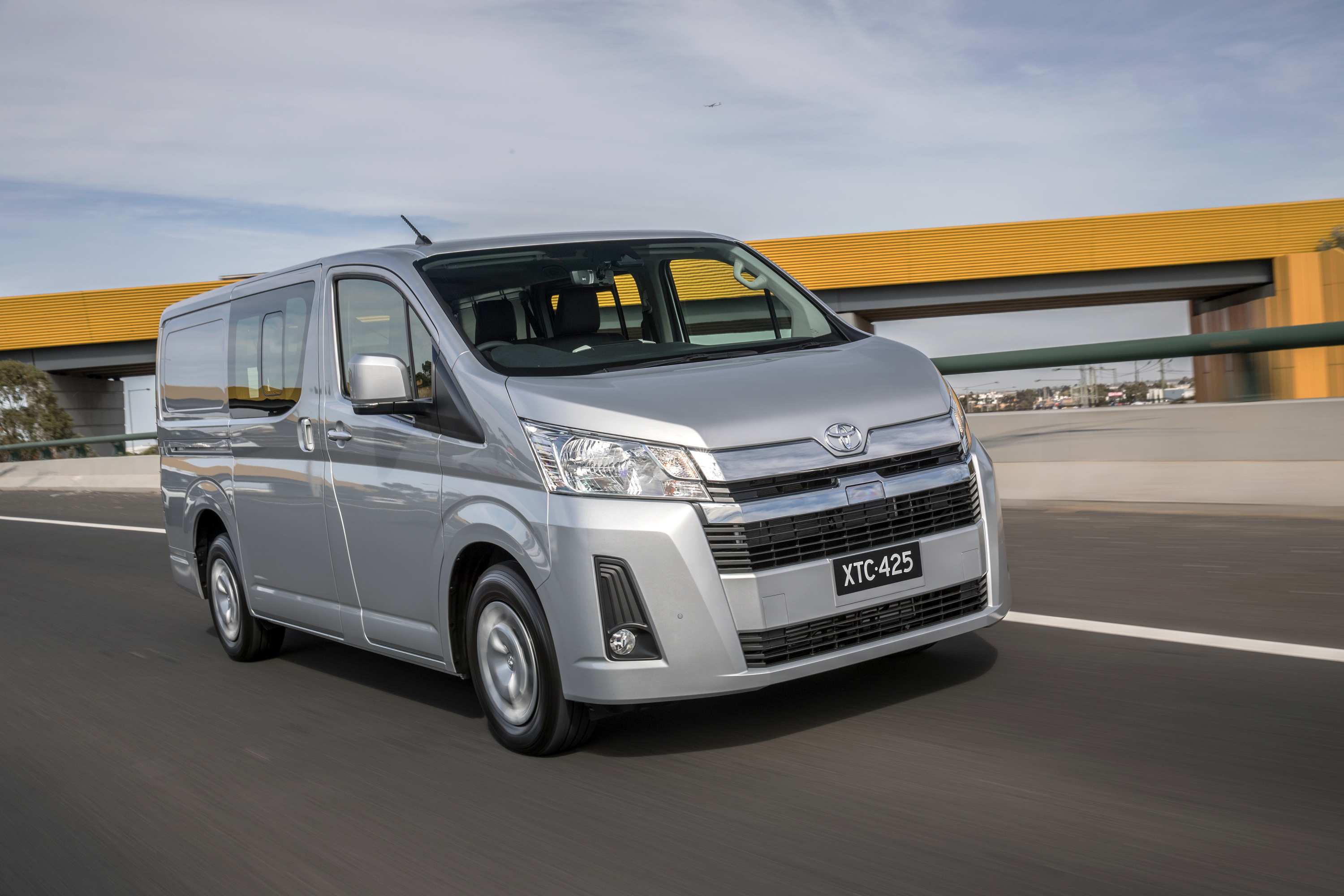 The automatic transmission felt smooth and balanced with no noticeable jerks or noises as it found gears. There was huge step up in the manoeuvrability of this model with the steering column giving a car like feel in the ease of its turning circle, even turning at slightly higher speeds in some cases didn't feel out of control or dangerous but rather well balanced!
The fuel use was pretty great as well with it sitting at just around 8.4L/100km during extended traffic runs or highway use and hovering around 11.5L/100km during congested and suburban commutes.
For the amount of travel I did I was extremely satisfied with the amount of distance I got out of the tank.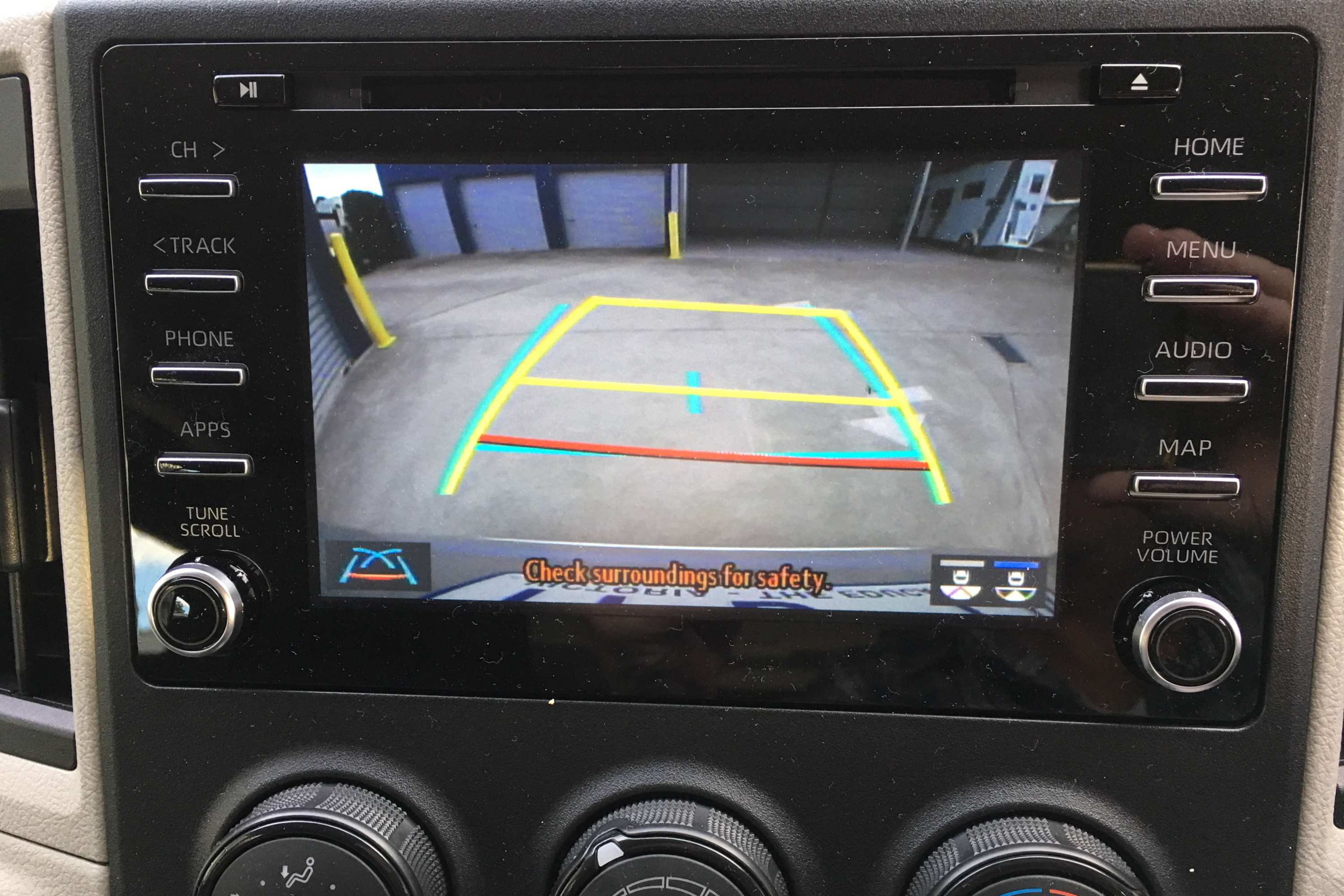 HiAce LWB Crew Van Safety
Safety features include:
Active High Beam Control
Adjustable Speed Limiter
Airbag Knee Driver
Anti-lock Braking
Autonomous Emergency Braking
Active Brake Assist
Collision Warning – Full Auto Brake
Dual Axle Front Airbags Package
Lane Departure Warning
Blind Spot Monitoring
Blind Spot Warning
Vehicle Stability Control
Voice Recognition System
HiAce LWB Crew Van Summary
Driving the LWB Crew Van HiAce gave me the best of both worlds.
I was able to make great use of a vehicle that provided me with reliable workhorse capabilities for daily work and then provide great functional comfort and entertainment for social and non-work related commuting.
Paired with the new curved exterior look and updated modern interior features I could recommend this van to anyone who wants both space and entertainment with enough power and torque for daily use. Toyota have once again upped the game with a well thought out and balanced model.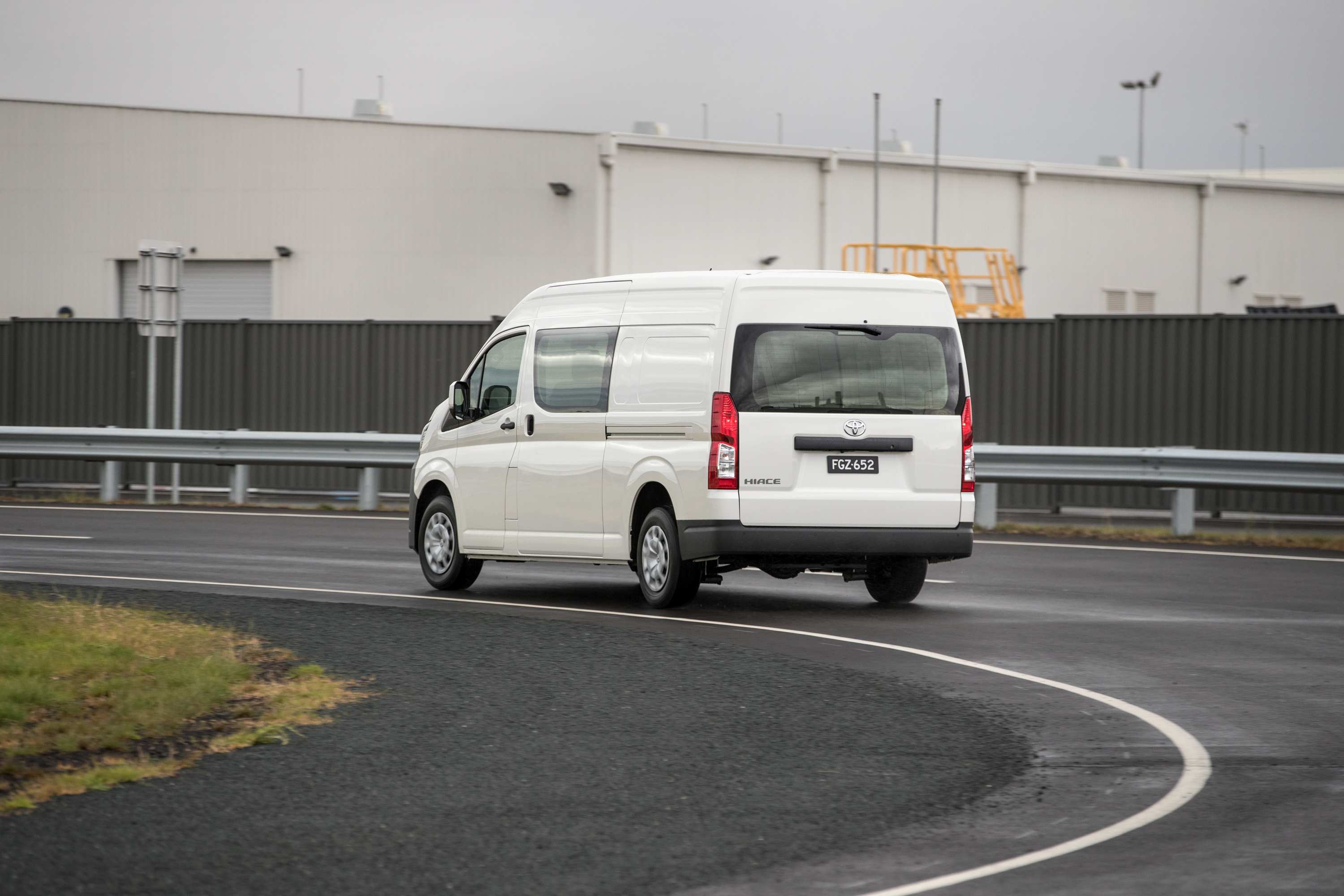 Also Look At
What's good?
Fresh Design
Payload ability
Ease of access
What's not so good?
Slightly weak air conditioning
Rear seats a little flat
Lift up rear door a mixed blessing
Model:  Toyota HiAce LWB Crew Van 
Model Price:  $42,120 MLP*
Engine:  2.8L 4 Cylinder TD
Drivetrain: RWD 6 speed Auto
Power:  130 kW @ 3,400 rpm
Torque:  450 Nm @ 1,600 – 2,400 rpm
Safety:  TBA ANCAP
CO2 Emissions:  TBA g/km
Economy ADR:   8.4 L/100km
Tow Capacity:    1500KG/400KG kg (N0 brakes)
Tow Ball Rating: 150 kg
Payload: 995 kg
Servicing: Capped Price
Warranty: 5yr/ Unlimited km with 7 Yr. conditional roadside assist
*MLP – Manufacturers List Price includes GST and LCT but excluding statutory charges, dealer costs and dealer delivery. See your dealer for RDAP. Does not include price of any options.
Overall Rating     79/100
Behind the Wheel 7
Comfort 7
Equipment 8
Performance 8
Ride & Handling 8
Practicality 9
Fit for Purpose 10
Towing Ability   6
Payload Capacity 8
Value for Money 8