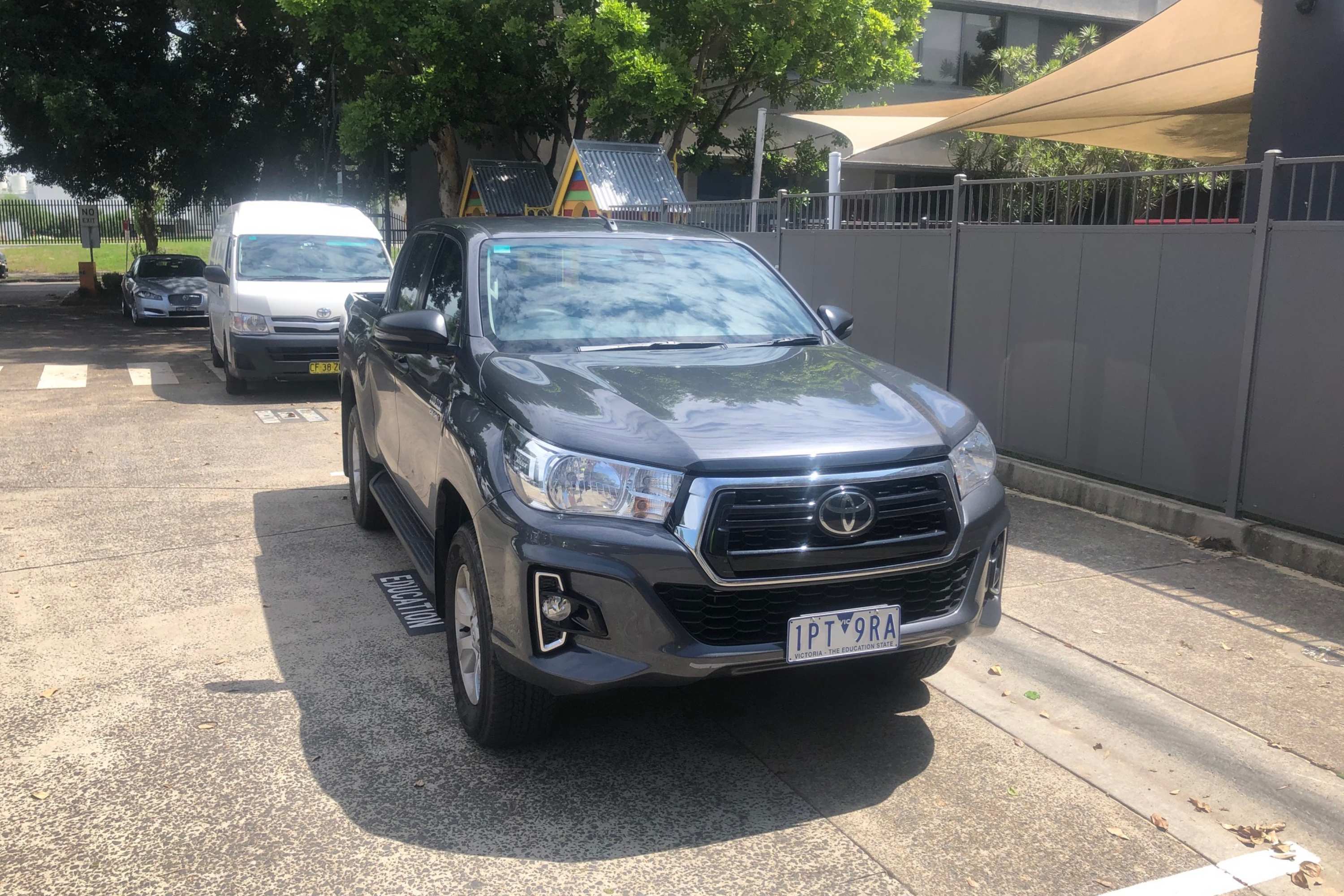 Toyota HiLux SR – With the current Aussie Ute market as competitive as ever Toyota have put a smart, affordable and price savvy model into the ring designed for the more practical consumer.
While not necessarily a luxury or performance model, the SR brings the well know reliability and performance that makes the HiLux one of Australia's most sought after Utes.
While noticeably a step down from the more premium HiLux SR5 for its price range and service this might be a very smart investment for a dual cab ute!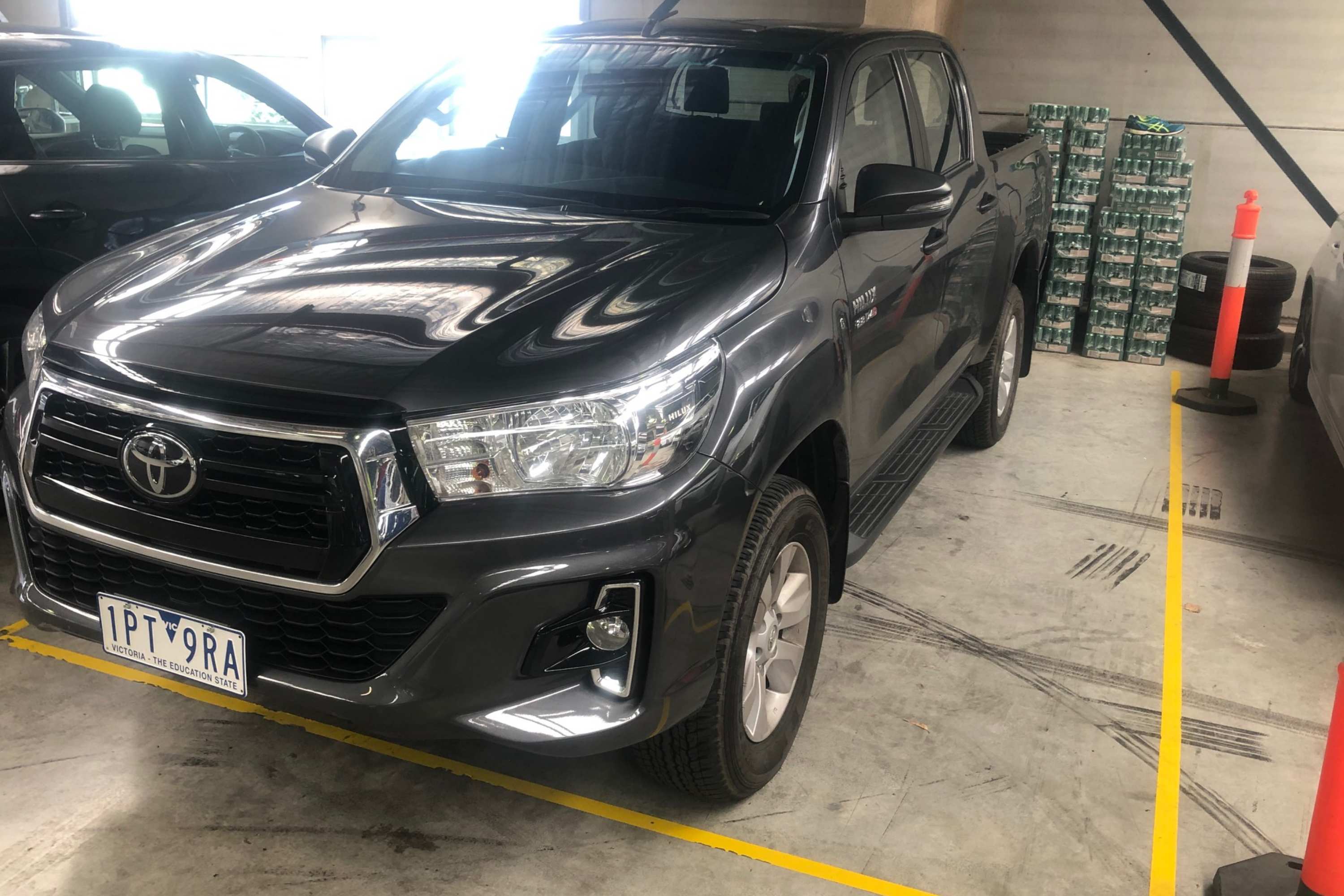 HiLux SR Exterior
While not to dissimilar to the 2019 shape and contour of the previous 2019 model there does seem to be a more noticeable sleeker finish with the outside shell, the front grille and headlights have the new and improved HiLux finish to it and looks very pleasing to the eye.
The model i tested came with stock wheels 17 inch Wheels which honestly didn't look super impressive but nonetheless completed the overall Ute/robust look paired along with the khaki/grey finish provided by the exterior paint.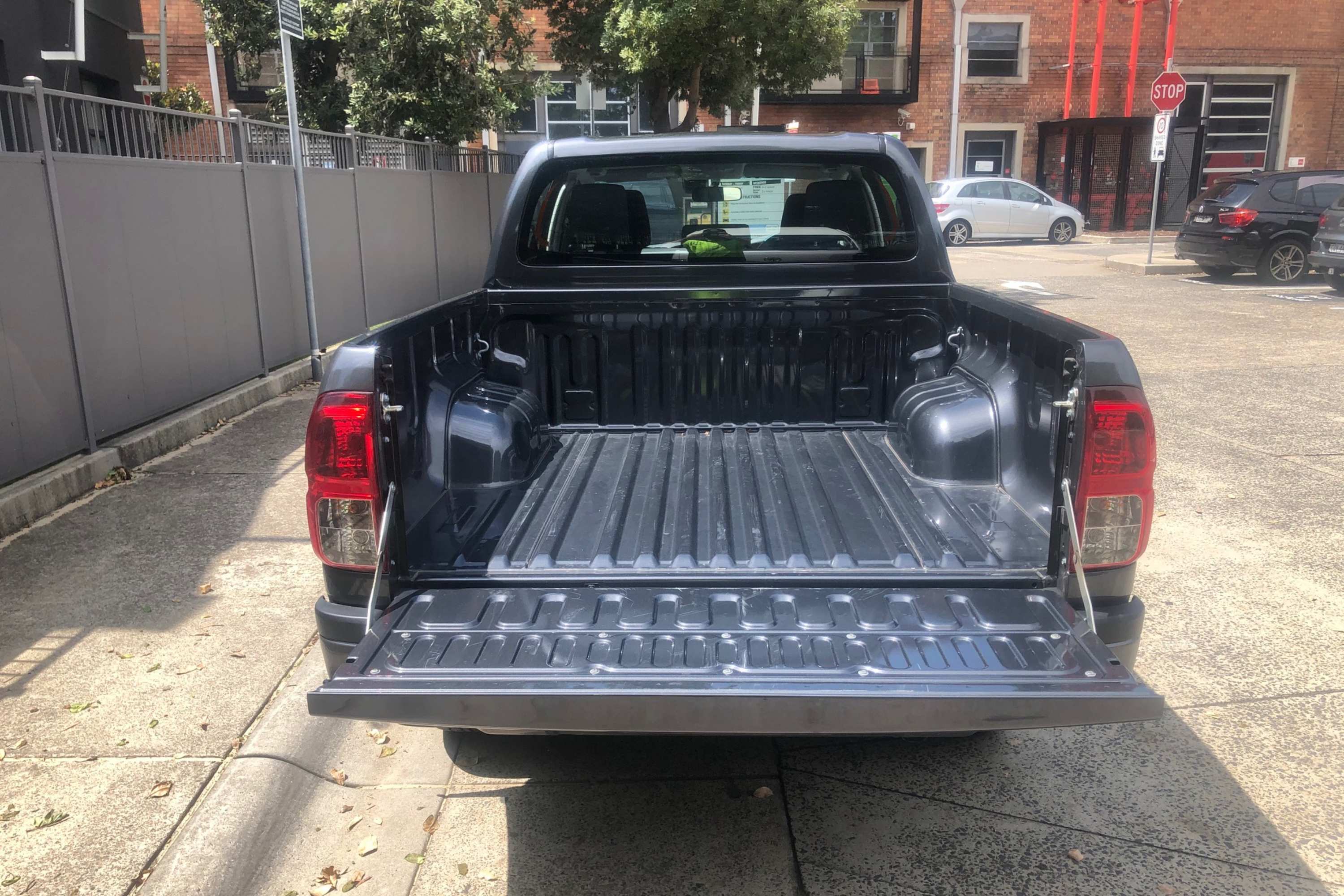 The back tub space was practical and fairly well sized for this model and sized Ute with a hard bottom and anchor points provided for tethering and securing loads. Being the more stock model of the HiLux variants there were no additional features that the SR5, Rogue or Rugged X boast.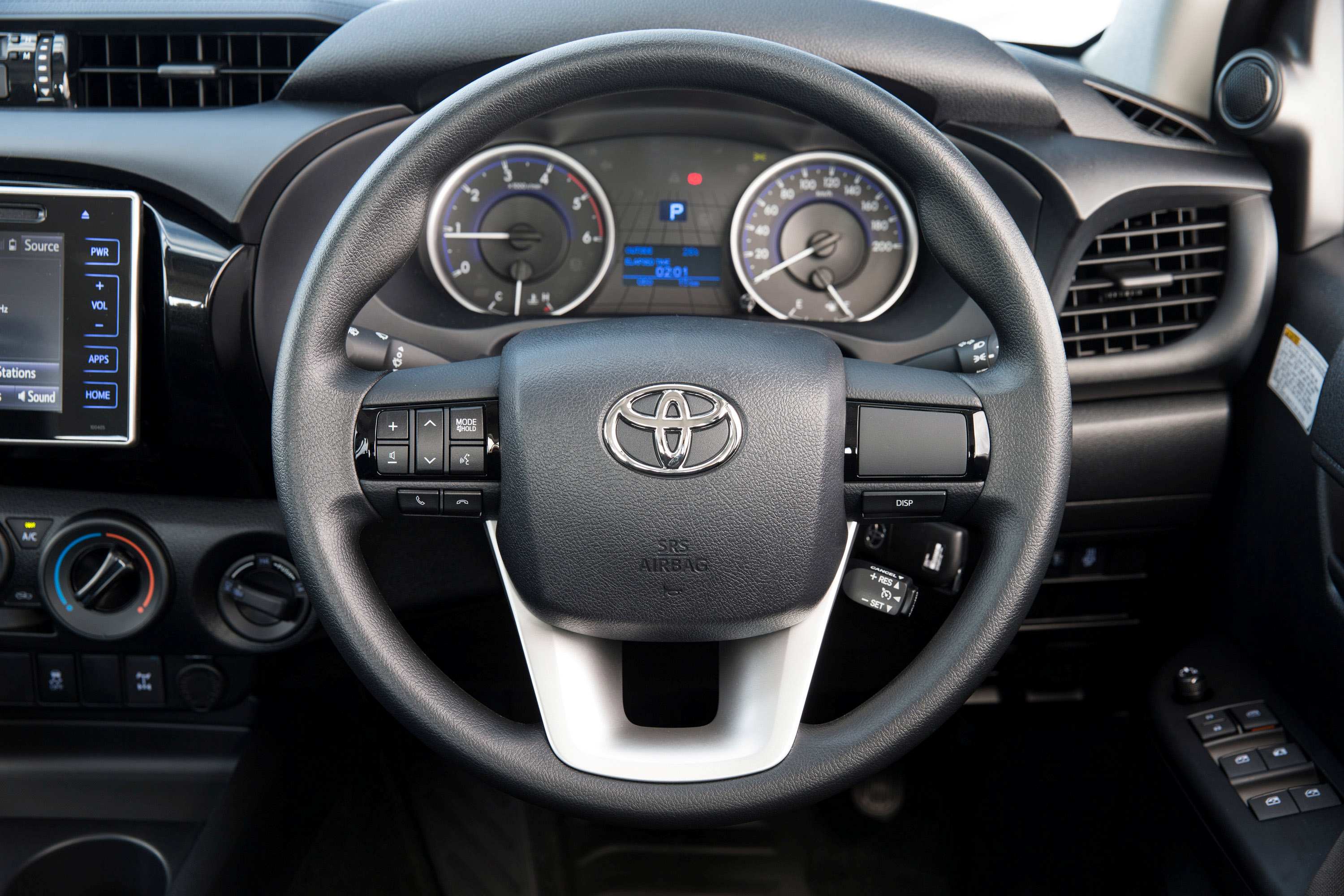 HiLux SR Interior
Inside the cabin, while utilitarian in design, it still offered the driver some handy features and comfort!
The drivers seat and front passengers seat while being a basic material trim still provided great comfort and i had no issues finding the ideal seating position for myself. Being manually adjustable wasn't a huge issue for me and felt user friendly enough.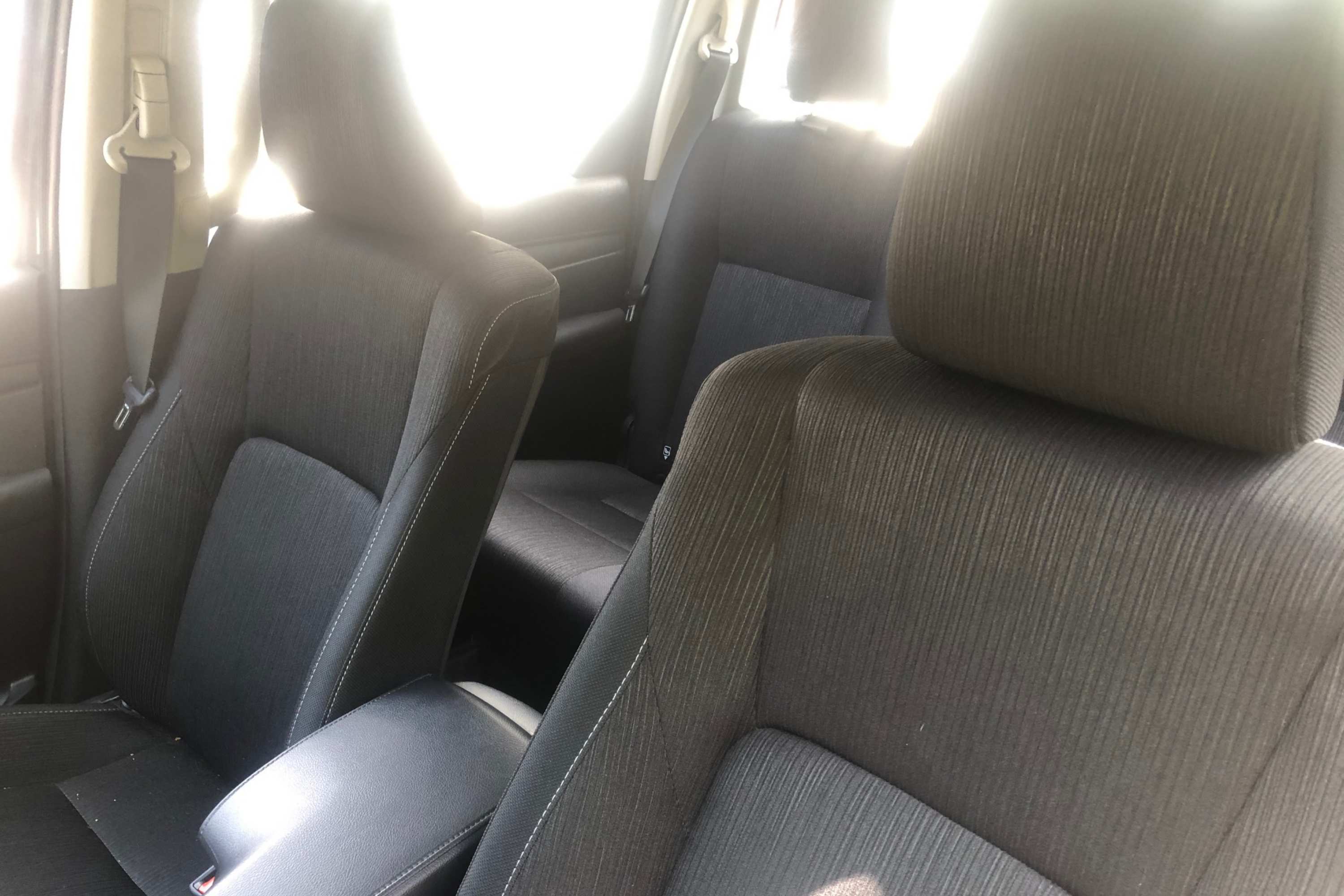 The steering wheel did feel a little bit cheap and not as smooth as the more premium HiLux models however after a few days it was barely noticeable, though you can tell a remarkable difference between the SR5 and this model for sure! There was no digital speedo either which for most people isn't an issue but I personally feel for the price range should have one. Otherwise the instrument binnacle is typical Toyota.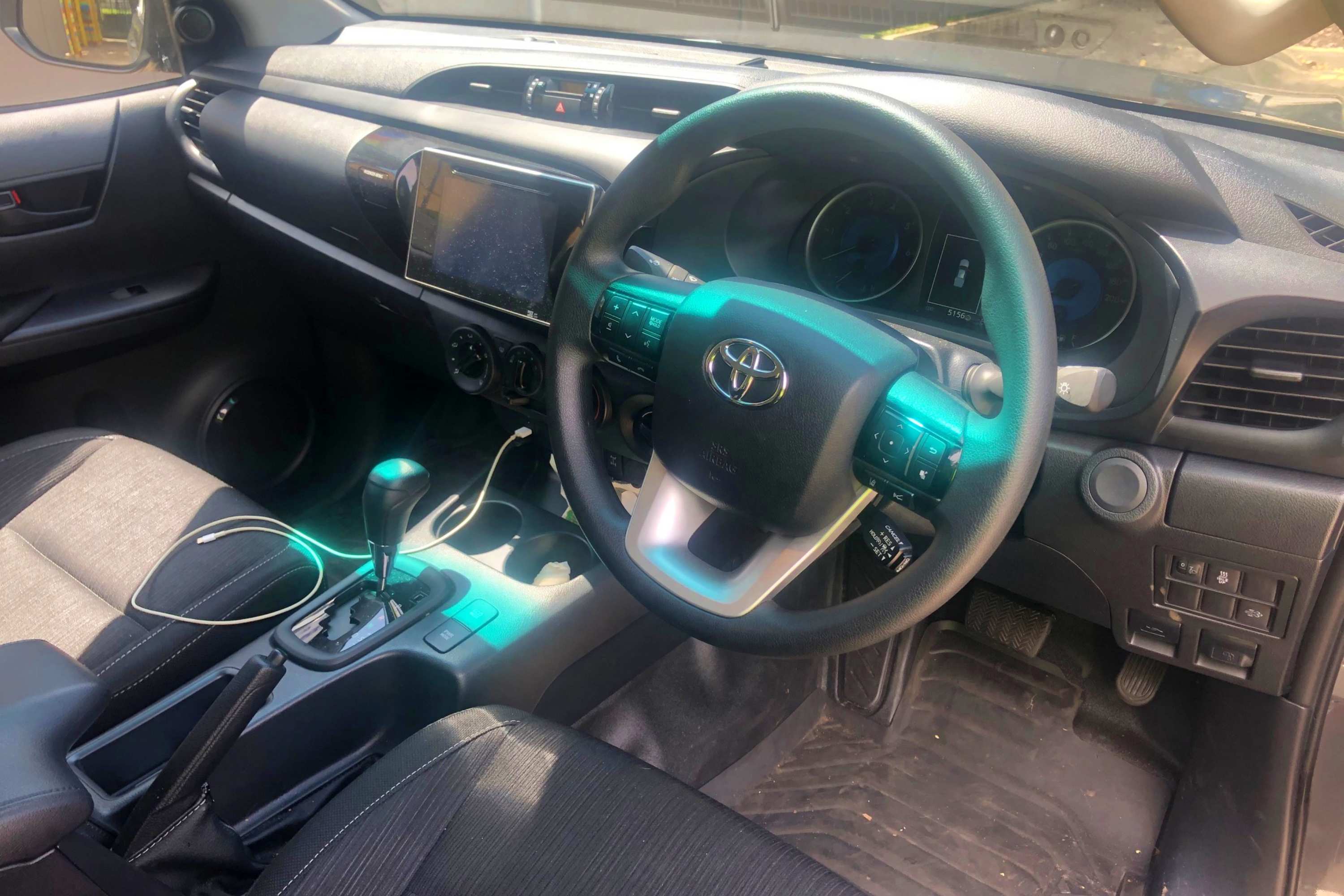 The 7.0 touch screen contained all the media, climate control settings and features i needed for a enjoyable and comfortable ride. A key highlight i find with most modern Toyota vehicles is how easy and simple the connectivity is from my apple smartphone to the Bluetooth system and this SR model was no different in that regards, apple play worked great as well.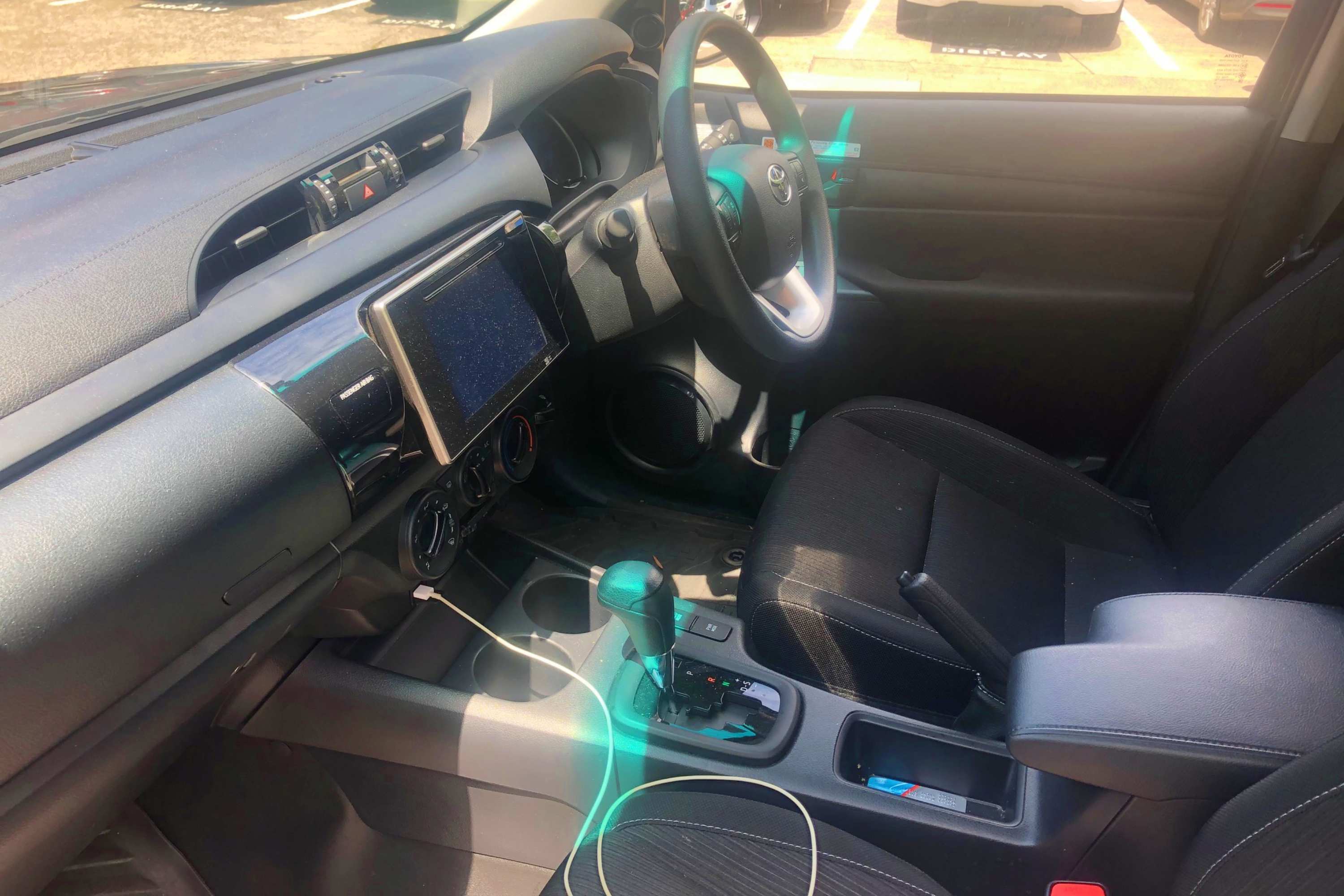 However its worth noting the SR didn't have a onboard satellite navigation which wasnt really a deal breaker for me as i heavily rely on my phone GPS. It would be a problem for areas where there is no phone reception though.
The air-conditioning system was very pleasant and provided great comfort during some of the extra hot days i was driving around in and was user friendly.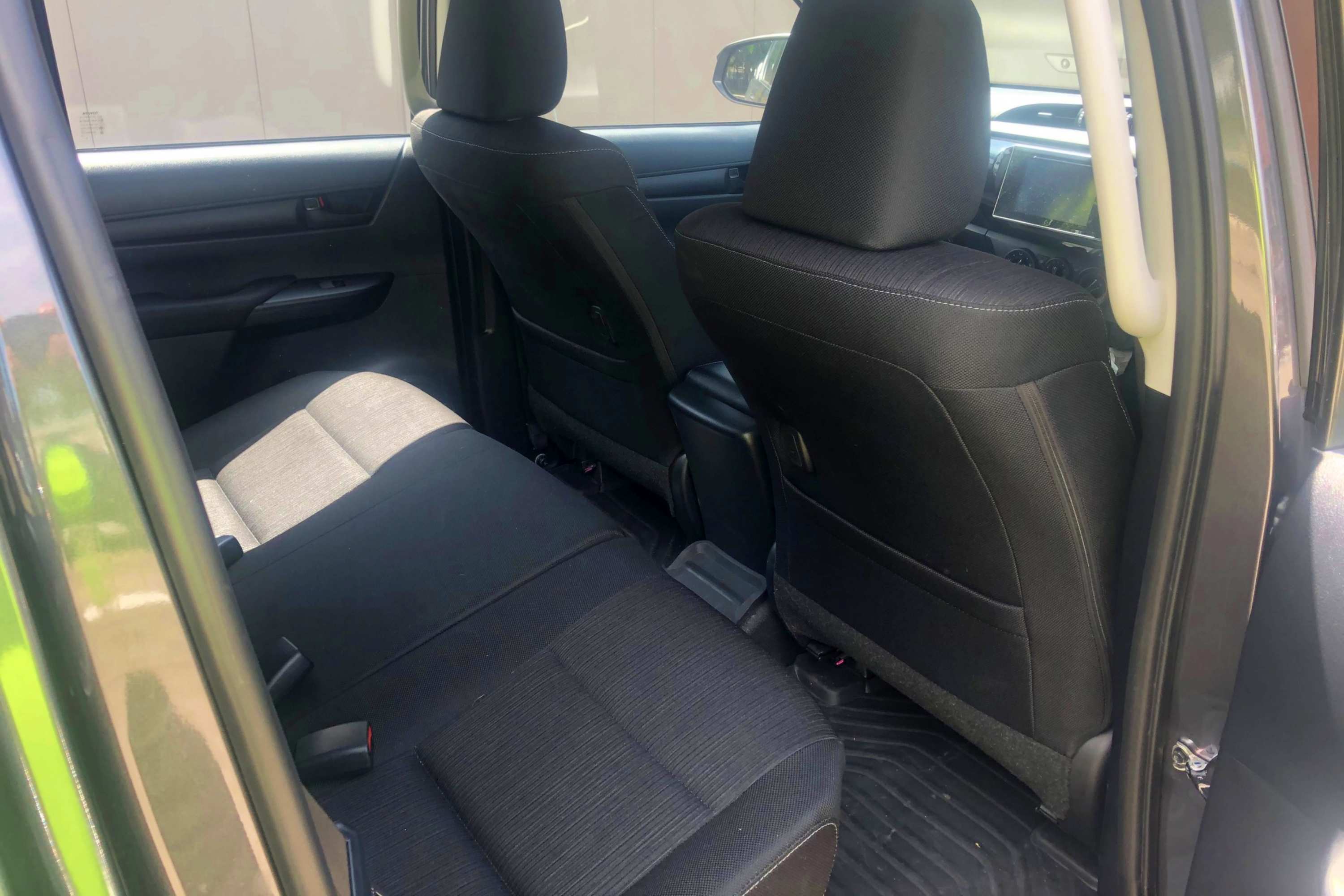 Placement and functionality of storage space for drink bottles, cups, documents and other various items was very much appreciated, there were plenty of cup holders in easy to reach areas and the front dash board was big enough to allow me to place documents or papers down for convenience.
The back 3 seats while a little cramped were surprisingly comfortable as well and had a decent amount of leg room for a dual cab Ute, it would be a tight fit for 3 bigger blokes but probably more ideal for a small family or a worker who needs some space in the back for equipment and tools etc.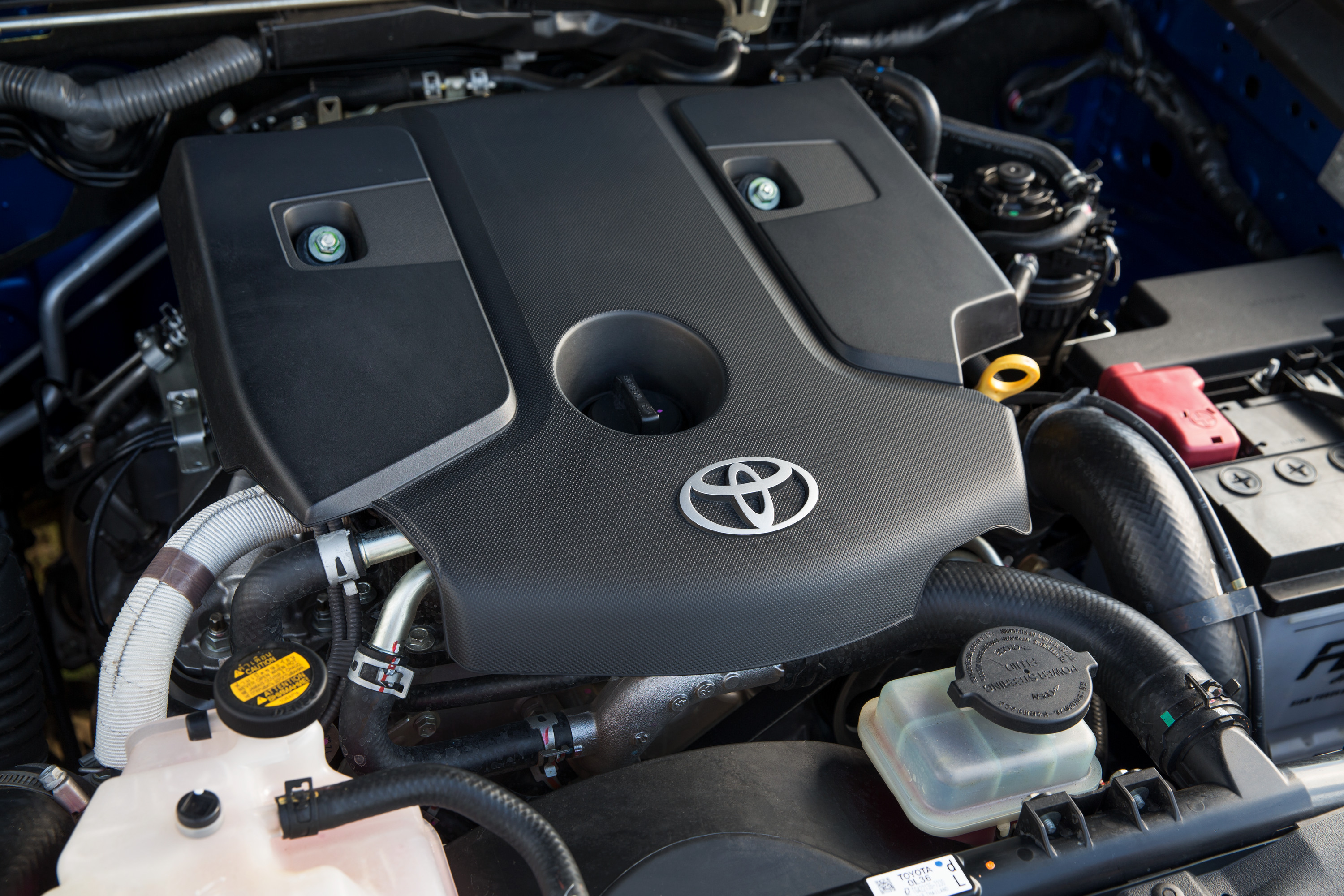 HiLux SR Engine and driveability
The 2.8-litre turbo diesel four-cylinder isn't a powerhouse, and i would personally take that into account if you are purchasing this vehicle mainly for towing etc. It was certainly not on the same level as the more powerful four-cylinder competitors like the amorak v6 etc. It was however suitable for all my uses and provided an honest robust engine with a very fair fuel consumptiom of 8.8/100km when on the highways.
The 2.8 makes 130kW at 3400rpm and 450Nm from 1600–2400rpm. The 2.8-litre oiler is backed by a six-speed auto and there is a six-speed manual available, too, but even the most rusted-on dual-cab and off-road fans are slowly accepting the reliability and convenience of the modern automatic.
Handling was noticeably "loose" in a typical empty Ute way. The steering was a little wandering and under acceleration and the rear was unstable, especially in the wet weather we had the week I tested the Ute. Extra weight in the tub helps, but I had to put in a conscious effort to be very aware of how I accelerated and cornered.
The SR does come into its own with its offroad capabilities as well with a 4H and 4L setting that can be switched very easily depending on the terrain you find yourself in, taking this vehicle on dirt roads and off beaten tracks while feeling every single bump! had no issues handling the terrain and had plenty of power to climb up steep gradients and inclines. The 4H setting also became very hand for driving in some of the torrential rain I experienced while driving this vehicle and helped provide a lot more stability on the slippery roads.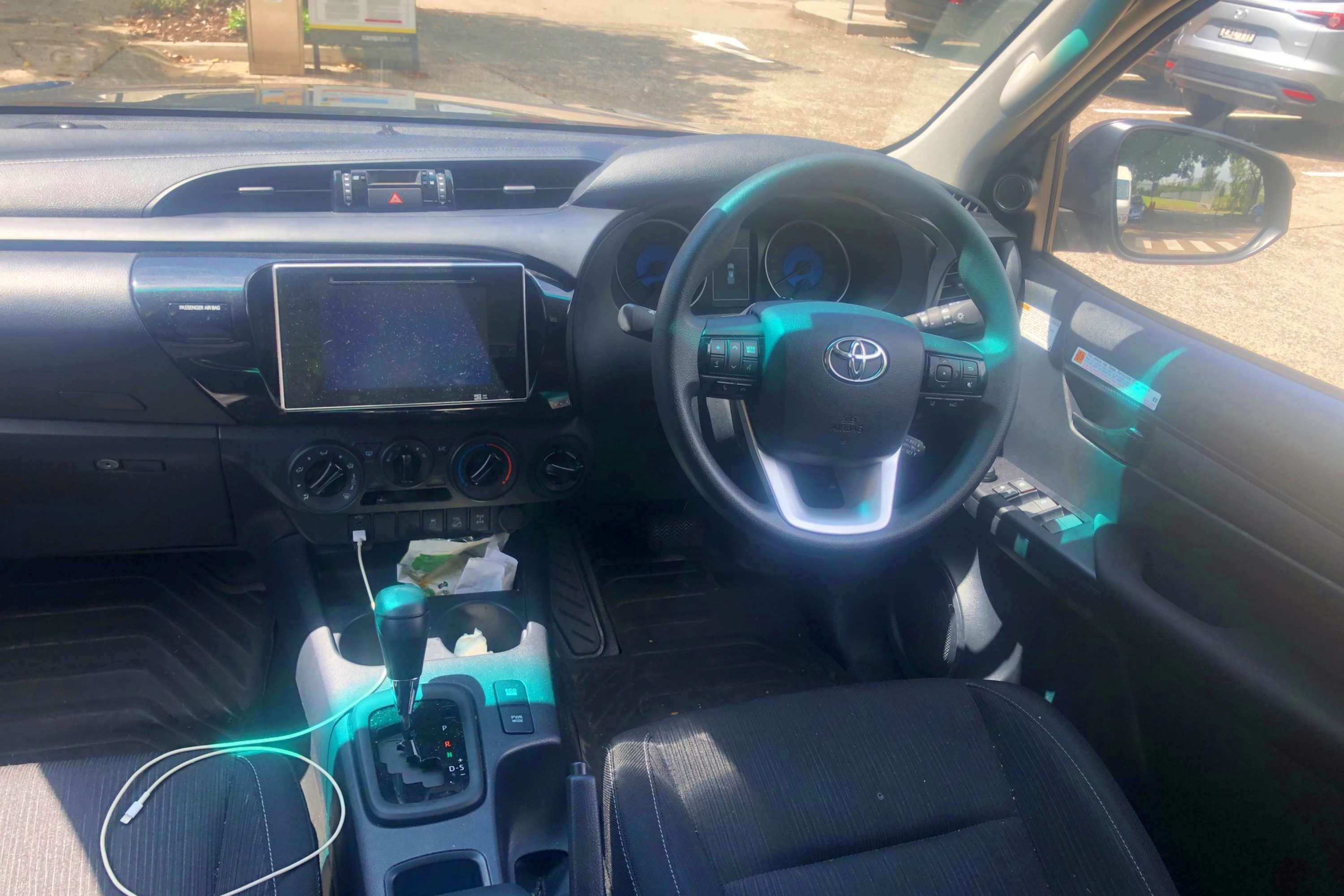 HiLux SR Main Features and Safety
Five star ANCAP Safety Rating
Toyota Safety Sense including

High-Speed Active Cruise Control (ACC),
Pre-Collision Safety system with Pedestrian detection,
Lane Departure Alert and
Road Sign Assist.

7″ colour touchscreen display with Toyota Link
Premium fabric seats
Rear differential lock on 4×4
7 SRS airbags
5-star 2019 ANCAP safety rating
HiLux SR Summary
From a price point of view i think this variant of HiLux does provide great value and service for someone who wants to actually use their dual cab Ute for work purposes.
There are noticeable differences between the SR and the SR5 in ergonomics, comfort and features. Despite this the SR is well suited for its purpose. As a robust practical dual cab Ute the SR will certainly not disappoint the buyer. For an extra $8000 personally I would purchase the SR5 model for a more comprehensive experience overall.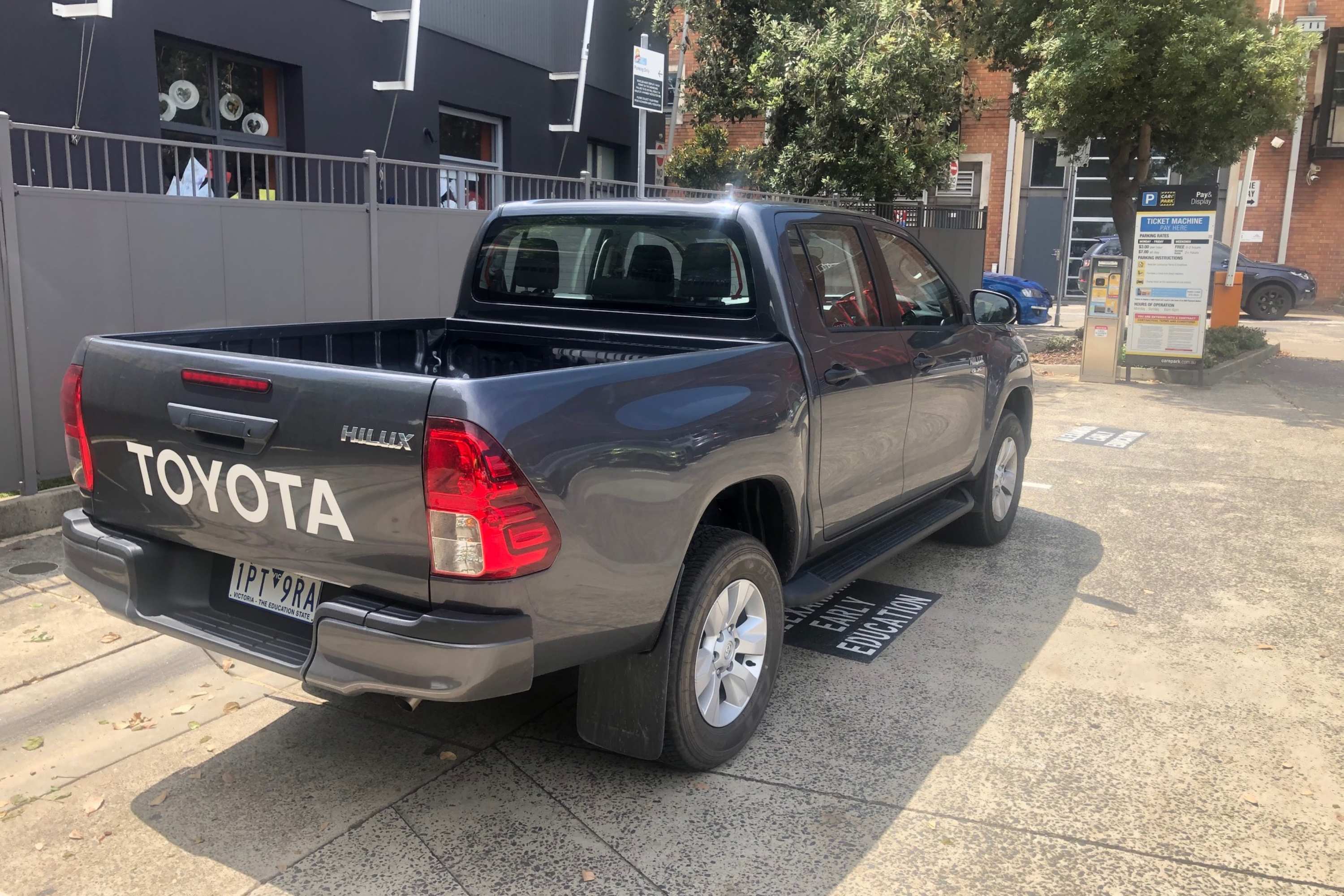 What's Good:
Overall engine / transmission performance
Stylish looks
Visibility
What's Not:
Lack of places for storage for clipboards etc.
A/C struggled on very hot days
Missing some safety features
Also Look At
Model HiLux SR Dual Cab 4WD Ute
Model Price          From $41,595 MLP*
Engine                  2.8L 4Cyl TDi
Drivetrain              4WD 6 Sp AT
Power                    130 kW @ 3400 rpm
Torque                  450 Nm @ 1600 – 2400 rpm
Safety                    5 Star ANCAP (2019)
CO2 Emissions      TBC g/km
Economy ADR      8.4 L/100km
Tow Capacity        3200 kg / 320kg
Payload                 955 kg
Servicing              Fixed Price
Warranty               5 Yr./ Unlimited km with 5 Yr. roadside assist
*MLP – Manufacturers List Price includes GST and LCT but excluding statutory charges, dealer costs and dealer delivery. See your dealer for RDAP. Does not include price of any options.
Overall Rating:    82/100
Behind the Wheel         8
Comfort               8
Equipment            8
Performance         8
Ride & Handling  8
Practicality            9
Fit for Purpose     9
Design/Style         8
Payload                 8
Value for Money  8