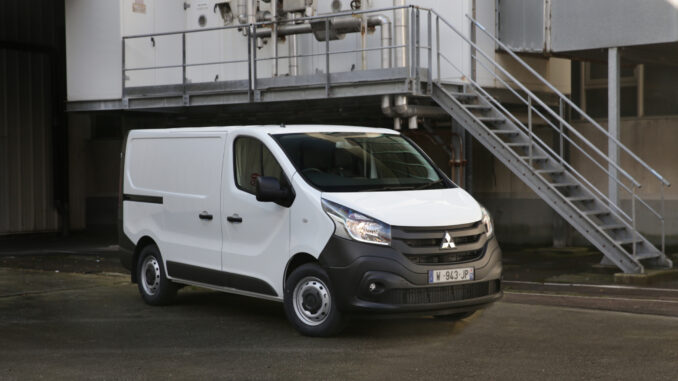 Here's a question for you… 
Would you pay two grand more for the same vehicle if it had a Renault badge as opposed to a Mitsubishi badge?
No?
Neither would I except for the fact that in the case of Renault Trafic v Mitsubishi Express (one and the same vehicle) the Renault has slightly more kit to justify the extra and it looks a touch better with a body coloured nose instead of industrial black plastic.
It's been 7 years since Mitsubishi's last Express which was a Japan-made product, this one comes out of France. The front wheel drive Express has one of those tiny reverse cameras built into the rear view mirror and possibly the cheapest "infotainment" system you can buy. Yep, it has Bluetooth phone hook- up and DAB but wow, haven't seen anything that cheap in a long time.
Driven was the 2.0L SWB model with a 6-speed dual clutch "auto" transmission. Express comes in GLX grade only with short and long wheelbase 1.6 twin turbo diesel manual and the same wheelbases in 2.0-litre single turbo diesel with "auto" only.
Pricing starts at $38,490 for the SWB 1.6. The 2.0 vehicle driven goes for $42,490.
The price puts Express almost exactly on par with Ford Transit Custom and a couple of grand over Hyundai iLoad, a 2.5-litre, rear wheel drive van.
Two and a half grand less gets you into Toyota's new 3.5-litre, petrol V6 HiAce….whoosh.
Having said that, new Express makes a handy work tool as its shape and layout have been refined by Renault over decades. It works.
The 2.0-litre diesel, with Adblue emissions control, not a worrisome diesel particle filter, is economical and punchy aided by that dual clutch auto transmission.
It is capable of taking around 1150kg payload but the 2.0-litre auto tows nearly 300kg less than the manual 1.6 – 1715kg v 2000kg.
Go figure…
Perhaps the dual clutch has a lower service load capability.
So, the first Express in a long time, strong engine, slick transmission, around the right money, no advanced driver safety features to speak of and plenty of capable competition.
Hmmmm.
Exterior
It's exactly the same as Trafic with a Mitsubishi badge and more exterior black plastic panels. That means a box with a chamfered front and behind that a large rectangular pod capable of swallowing two pallets through its rear barn doors. Two side sliders optimise loading while the load height is low for easy access.
I kinda like the black plastic treatment at the rear that extends from bumper to roof and contains the tail lights etc.
It's quite low but that doesn't detract from the vehicle's practicality.
There's not much you can do to sex-up a van's appearance suffice to say the Express is fairly easy on the eye in an industrial sort of way. Get another colour apart from white if you want to look different, silver is good.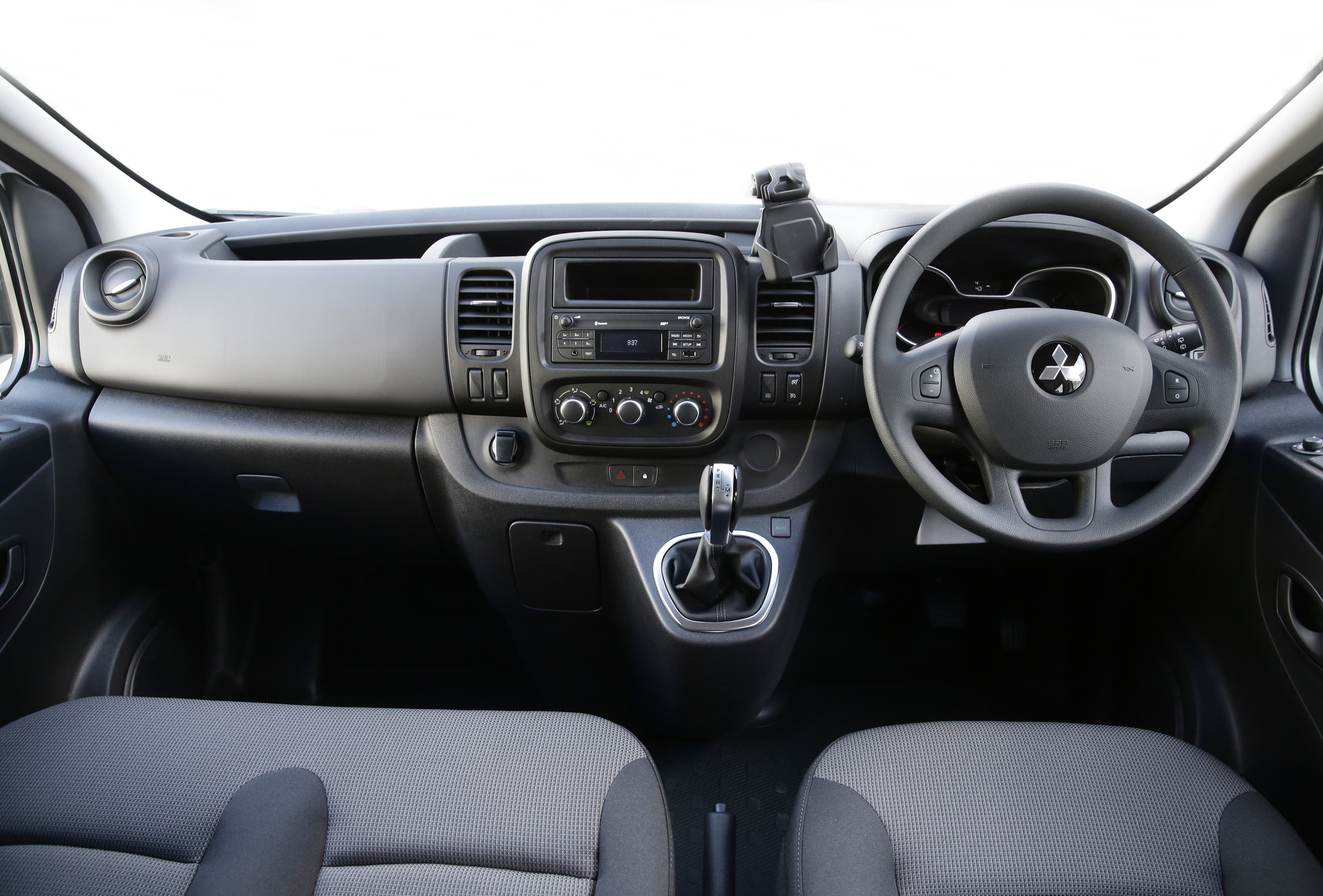 Interior
Fairly Spartan is the best way to describe the interior with hard plastic surfaces and an old school look to the dash design. There's a place in the middle for a large info touchscreen but it's occupied by a small infotainment system that's difficult to use. A phone bracket is tacked onto the side of the dash top near the driver while plenty of storage compartments dot the cabin. It has a chunky multi-function steering wheel and neat instrument console with the dials you need. Seats for three are in a practical cloth upholstery while the seats themselves are comfy over a long run offering a reasonable amount of adjustment in the driver's case.
The gear selector is biased towards the driver and the hand brake lever is in the right place to the left of the driver's seat.
Visibility is good in all directions thanks to the large screen and supplementary quarter pane side windows.
Cabin access is fairly easy though, like Trafic, there's no grab handle to help pull yourself up into the seat on the passenger's side.
The load space is big with load rings fitted around the perimeter. Load space access is easy through four doors to the sides and back. A load through facility is provided under the passenger seat.
Features
Full size spare
Extended grip diff'
Side sliders/barn doors
2 cubic metre load space SWB
Rear bumper step
Driver's arm rest
Cruise
Engine stop/start
Rear park assist
Auto headlights and wipers
Drive and Engine
This is the best part of Express in my opinion. Despite being over 1800kgs empty, it goes really well thanks to the torquey and economical 2.0-litre turbo diesel engine driving the front wheels through a 6-speed dual clutch "manumatic" auto.
This is the same gearbox as Renault's potent Megane RS hot hatch and in this instance, imparts a distinctly sporty feel to Express. Yes, in a van no less.
Better yet is the fact that the dynamics match the engine making Express a good thing to drive for a van.  It has responsive steering, strong brakes and controlled ride that improves with a load in the back. Noise does intrude due to the "boom box" load space but that's characteristic to vans.
The seats are fairly basic but relatively comfortable over a long period especially for the driver with arm rests in place and all controls are readily accessible and simple to operate.
Three peeps can fit in the cabin which boasts [plenty of storage compartments.
It's easy to load through two side sliders and rear barn doors and a slow rear bumper further improves accessibility.
I have a few reservations about front wheel drive in a van application because it does become an issue taking off on a wet uphill, exacerbated with a load or when towing. However, this is partially addressed by the traction control system.
On test I saw better than 7.0-litres/100km driving carefully and Express clips along the freeway easily at the speed limit with plenty in reserve.
The load hooks provided look a touch flimsy but the load through function under the passenger seat is handy for long items.
It has cruise and engine stop start along with hill start assist.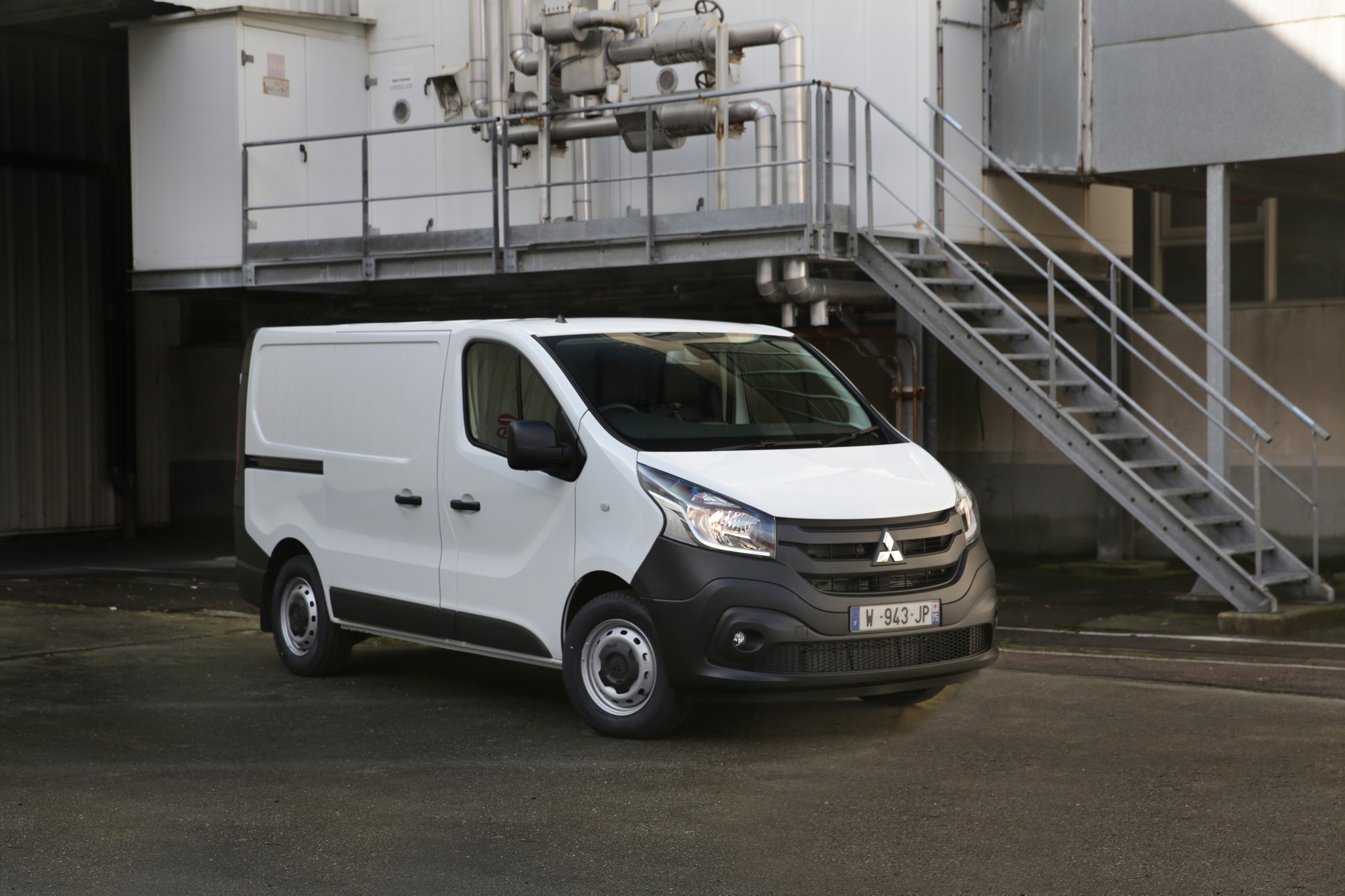 Safety
Bit of a shortfall here as there isn't any advanced driver assist tech at all. Express scores 5 airbags and the expected stability control, electronic brake force distribution and some other basic stuff. Particularly disappointing is the tiny reverse camera in the corner of the rear view mirror…. useless.
Express has some handy stuff like auto headlights and wipers but is not ANCAP rated.
Good Bits
Strong economical engine
Slick auto transmission
Roomy load space
Mat in load space
Not So Good Bits
No crash rating
No access handles in the cabin
No advanced driver assistance tech'
Summary
I like the Mitsubishi Express just as much as its Renault stablemate. It goes really well and feels solid on the road. Fuel economy is a strong point along with load-ability through four doors. I just reckon they got the price wrong a touch. Time will tell.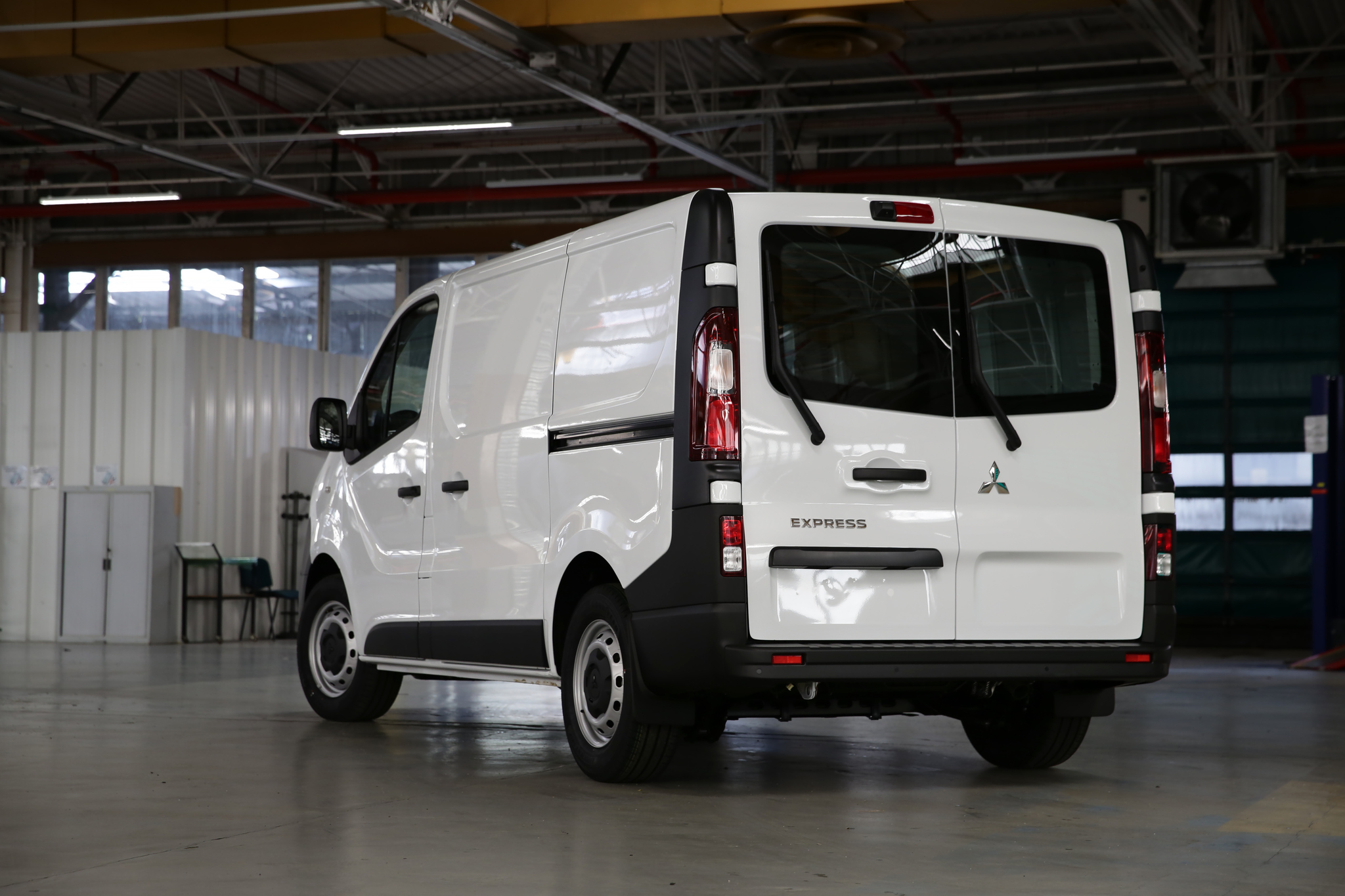 Facts and Figures: 2020 Mitsubishi Express SWB 2.0
Engine: 2.0 L four-cylinder turbo diesel producing 125kW/380Nm
Transmission: Six-speed sports automatic
Warranty: 5 years/ 100,000km
Safety: Not tested
Origin: France
Price: from $42,490 MLP*
*MLP – Manufacturers List Price includes GST and LCT but excluding statutory charges, dealer costs and dealer delivery. See your dealer for RDAP. Does not include price of any options.
Also look at: