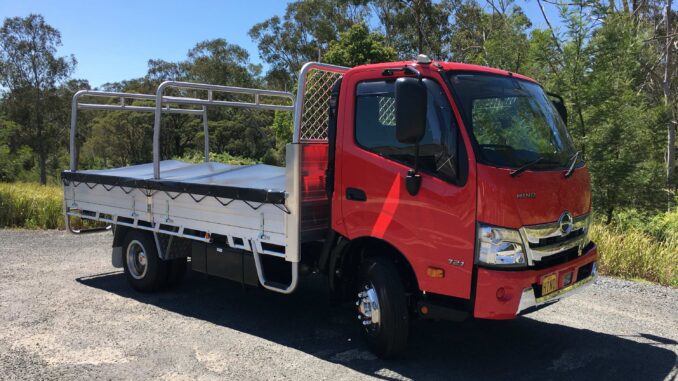 Hino 300 721 – Hino updated their 300 Series in mid-2020 and the new models are available in Standard Single Cab and Wide Single Cab and Wide Crew Cab configurations as well as a range of engine options, including a Hybrid and a true Automatic transmission.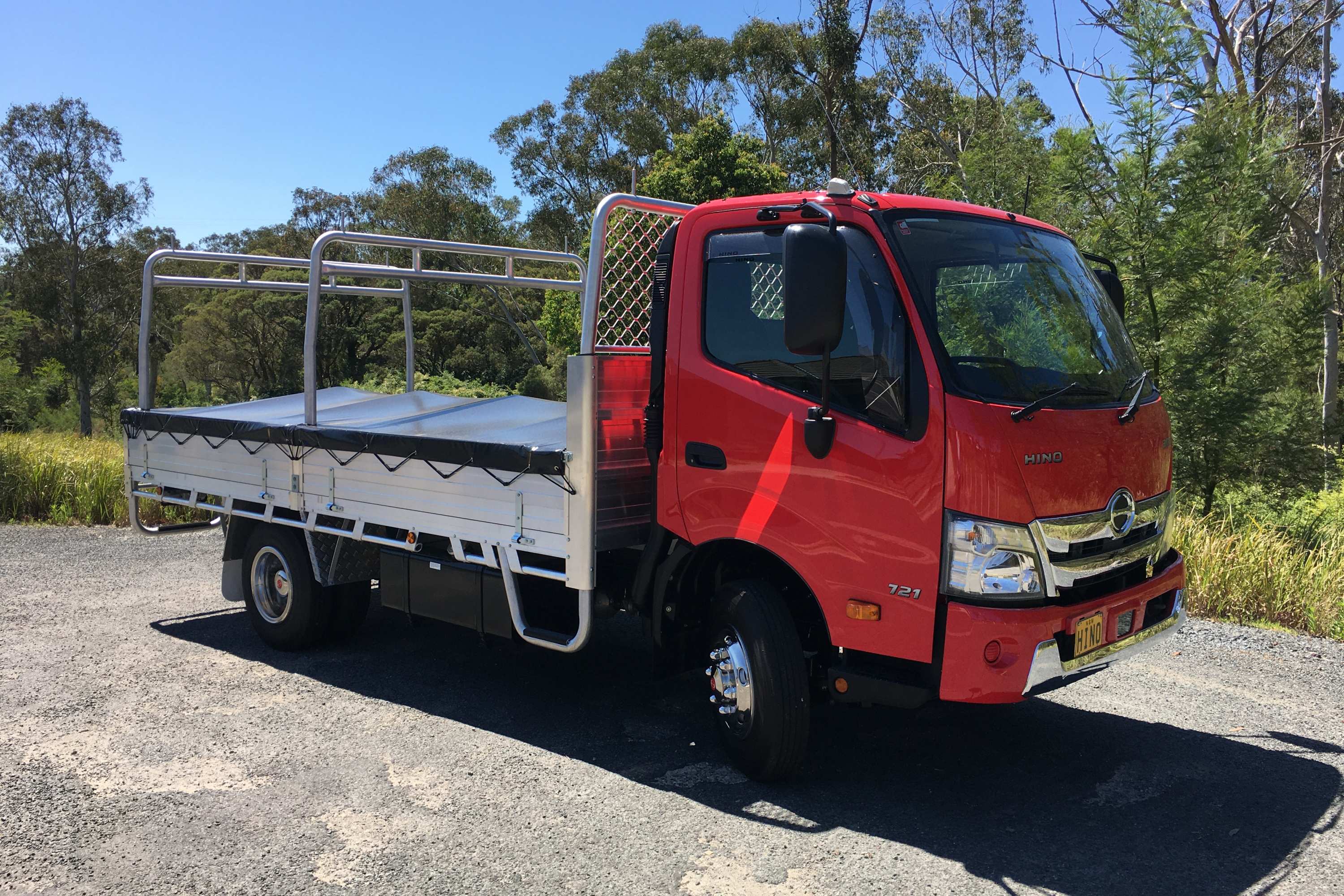 Amongst the multitude of variants is the sports version of trucks, the 721 Wide body, which we drove recently and really enjoyed the combination of extra power and torque as well as the handling.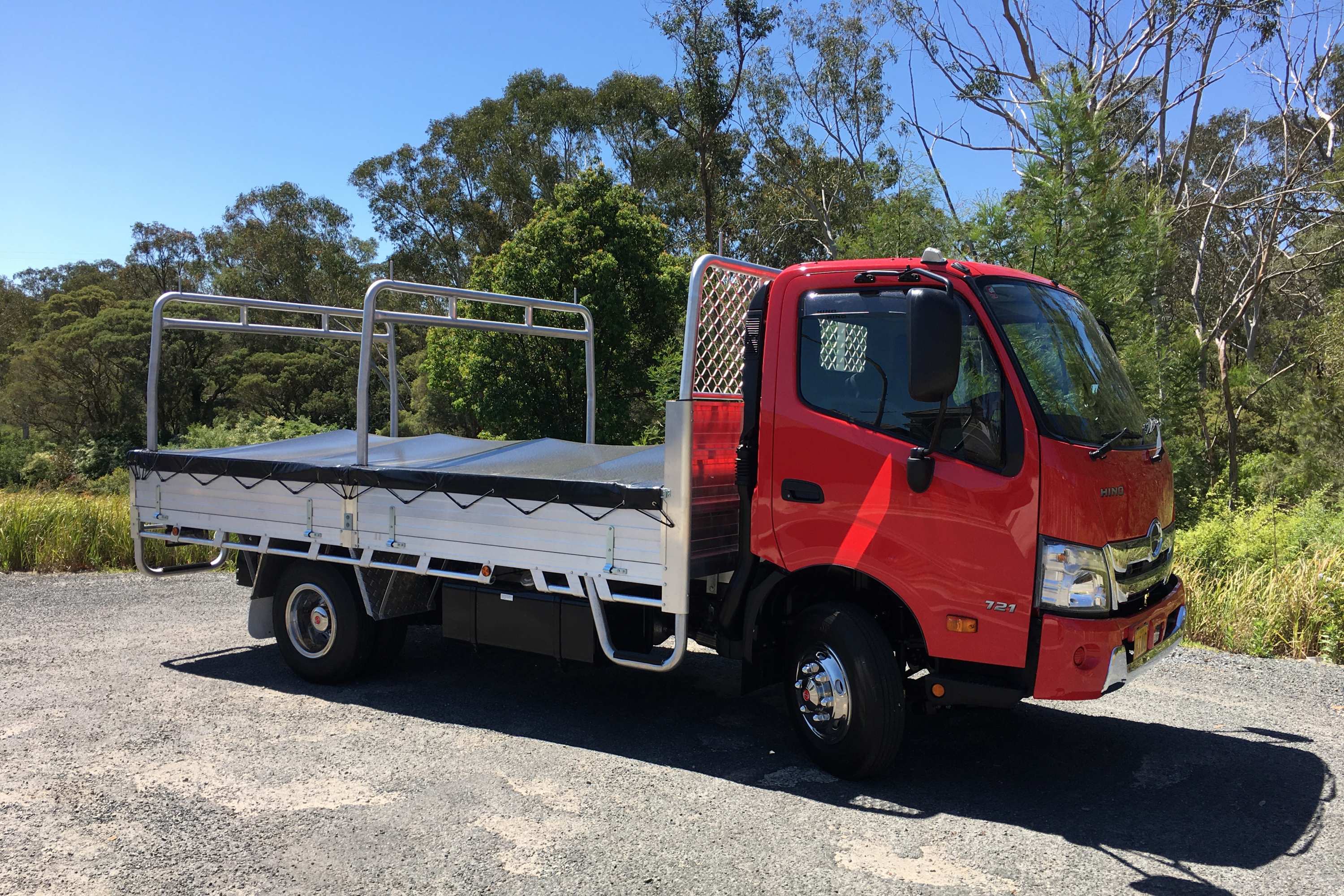 Hino 300 Series 721 Wide Body Exterior
The wide body version we drove came in a rich red colour that looked good as well as a full Hino aluminium tray with segmented drop sides with lower tie down rails and three ladder racks.
A slightly rounded grill lends itself to an appealing frontal view with a chrome central band flanking the headlights.
There are twin rear wheels as well as step rails on each side and two at the rear as well as a heavy duty tow hitch.
Overall this is a good looking truck.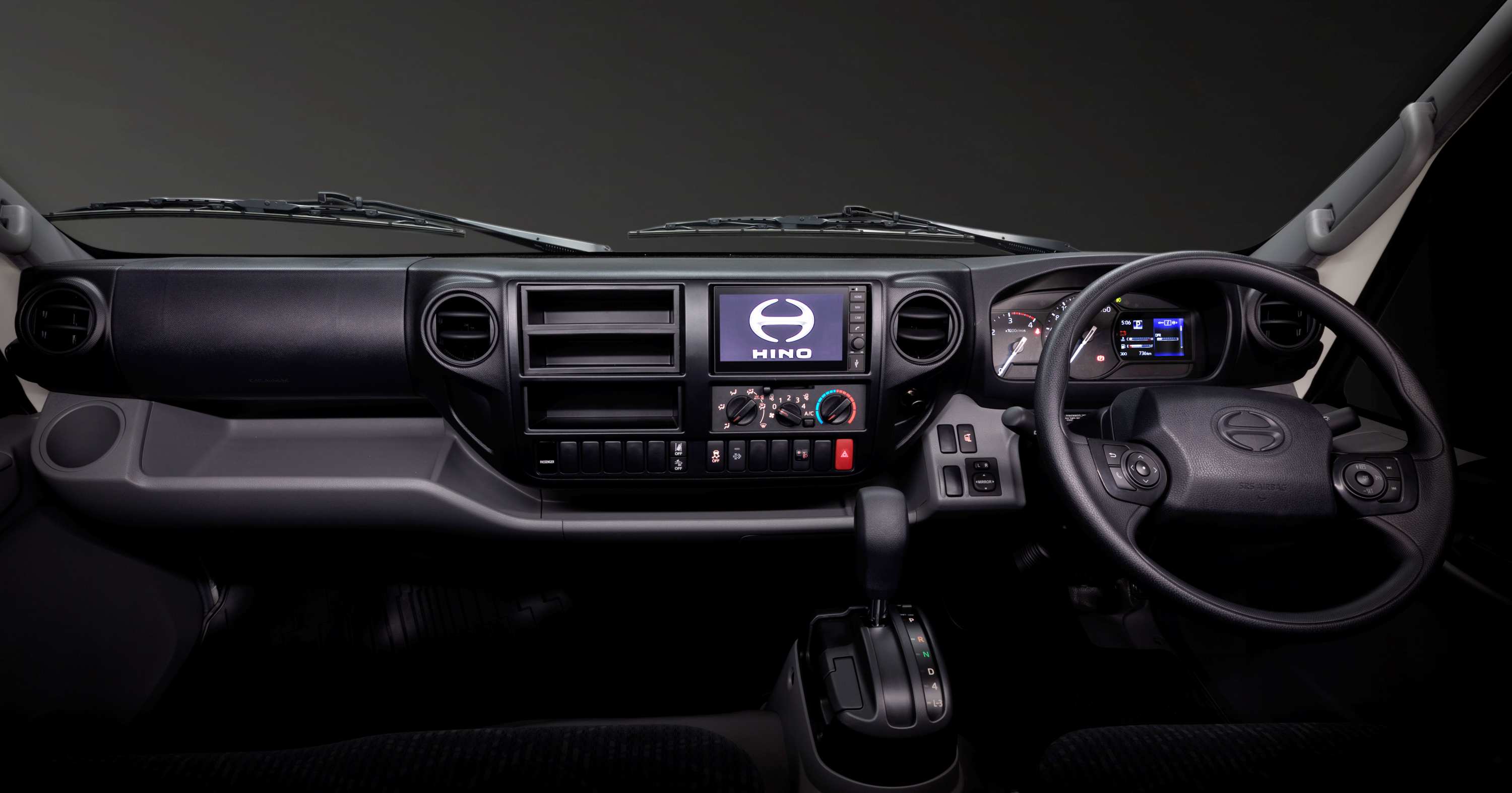 Hino 300 Series 721 Wide Body Interior
Stepping inside is made easy with good grip handles. Once inside the suspension driver's seat is relatively comfortable and there is enough leg room for even my bear like frame.  I'm glad it's an Auto though.
The revised dash layout is reasonably user friendly with the instrument binnacle framed by the height and reach adjustable steering wheel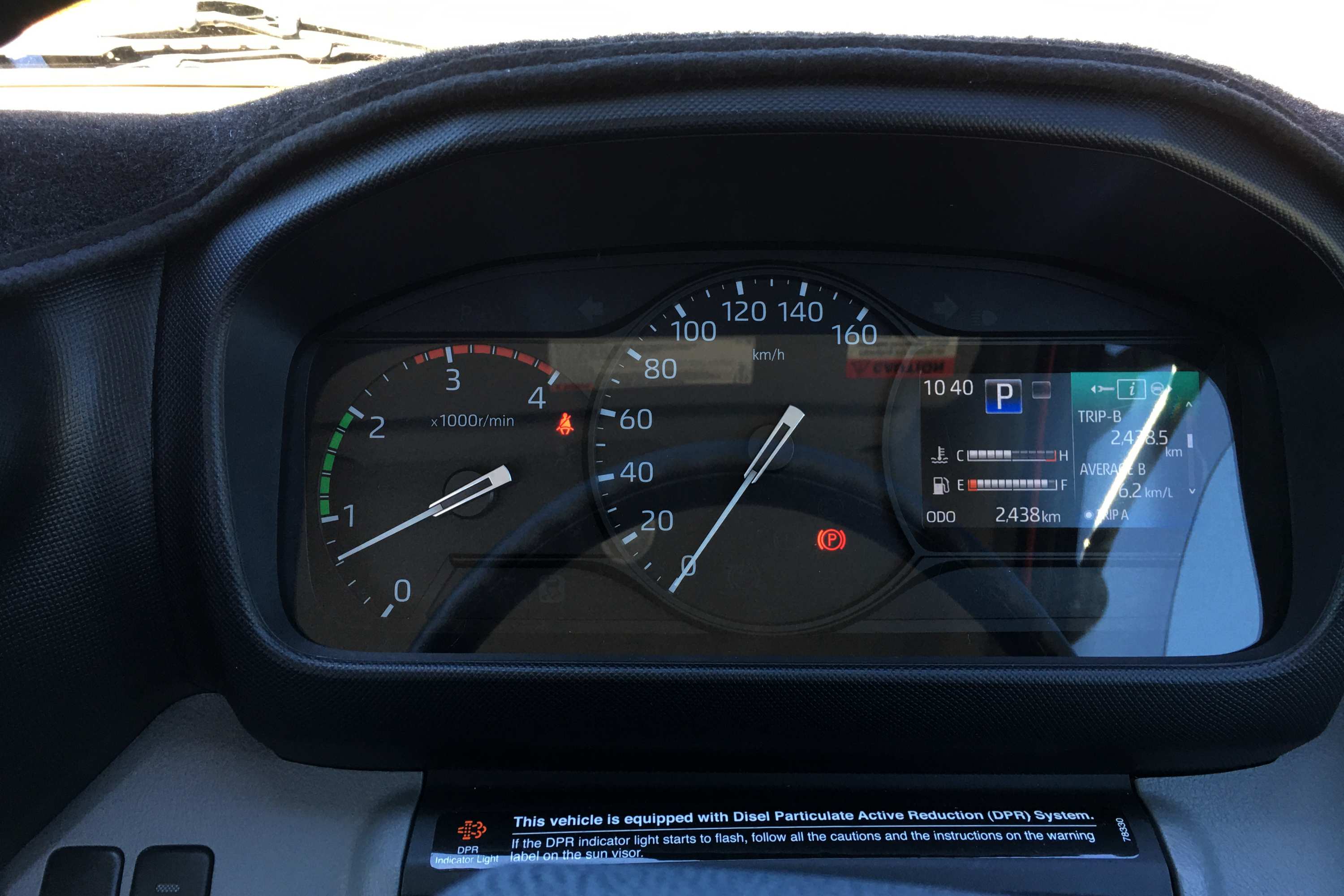 Twin large dials set to one side with a centralised speedometer and a 4.2inch MFD to the right make for easy reading. Now with a steering wheel that houses controls for the multimedia unit as well as Bluetooth and cruise control and other buttons for electric external mirrors etc. are within easy reach.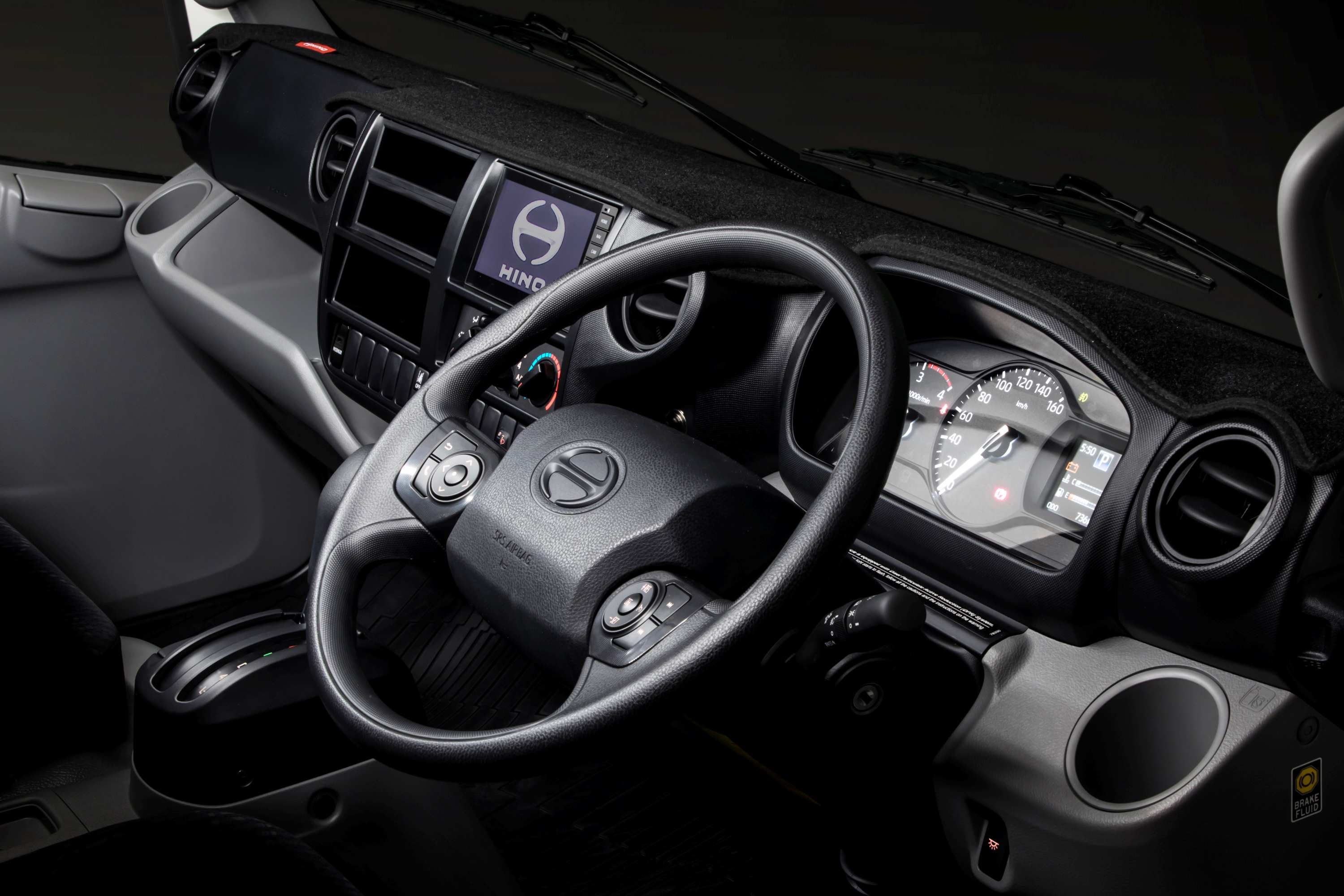 The central stack has well laid out buttons for a myriad of functions and is topped by a new multimedia unit, which features a large 6.5-inch high definition, capacitive touch screen.
Multiple bottle holders are located throughout the cab and the dash has been designed with open storage areas for many smaller items. The centre passenger seat can be folded down to be used as a paperwork tray. Overhead consoles are provided on both the driver and passenger sides.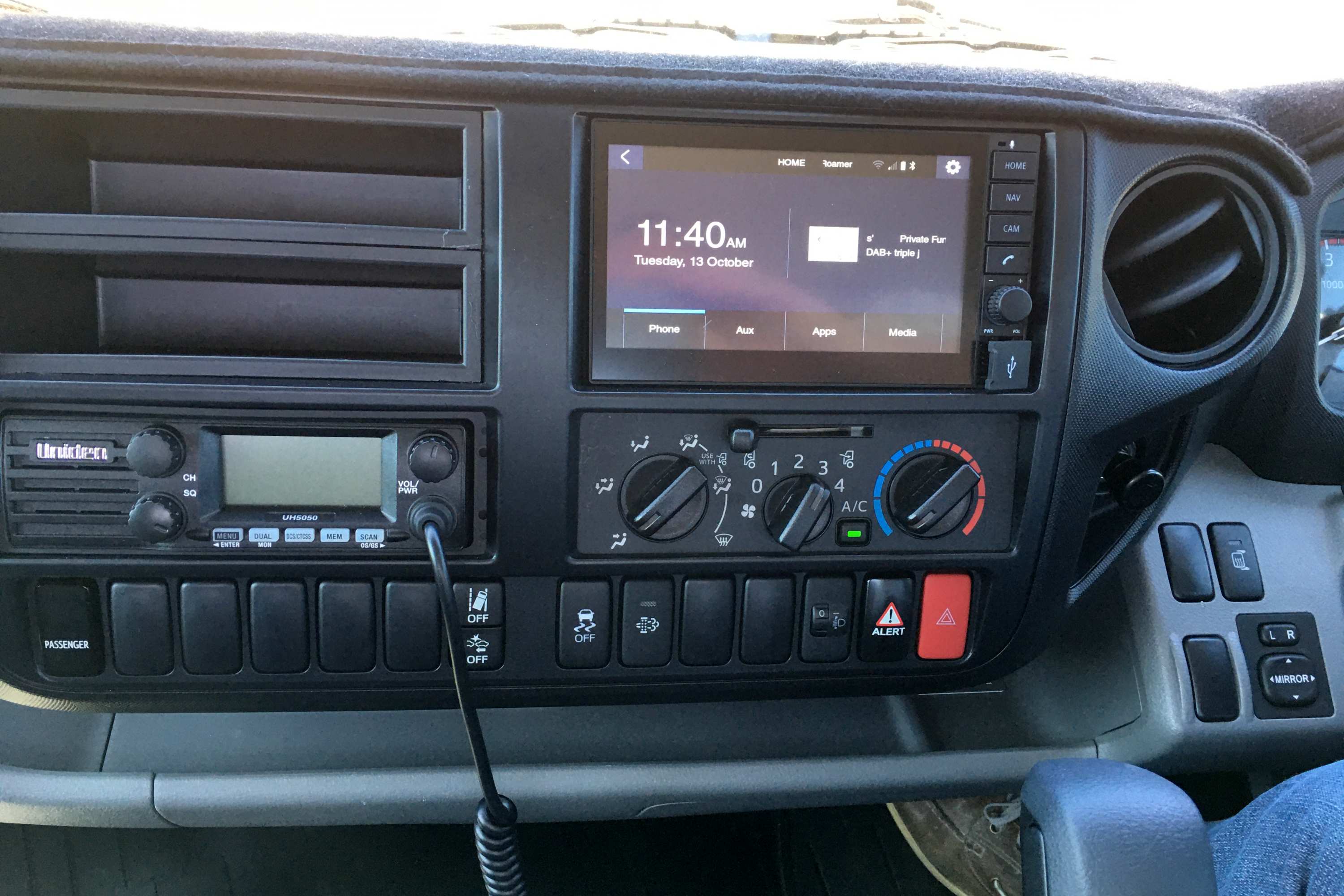 Hino 300 Series 721 Wide Body features
The multimedia unit is capable of connecting up to four multi-position cameras, with AM/FM and DAB+ digital radio, Bluetooth music streaming and mobile phone connectivity with voice dialling.
The unit features an Android operating system, and Wi-Fi connectivity provides the benefit of over-the-air software updates.
Options for the multimedia unit include a digital video camera recorder (DVR), tyre pressure monitoring system, and truck-specific satellite navigation that takes into consideration parameters of the truck such as weight and height.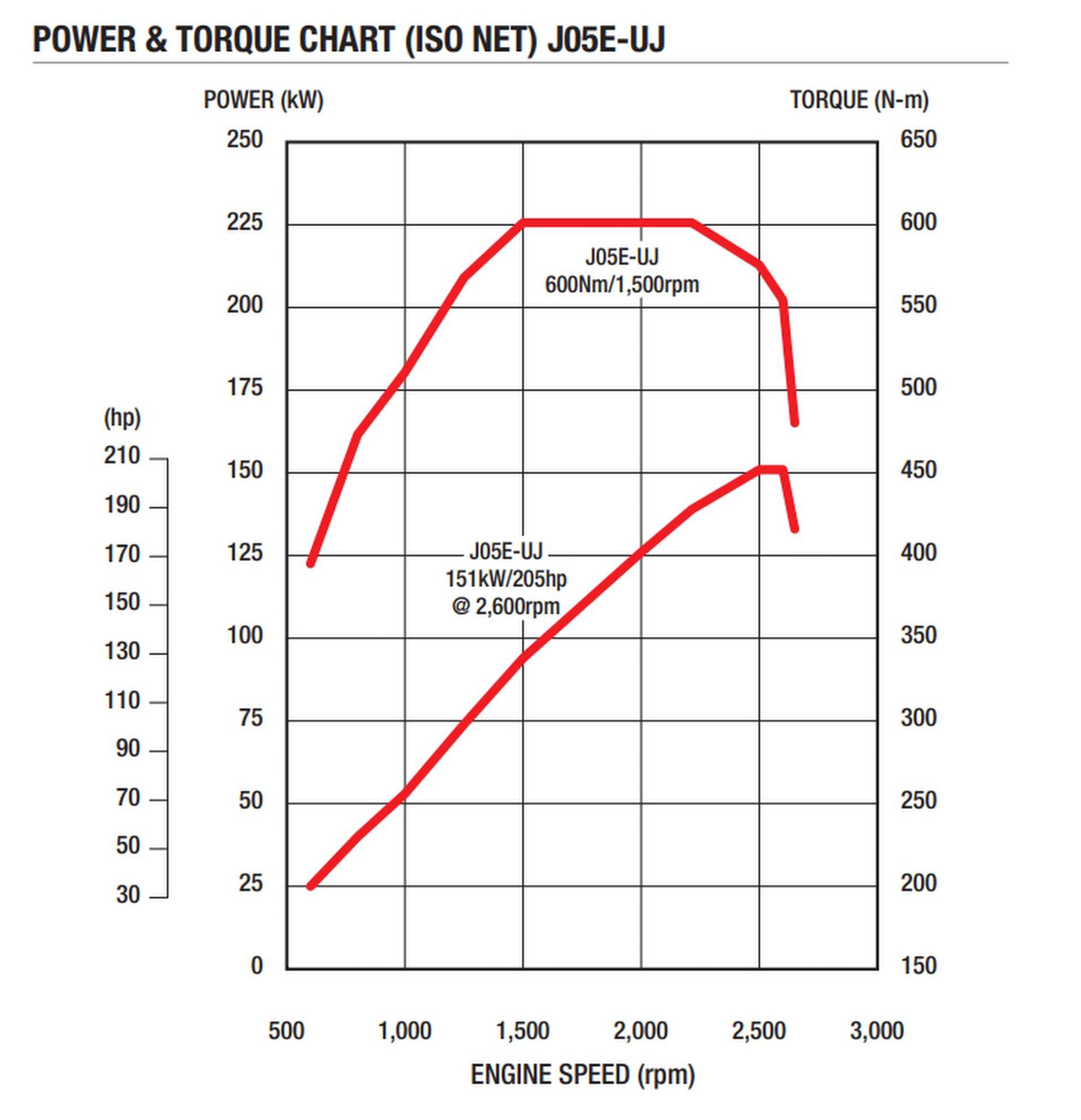 Hino 300 Series 721 Wide Body Engine and Drivetrain
The 721 features the five litre J05E-UJ engine with an impressive 205hp (151Kw) and 600Nm of torque, matched to the six-speed double overdrive true automatic transmission, 6.5 tonne Gross Vehicle Mass (GVM) with a towing capacity of 3.5 tonne.
This gives a 10T GCM that is very appealing in the light truck market.
The 721 is available in multiple wheelbases, as well as Single and Crew Cab models and fills an important gap in the market for Hino. Single Cab 721 models are available with a wheelbase of either 3,500mm or 3,800mm, while the Crew Cab 721 is configured with a 4,400mm wheelbase.
The A465HD automatic transmission found in the 721 & 921 models, has had improvements made to the torque converter design, and its lock up, shift logic has changed, resulting in improved drivability, transmission kick-down and hill climbing performance as well as the availability of sequential shift operation.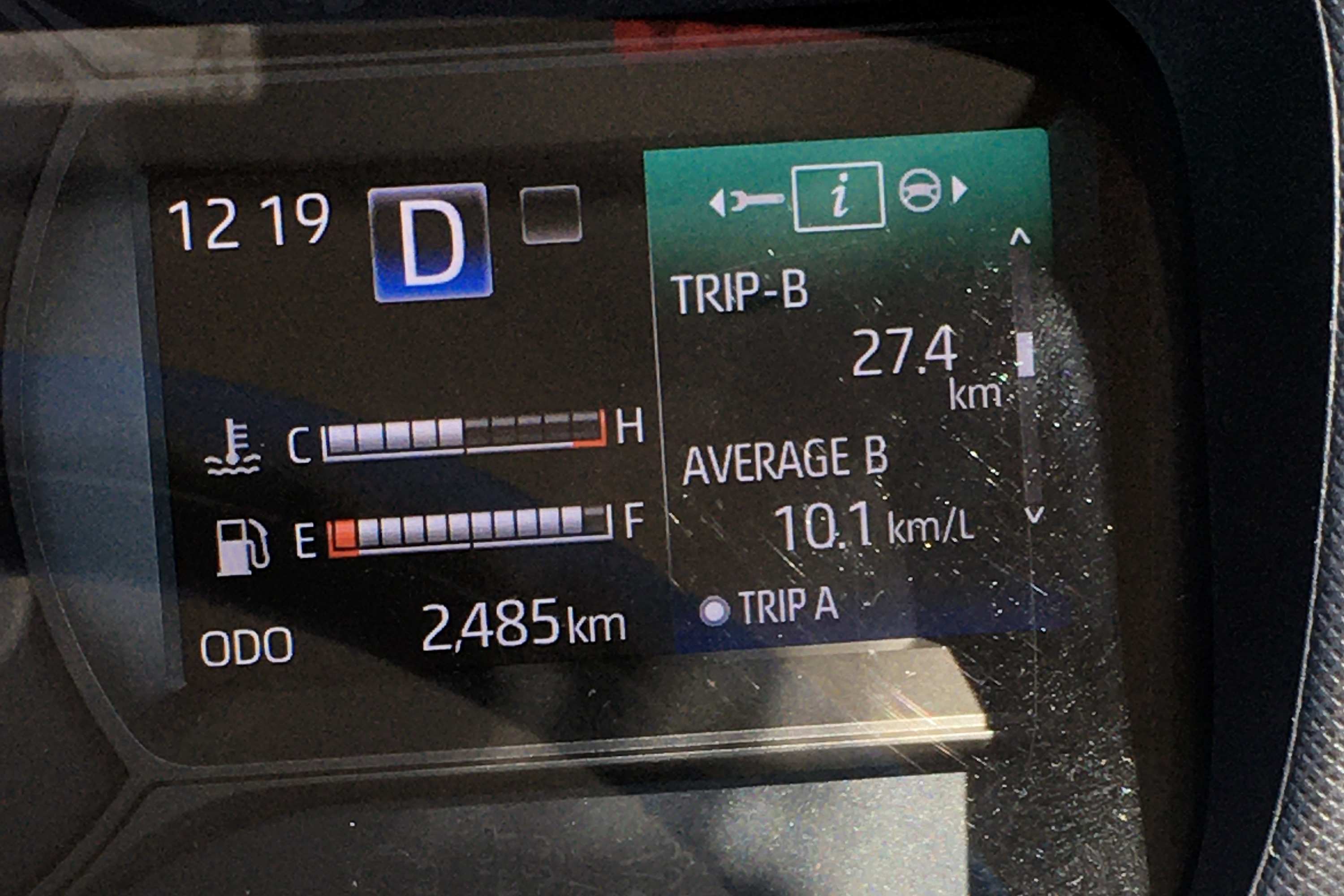 Its surprisingly economical as well.
According to Hino "The key advantages associated with a true automatic transmission are superior start-ability and take-off; no torque interruptions between gear shifts resulting in a smoother drive and quicker acceleration; lower whole of life costs and no clutch replacements,"
Driving the Hino 721 is a breeze. It's very responsive, simply potters along and its maneuverability belies its size. Without a load on it's a bit bouncy, much of which is soaked up by the suspension driver's seat, but it's better than many competitors.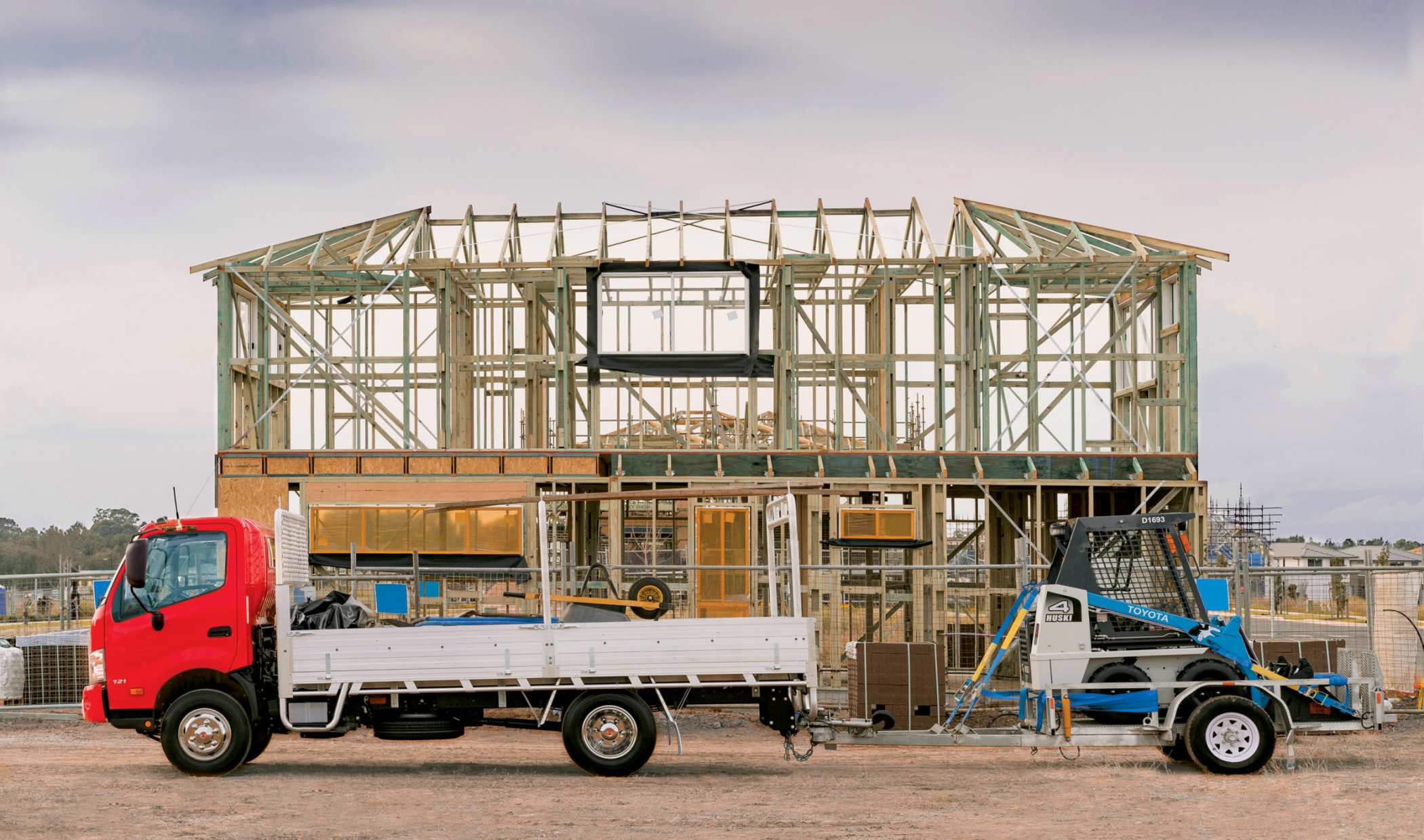 Hino 300 721 Safety
The new 300 Series features Hino SmartSafe, a comprehensive safety package with advanced driver-assist technology that takes an active focus in protecting the life of drivers, passengers and other road users.
Hino SmartSafe includes a Pre-Collision System (PCS) with Autonomous Emergency Braking (AEB), Pedestrian Detection (PD), Lane Departure Warning System (LDWS), Vehicle Stability Control (VSC), Reverse Camera, dual SRS air bags and a suite of other standard safety features…
The foundation of the Hino safety specification is Vehicle Stability Control (VSC), which has been a feature of the 300 Series for nearly a decade.
New active safety systems include a Pre-Collision Safety System (PCS), Autonomous Emergency Braking (AEB), Pedestrian Detection (PD), as well as Lane Departure Warning System (LDWS), all of which are fitted as standard on the new 300 Series 4×2 model range.
PCS can detect a potential collision with another vehicle, and/or a pedestrian using radar technology and image sensors.
Meanwhile, the Lane Departure Warning System (LDWS) similarly alerts the driver visually and audibly if the truck is deviating from its lane without the turn indicators being engaged.
Daytime Running Lamps (DRLs) along with the PCS radar in the bumper and an updated grille help to distinguish the new 300 Series from its predecessor.
Other safety features carried over from the previous 300 Series models include dual SRS airbags, four-wheel ventilated disc brakes, and Electronic Brake force Distribution (EBD).
The 300 Series Cab has been tested to the UN ECE R-29 cab strength certification and features narrow A-pillars which ensure a nearly uninterrupted forward view.
Forward vision is complemented by the heated and electrically operated flat main mirrors, and the convex spotter mirrors which offer vision to the side and behind the vehicle.
When combined with the high definition waterproof and infrared Reverse Camera, the new 300 Series offers near 360-degree vision for improved safety when manoeuvring the vehicle.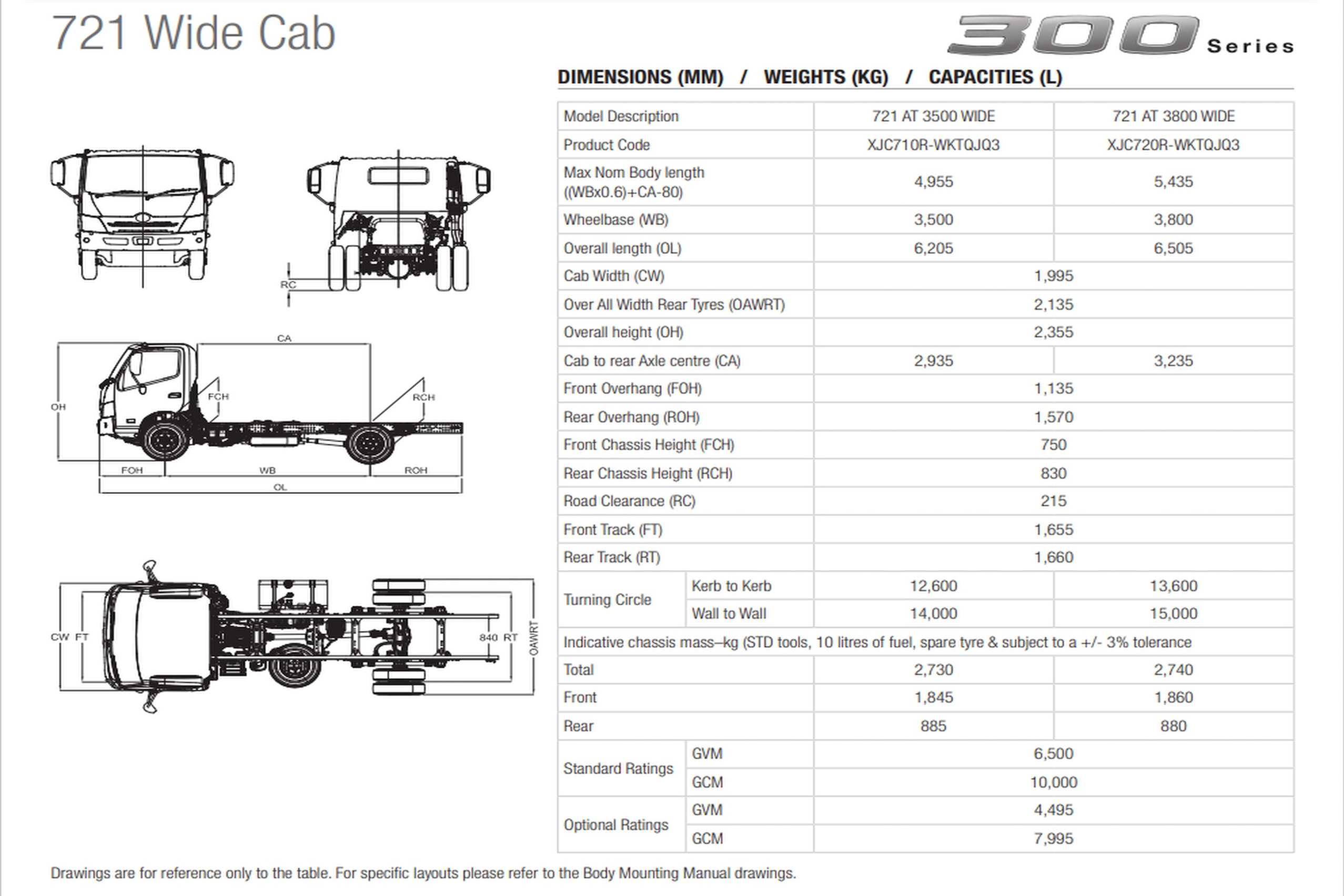 Hino 300 Series 721 Wide Body Dimensions
I could list all the dimensions, but it's easier and more complete to simply take a snap shot of the Hino brochure as above, to give the best information.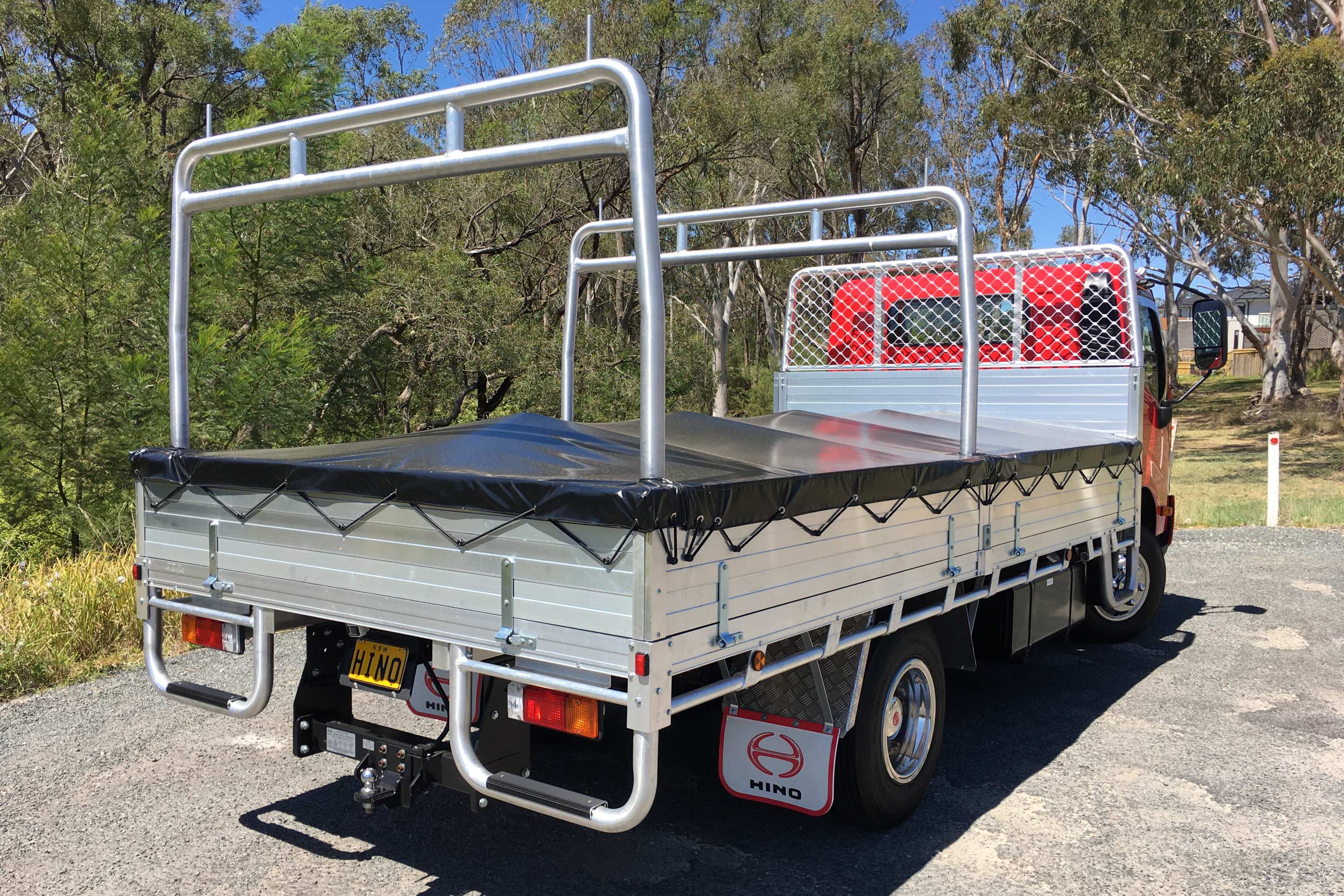 Hino 300 Series 721 Wide Body Final Thoughts
With the advent of Covid-19 and the subsequent changes in consumer behaviour, the light duty truck market has become even more important.
While the 300 series comes in a multitude of variants, this is actually my pick as it provides effortless power and torque combined with the wide body and you can opt for the longer wheel base.
Yes you need more than a normal car license to drive it, but that's not an issue and easy to get. It's worth it.
At around $69,000 plus the usual costs the 300 Series 721 Wide body is actually really good value and many trades people and businesses would do well to look at this truck.