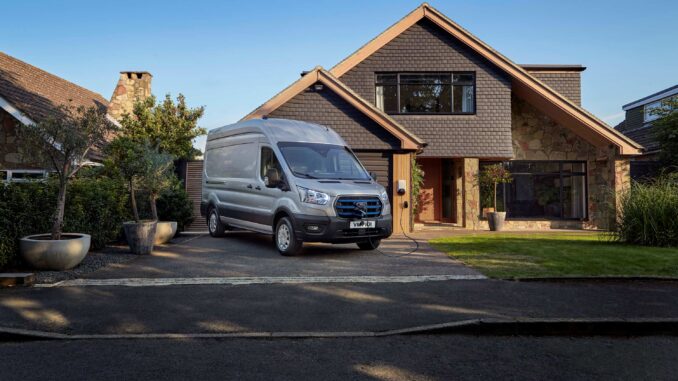 Ford E-Transit – Ford Australia today announced an electrification strategy that will give local customers the choice of at least five new Ford electrified vehicles by the end of 2024. The new Ford E-Transit will accelerate the Blue Oval's domestic EV charge when it debuts in mid-2022. 
Ford Australia plans to introduce at least five new electrified vehicles by the end of 2024
New, full-size, pure-electric E-Transit to arrive from mid-2022, featuring a 68 kWh battery, a driving range of up to 317kms1 and fast-charging capability from 15 per cent to 80 per cent in around 34 minutes2
Australian electrification strategy contributes to Ford's global ambition of carbon neutrality by 2050
Ford Australia's electrification roadmap will include many of the company's already popular nameplates while also introducing new models that will diversify and broaden its local vehicle range. These will be made up largely of battery electric vehicles, while plug-in hybrids (PHEVs) will also play a role, offering a vehicle to meet the lifestyle requirements of every Australian customer.
"We are accelerating our electrified future in Australia," said Andrew Birkic, president and CEO, Ford Australia and New Zealand. "We are anticipating the needs of each type of customer and bringing the best of our global lineup to meet those requirements. For business customers, E-Transit delivers the durability and capability they need to serve their customers, along with zero-emissions efficiency."
E-Transit is a no-compromise business partner that brings all the versatility of the global best-selling Transit and introduces the significant advantage of zero tailpipe emissions while being more than capable of taking on the toughest of tasks. With a driving range of up to 317kms1 – more than 2.5 times the average distance a commercial van travels each day – E-Transit means commercial customers can take care of business, while pocketing the savings from reduced fuel costs.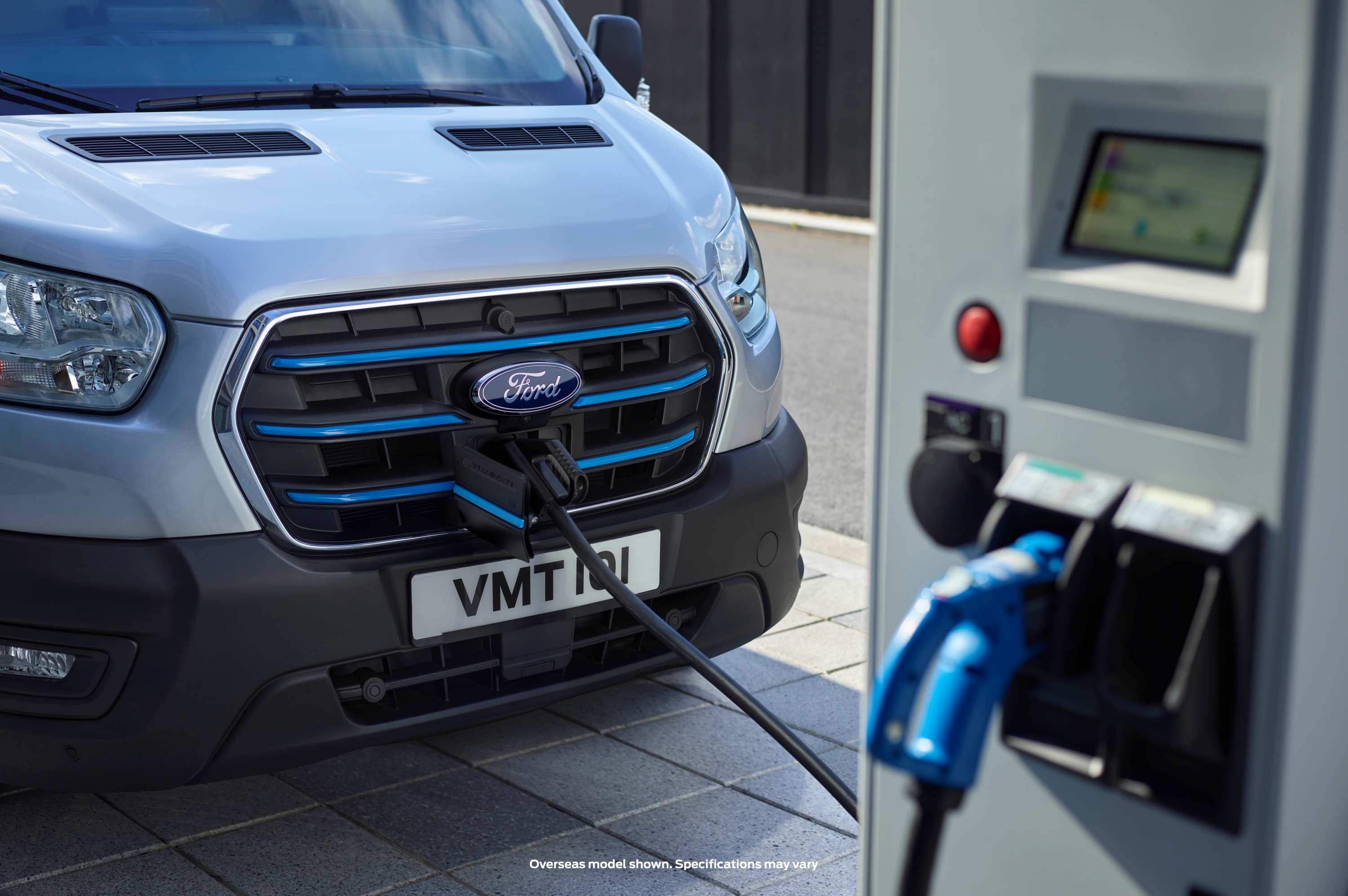 Striving for sustainability 

 
Ford Australia's EV roadmap forms part of Ford's global investment of US$30 billion (approx. AUD$40 billion) in electrification by 2025.
To ensure a smooth electrification rollout, Ford Australia is collaborating with JET Charge, a leading supplier of electric vehicle charging infrastructure, to ready its dealer network with charging infrastructure, as part of a launch framework that includes extensive in-house training programmes, a select network of dealers with specialist EV workshop equipment and end-user maintenance routines in readiness for the first vehicles to arrive.
Ford will also install charging stations at its facilities in Campbellfield, the YouYangs Proving Ground, and at the company's new logistics hub at Merrifield.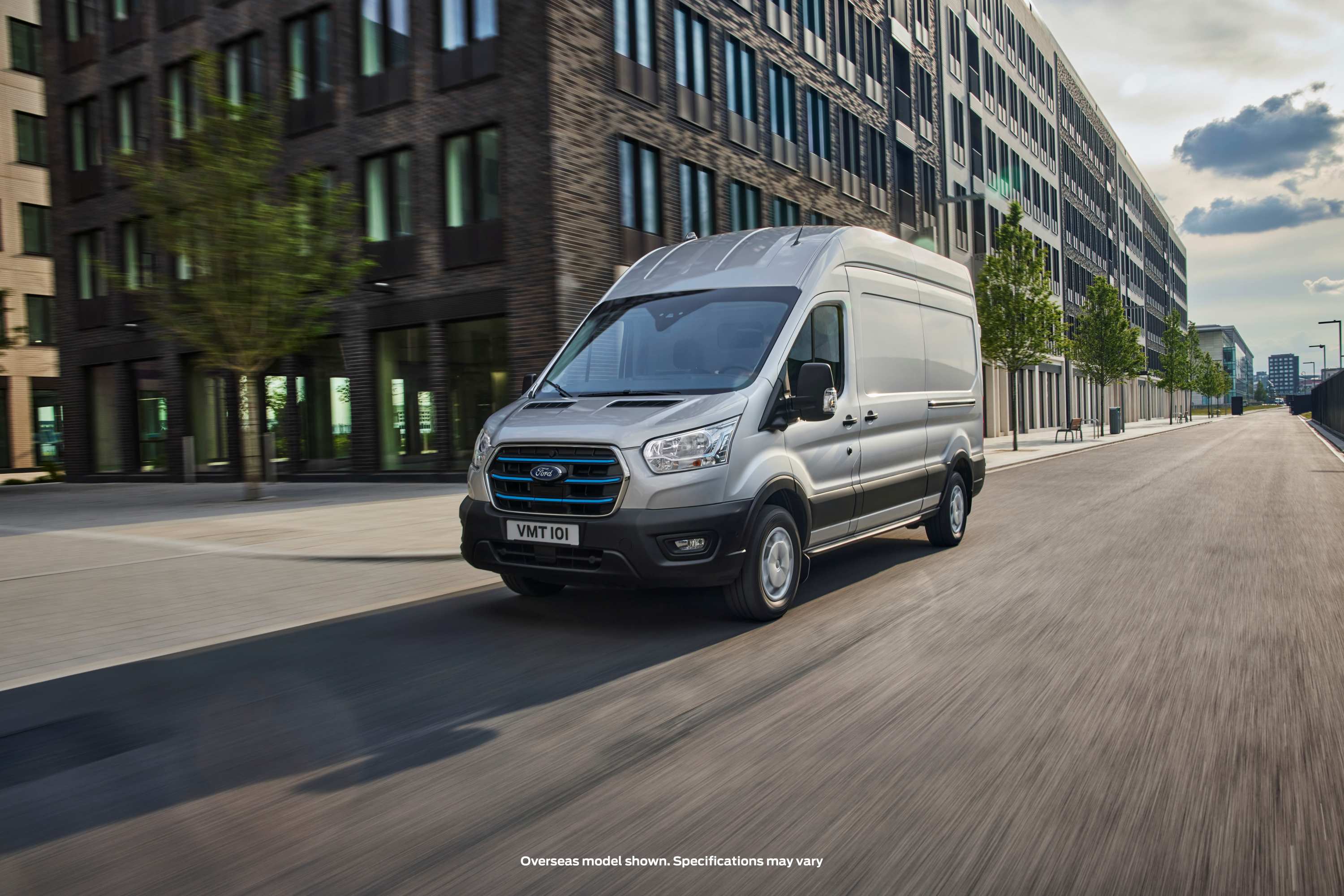 Helping Aussie businesses meet the expectation of net zero
Australian consumers and businesses are demonstrating increasing interest in transitioning to electrified vehicles.
 Recent research conducted by YouGov indicated that 58% of businesses can see EV's becoming a part of their vehicle fleet in the future. 63% of Aussie consumers would like to see cleaner and more sustainable Commercial Vehicle fleets on the road and 52% are likely to consider an electrified vehicle for their next vehicle purchase.⁴
"We know that many businesses are looking to make the switch to electrified vehicles, and that's backed up by increasing interest from consumers and growing support from government," added Elly Haug, Policy Director, Ford Australia.
"We're committed to helping our fleet customers meet the expectations of their customers – and that includes taking real action on climate change. Offering a sustainable transport option with E-Transit will help businesses on their road to net zero.
"It's part of our holistic approach to electrification for both business and consumers – for business, we will help lower their carbon footprint through cleaner logistics solutions like E-Transit, and for consumers, a choice of highly efficient plug-in hybrid and fully electric vehicles will help them cut their own carbon footprint."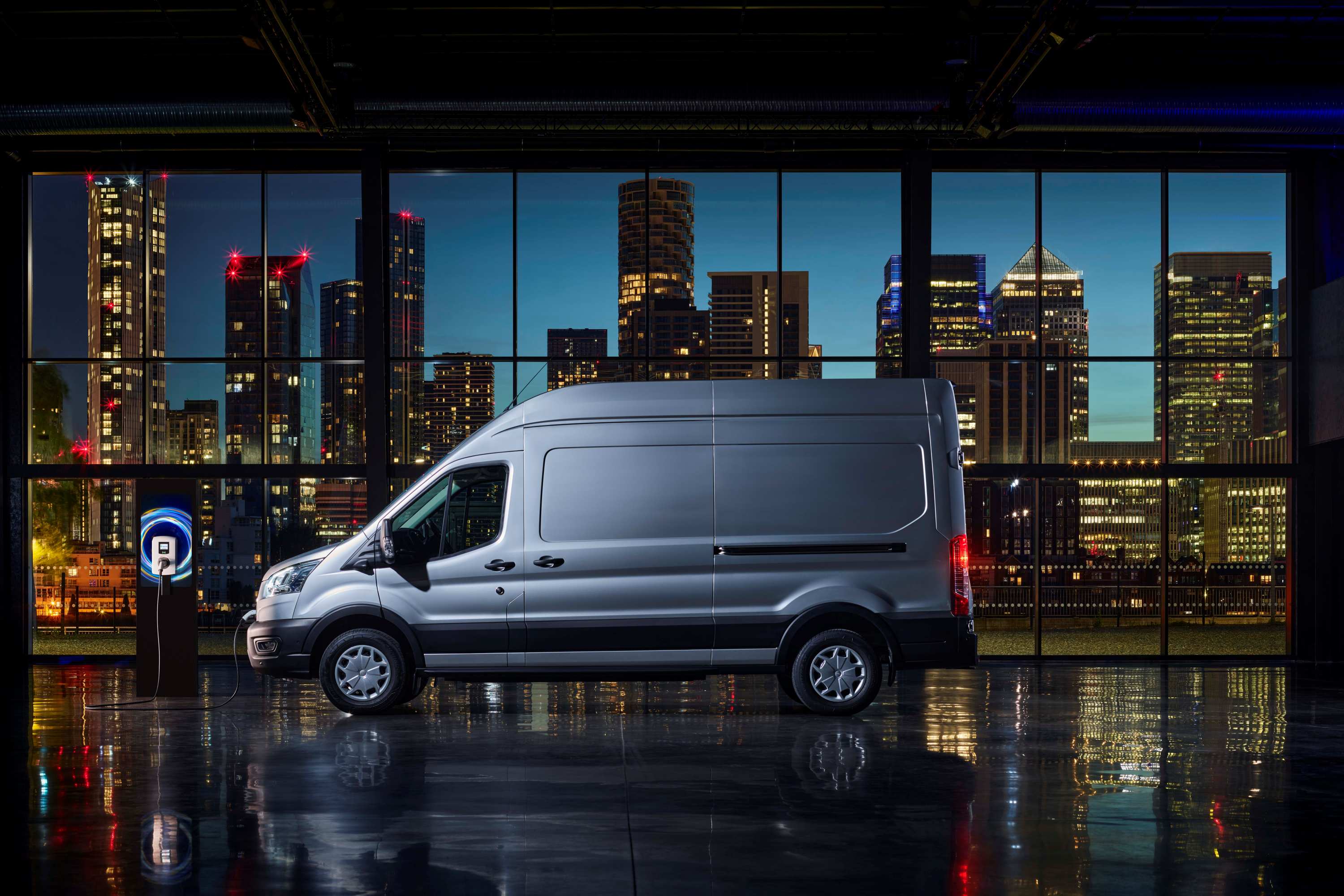 Sustainability across the company
Ford sites will also play a role in helping the company to achieve its global ambition of carbon neutrality, including Ford's new parts and logistics hub at Merrifield, which will have a 5-star green energy rating, and Ford plants around the world, which are targeted to run off 100% local renewables by 2035.
 While addressing climate change through its product line up is a key focus for Ford, the company is also aiming to improve the health of the planet in other ways, including using recycled and renewable plastics in vehicles, working towards true zero waste to landfill across operations, and phasing out the use of freshwater in manufacturing operations.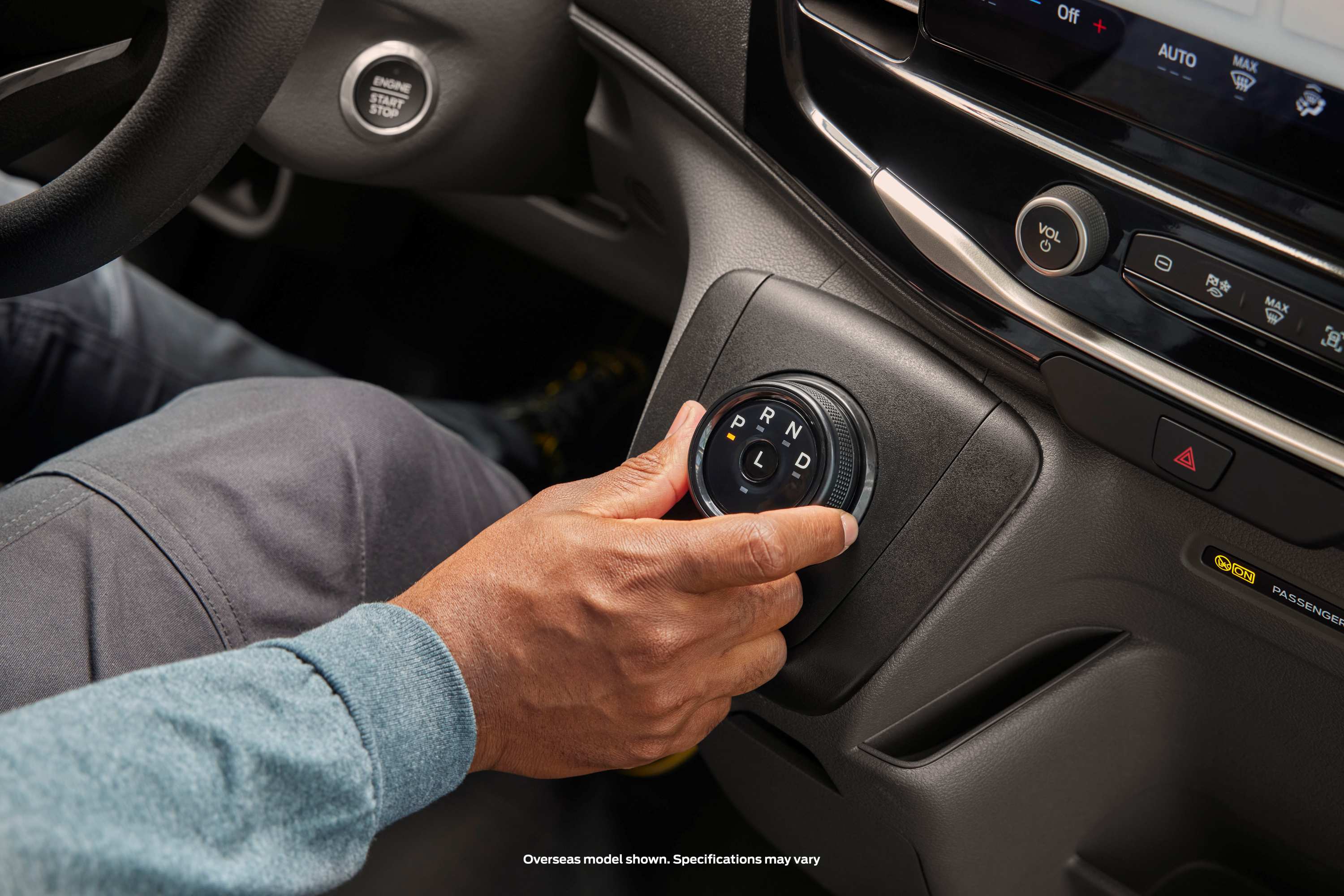 E-Transit

The right tool for the job
The full-size E-Transit will begin to arrive with Australian customers in rear-wheel drive 420L long wheel-base configuration from mid-2022, after the Escape PHEV makes its debut as Ford's first locally available plug-in hybrid variant.  
"For 56 years Transit has been the first choice for getting the job done, and we're again moving the game on with this fully electric version," said Anna Hercan, Transit Retail & Product Marketing Manager, Ford Australia.  
"Our business customers tell us how important it is for them to have their van ready whenever it's needed. E-Transit has more than enough range for a full day's work, can fully charge overnight so it's ready for the next morning and there's no sacrifice in its load carrying capacity or convenience." 
With a usable battery capacity of 68 kWh, E-Transit offers an estimated driving range of up to 317kms on the combined WLTP cycle, 1 providing enough range to meet daily requirements and making it ideal for urban environments and fixed drive routes, but with sufficient additional capacity to account for variations in vehicle load and weather conditions. 
The vehicle's electric motor has a peak output of 198kW and 430 Nm of torque, making it the most powerful Transit currently available in Australia. Its rear-wheel drive layout also ensures outstanding traction when the vehicle is heavily laden.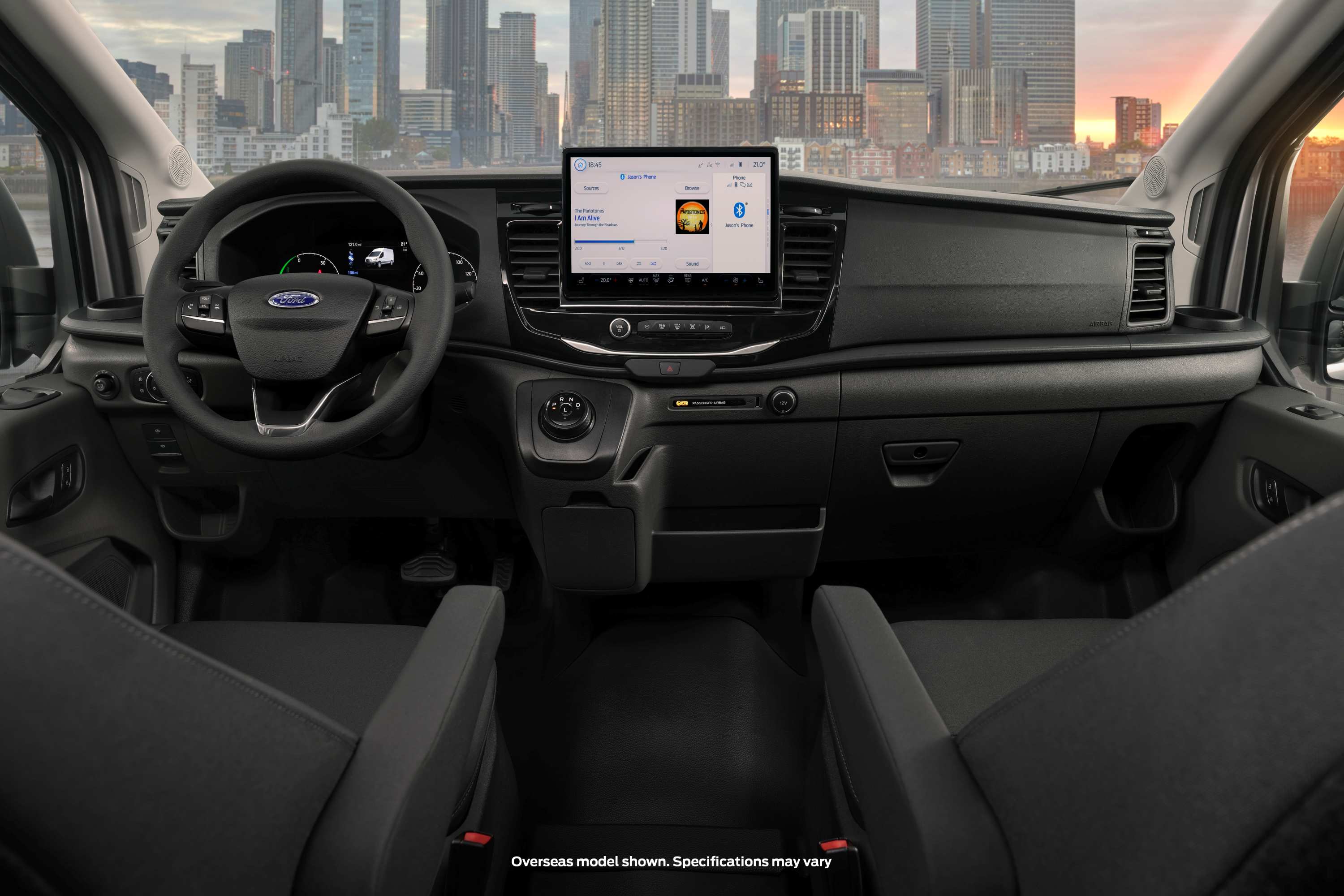 E-Transit's drive modes are tailored to its electric powertrain. A special Eco Mode can provide between eight and 10 per cent improvement in energy usage if E-Transit is driven unladen, or at highway speeds. Eco Mode limits top speed, regulates acceleration and optimises climate control to help maximise the available driving range.
The vehicle also supports Scheduled Pre-Conditioning, enabling the climate control system to be programmed to adjust the cabin to the preferred temperature while the vehicle is still on charge, ensuring that the maximum driving range is available.
E-Transit features both AC charging and DC fast-charging. The vehicle's 11.3 kW on-board charger is capable of delivering a 100 per cent charge in up to 8.2 hours.2  Charging with up to 115 kW using a high-power DC fast-charger, E-Transit can top-up the battery from 15 per cent to 80 per cent in around 34 minutes.2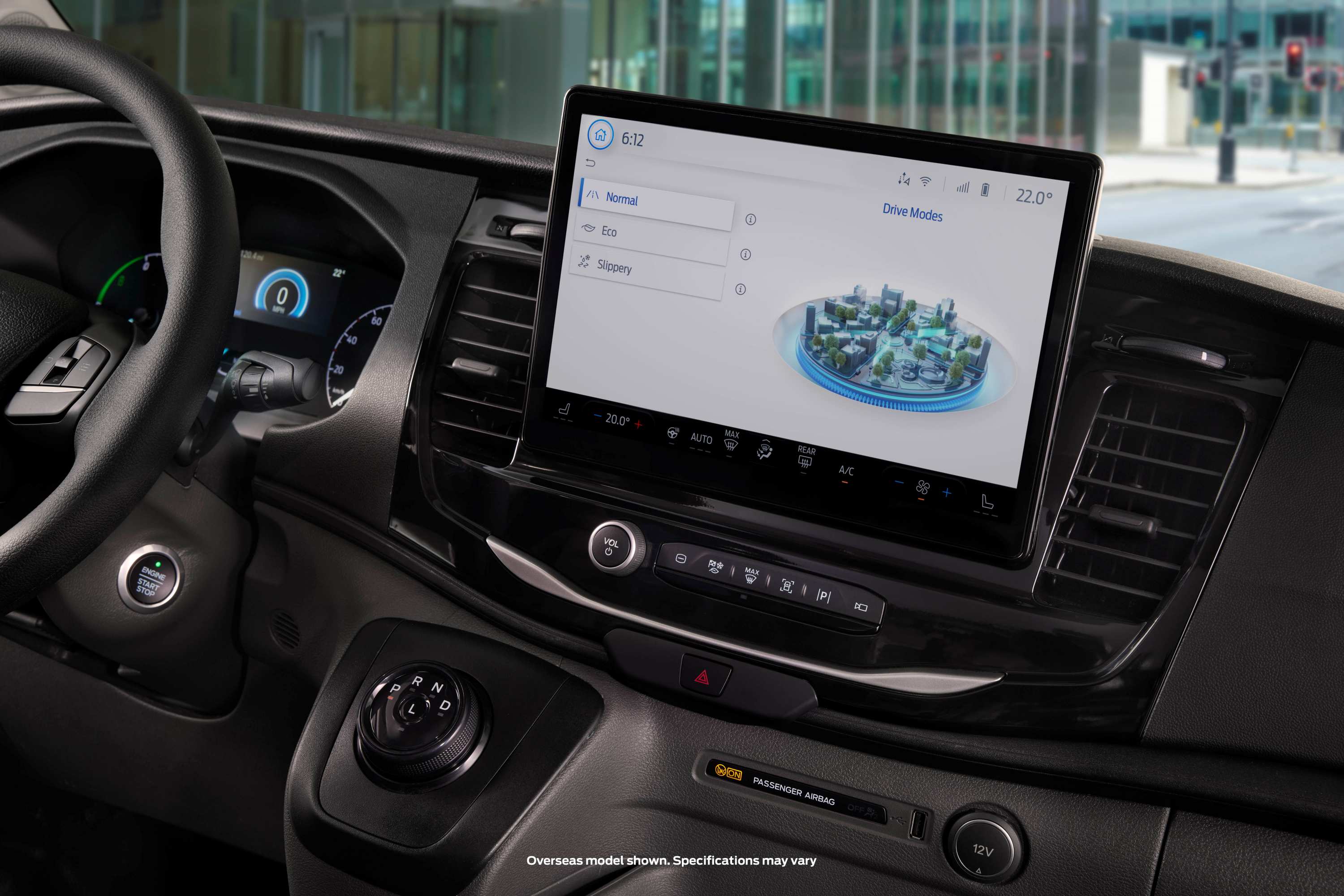 Ford engineers designed E-Transit's driveline and rear suspension system to optimise cargo space, locating the battery underneath the body and creating a heavy-duty semi-trailing arm suspension system that enables better steering precision and more confident handling, plus better traction in both laden and unladen conditions. This also allows for an uncompromised cargo capacity of up to 11.3 cubic metres in mid-roof specification and 12.4 cubic metres for the high roof version, both of which are identical to the Transit 350L RWD diesel equivalents. Gross vehicle mass of up to 4.2 tonnes is offered, with a targeted payload of 1,616 kg. 
Customers will also benefit from Ford's five-year, unlimited kilometre service offering that sits alongside the eight-year, 160,000 km warranty package for the battery and high-voltage electric components.3 
Full model specification and pricing details for the E-Transit will be announced closer to its Australian market launch.